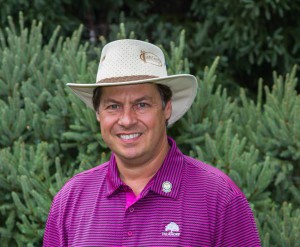 Lou Guzzi, owner and PGA Director of Instruction of the Lou Guzzi Golf Academy at Talamore CC in Ambler, Pa., is the 2013 PGA National Teacher of the Year. The PGA of America's 28th Teacher of the Year, Guzzi, 51, was honored for his overall teaching performance, innovative instruction, media contributions and outstanding golfers under his tutelage. On Feb. 14-16 at DeVos Place in downtown Grand Rapids, Guzzi will be a headliner for the 26th West Michigan Golf Show, providing free clinics all weekend to golf-starved patrons. He becomes the 11th nationally honored teacher to appear at the Show, joining such names as Todd Anderson, Mike Bender, Hank Haney, Mike Hebron, and the late Jim Flick. Recently, Guzzi chatted with me on a variety of topics.
What can golfers do over the winter to get ready for the spring?
First, they can read books and articles that fit what they're working on in their swing. Second, they can check their swing in front of a mirror, making sure certain positions are correct. I recommend players in the winter take lots of swings in slow motion to get a feel for where they want the club to be. As always, it helps to be working with a PGA professional but many times books, articles and online sources are valuable resources.
What about putting over the winter?
Very important. I have a putting area in my carpeted basement where I work on making 10-foot putts for twenty minutes a day.  It helps to maintain a putting stroke and feel over the winter, especially if you're lucky enough to have a sunbelt golf trip coming up.
Speaking of golf books, what should be in every golfer's library?
Well, number one is Ben Hogan's Five Lessons. It's a classic and never gets stale. I also like Tom Watson's Getting Back to Basics, Ernie Els's How to Build a Classic Golf Swing, and Nick Faldo's A Swing for a Life. For the short game, I recommend Tom Watson's Getting Up and Down—a tremendous book.
In terms of short game, I know you've written in Golf Magazine about Phil Mickelson's wizardry around the greens. What's his key?
It revolves around Phil's "hinge and hold" technique for chipping. Phil's adamant that hinge and hold— as opposed to the often taught rigid wrist method— is the way to go. He wants players to hinge and create an angle with their wedge and then hold that angle through impact. It's a slightly descending blow that delivers a crisply hit shot with back spin. I've also written about Phil's knockdown shot. For this shot, he never alters his ball position. Instead, depending upon the length of the shot, he merely reduces the backswing and thereby the clubhead speed. He's a master of it.
Name some of your favorite swings on the PGA and LPGA Tours
I like a trio of Australians: Adam Scott, Stuart Appleby and Steve Elkington. All have great swings. Someone under the radar is Y.E. Yang, the 2009 PGA champion. At the Masters last year on the practice range, I watched a lot of Yang and I was so impressed with his swing. He's very underrated. And last June just before the U.S. Open at Merion, Jason Dufner and his teacher Chuck Cook were at my Golf Academy working out. So I had an up-close and personal look at Jason's swing. Great positions throughout and not complicated. On the LPGA Tour, I've always admired the simplicity and grace of Patti Sheehan's and Annika Sorenstam's swings. In their prime, their swings were hard to beat. Today, I also like the simplicity of Inbee Park's swing. With a wonderful tempo, it's beautiful thing to watch.
In your long teaching career, what's the biggest change you've seen?
It's technology. Nowadays, teachers use launch monitors, Flight Scope and multiple cameras when working with their students. When it comes to video with my students, it's all about "seeing is believing." But technology is only a tool that can accelerate learning and understanding. It shouldn't be an end in itself or be used as a crutch. Technology can't replace the keen eye of a good instructor.
What about the golf swing? Has it evolved much in the last generation?
To some degree. But in my opinion the golf swing hasn't changed much in the last 50-60 years. When I go back and watch the swings of Sam Snead, Ben Hogan or even someone like the unheralded Peter Thomson—who won five British Opens—I notice they all have timeless, great swings. What's to improve? They were swinging back then in a way the best teachers today now espouse. Thomson's swing was so compact and centered, it's a model swing for anyone. Same for Sam Snead's or Ben Hogan's and a dozen more.
What are your thoughts when watching Tour swings on television and some of the instant analyses by commentators?
The instruction and analysis are all fine. But I don't think the average person, or even the average teacher, could guess the direction of a Tour player's golf ball after it's been struck unless they were standing behind them or had a launch monitor. It's so difficult for the naked eye to pick up a swing flaw when someone like Phil Mickelson is swinging at 118 mph and has a slightly open or shut clubface. At that speed, it doesn't take much for a shot to be off-line. Combined with today's equipment and golf ball advances,  the modern swing is generating so much speed and power.
Lou, name three individuals in your dream foursome.
That would be my dad, who passed away in 2001, Ben Hogan, and Bobby Jones. They would all make for a wonderful day of golf.
Tell us about your dad. 
Unlike most PGA teachers, I actually taught my dad to play golf. When I was twelve or so,  my dad used to take me to the driving range but he really didn't play golf. Later, I became serious with the game and developed some skills. After dad had a heart attack at age 50, he asked to go out with me to the course to get some exercise. That's when he started playing for the first time and he became my number one student for the next 22 years. He succumbed to cancer but even during that painful period he was an inspiration to me for how much he loved the game.
For more information about Lou Guzzi, visit www.louguzzi.com and www.westmichigangolfshow.com