Dearest Granddaughters,
ALERT: If you're in town visiting this week, I'm taking you to a place more fun and exciting than a Night at the Grand Rapids Public Museum. Unless of course, those models of Native Americans suddenly come to life!
I'm talking about the Meijer LPGA Classic for Simply Give at Blythefield Country Club on June 14-17. Yes, it's a golf tournament—what did you expect from your golf-crazy Gramps? But before you diss the idea,  let me explain why it's a great way to spend a day.
First, you'll see some of the best women golfers on the planet. The Ladies Professional Golf Association (LPGA for short) is truly a global tour with players from nearly every continent. And unlike many PGA Tour stops for the men, just about all the top LPGA golfers show up even for a mid-size city like GR. Besides, these players are extra friendly, love to sign autographs (after their rounds in certain places) and sometimes even pose for selfies with their fans.
What players, you ask? For starters, there's Brooke M. Henderson, the young and talented player from Canada who won here last year in exciting fashion by two shots over Michelle Wie and Lexi Thompson. And Wie and Thompson (who claimed this title in 2015) are also back this year—big names, big hitters who always draw large galleries.
Besides those stars, the hottest player in the world—Thailand's Ariya Jutanugarn—is in the field. She's the one who lifted the trophy, after a tense four-hole playoff against Korea's Hyo Joo Kim, at the U.S. Women's Open at Shoal Creek. Kim, only 22, will be playing next week, too. 
Ariya has had an incredible year: in the first 14 tourneys, she's finished in the top-10 ten times and won twice. Also in the Meijer is her sister, Moriya, who's also having an outstanding year with a win and six top-ten finishes. Talk about a Sister Act!
Other familiar names will be here like Lydia Ko, Cristie Kerr, Paula Creamer and many more. A new name could end up being a winner on Sunday and that's always fun to watch.
Knowing how much the two of you like to walk outdoors, you'll love Blythefield County Club, one of the prettiest courses in west Michigan. Originally, it was the home to Muscatay and Hopewell Native Americans, area tribes you can learn about at the Museum. Later, it became a farm and a log cabin was built where the present clubhouse sits.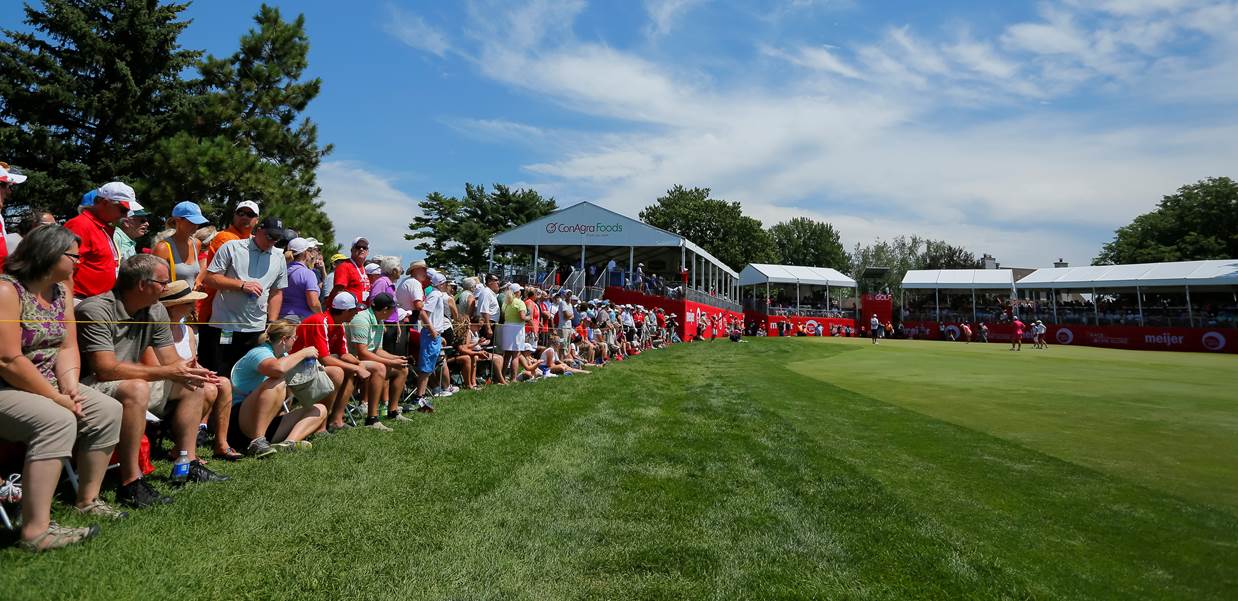 Sorry, but more learning, girls: "Blythefield" is an Old English word meaning "quiet fields." It's normally a quiet and peaceful place but not next week when thousands of golf fans show up. The first nine of the tournament course has several scenic holes along the Rogue River, one of the top fly fishing rivers in the country. Anyway, you're going to enjoy discovering it between frequent visits to the concessions. Yes, I'm buying. 
One last bit of history, the course has hosted three major Western Golf Association events: 
the 1953 Western Amateur, the 1961 Western Open, and the 2005 Western Junior, won by Dale Morey, Arnold Palmer, and Rickie Fowler, respectively. Yes, that Rickie Fowler, your favorite PGA Tour player who looks cool in orange.
The players love the excellent course conditions and the old school, traditional layout at Blythefield. And they're not just being polite when they say it. It's a good test without being too penal or tricked up to challenge these elite players. The greens are superb so expect to hear lots of hoots and shouts when birdie putts fall. 
The grass in the rough, however, is high and thick. Gramps played the course last week in a charity outing and his group lost a number of balls just off the fairway. An assistant pro at the club said, "The rough is the only defense the course has against these world-class players." He said that as I was buying another sleeve of balls. During tournament week there'll be plenty of volunteers helping players find their shots—and maybe even your sneakers—in the dense rough.
I promise you some other fun things to do besides watching long, high and straight drives and curvy putts disappearing into the cup. There's a free Discovery Land for young fans like you, offering hands-on stuff and activities all week. You'll see games and characters from Nickelodeon, Hasbro, and Universal Studios such as Nerf, Jenga Pass, Paw Patrol and SpongeBob. And there's a 40-foot long putting attraction where you can pretend you're Lexi or Ariya on the last green to win the tournament. When you're tired of that, you can visit the Father's Day card-making station. They think of everything here!
By the way and just a head's up, while you're at Discovery Land, I'll slip over with my special upgraded ticket and visit the Grand Taste. It's a special place—called the best of its type on any Tour—where I can sample food and beverages from area restaurants and breweries (don't tell Grandma!) and Meijer vendors. It was so popular last year, they expanded it this year to include a new Grand Taste Garden where more food, drink, games and chef demonstrations will be offered along with live music (after play is done) on Friday & Saturday. So save two dances, with your shoes on top of mine, for this silver-hair rocker.
You'll probably get tired and maybe a little bored at times but remember the day is also about helping a good cause. You see, this tournament raises money to feed hungry people. It's part of Meijer's Simply Give program that supports local pantries keep their shelves stocked with nutritious food for the sake of needy families. In the last four years and because of this tournament, $3.1 million has been raised to support Simply Give with another $1 million set as a goal this year. Impressive, right?
OK, I know Gramps talks a lot but as your parents say, that's par for the course. It's what I still do: talk and write about golf and why it's a grand game for a lifetime.
Just in case you forget all of this stuff, get out your iPad and visit www.lpga.com and www.meijerlpgaclassic.com
Love ya,
Gramps
images courtesy of the Meijer LPGA Classic