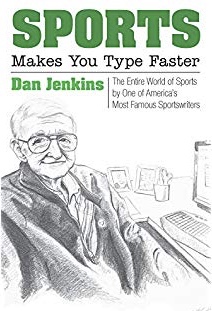 Sports Makes You Type Faster by Dan Jenkins—Here's the other reason for my neglected fall desk duties: reading and laughing over Jenkins' new book, published by his college alma mater, Texas Christian University (TCU) Press. It's a rollicking collection of columns—"the vast majority are brand new," writes Jenkins in the introduction—that covers the gamut of major sports. True to form, Jenkins—a member of the World Golf Hall of Fame and one of only four writers to be so honored—uses wit, satire and humor to enlighten and entertain. In most of the pieces, in two pages or less, Jenkins uses a fictionalized persona to skewer various subjects. But he also includes some "fact-based" ones including a well-argued and carefully researched piece on why the 1942 Hale America National Open golf tournament should be officially recognized by the USGA as Ben Hogan's fifth U.S. Open title. As the famed sportswriter O.B. Keeler was to Bobby Jones, so too is Jenkins to Hogan. Jenkins genuflects at the altar of Hogan, having cut his reporter's teeth on covering the fellow Texan.
The sardonic humor, one-liners and quotes throughout the book are killers. Here's a sampling to whet your appetite:
New team applicants to the NFL: "Oklahoma Frackers, the Oregon Rain and the Arkansas Walmarts."
About the fictionalized Richie "Trapper" James, cornerback, Oregon Agricultural & Sharing Institute: "Richie is something of a risk despite his speed, size and good hands. In the past three seasons he's been caught selling marijuana, shoplifting and burglarizing a retirement home. He somehow beat all three raps. But you have to like his attitude. He says, 'Look at it this way. I've got so many character flaws there won't be none left for anybody else on the team.'"
About changing the "poorly chosen mascot" of the New Orleans Saints, the alter ego cracks: "The fact is, there are only ten thousand official church-declared saints in the world, not counting Meryl Streep and Barbara Streisand, who ordained themselves."
In a piece titled "The Savior" about a new college football coach's first press conference: "The film I've seen tells me the guy I've replaced here couldn't coach a team of fat boys in a pizza-eating contest."
About "The Northern California College of Wine-Tasting & Staring at the Sun: a gang of students had stolen a city bus and smashed it through a wall of the campus bookstore to protest the store not keeping enough burkas in stock."
Faux college majors: "smartphone, stereo history, human hobbies."
In Golfer Seeks Cure: "The golfer may think his swing is starting to look like Jordan Spieth's when it would be more accurate to say it resembles an overweight man trying to revive interest in the hula hoop."
About Jenkins' early days covering golf: "Nor do I recall standing ovations for players you've never heard of just because they walked up on a green."
Next month Jenkins turns 89 years young and with this book he again reminds readers he hasn't lost the fast-twitch muscles of candor, clarity and humor. And if I timidly point out an error on page 192 that should read "Detroit's Denny (not Kenny) McLain," I'm sure the Fort Worth wizard would say:
"Kid, get a life. It's a darn typo and the fact-checker called in sick."
Images courtesy of TCU.