St. Jude Children's Research Hospital
It may be unusual to visit a hospital on a vacation or a business trip but that's what you should do in Memphis. Visitors may go online and request a tour of St. Jude Children's Research Hospital. The 90-minute tour will provide an inspiring overview of the hospital and its unmatched facilities and services for the benefit of children battling cancer. We started outside and visited a garden in front of the main entrance. There we were able to find the brick dedicated to the memory of Brian Bush from Grand Rapids. Inside, we toured the hospital's state-of-the-art facilities which are provided free care to patients and parents admitted to the hospital. Beautiful murals and photos grace the walls and include inspirational messages and themes by and for young patients. We loved the display titled "The ABC's of Cancer." Patients created a colorful collage of drawings such as "F—Cancer is Fearful but when you have Family, Friends and Faith in God, You can FACE and overcome anything."
Special thanks to our wonderful tour guide Melba for sharing the powerful story and impact of St. Jude with us.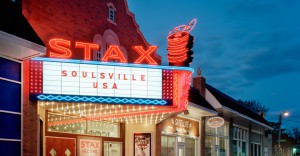 Stax Museum of Soul Music
Opened in 1957, the Stax studio helped to put Memphis atop the soul music charts. Stax trumpeted such artists as Rufus and Carla Thomas, Sam and Dave, Otis Redding, William Bell, The Bar-Kays and their house band, Booker T. & the MG's. Several Stax hits were written and produced by the team of Isaac Hayes and David Porter. The excellent museum begins with a brief but foot-stomping film. Besides Stax artists, other legendary soul artists are featured like James Brown. There's even an Express Yourself dance floor where you make like the Soul Train dancers. There's a replica of Stax's Studio A which produced and recorded many hits. Also, Isaac Hayes's customized Cadillac El Dorado is on display. All in all, if you care anything about music and particularly soul music, this is a must stop. I did, however, note one error in a display about the singer Al Green. It incorrectly listed his family as moving from Arkansas to Grand Rapids, Minnesota and not Michigan. I emailed the director of the Museum and he promptly replied back acknowledging the error and said it would be corrected.
Sun Studio
This popular attraction is a terrific one-two combo with the Stax Museum. Much smaller than the space and footprint devoted to Stax, Sun packs a lot into its limited dimensions. This is the "birthplace of rock' n' roll" and it has quite the tale to tell. This is where Elvis Presley, Johnny Cash, Jerry Lee Lewis, Roy Orbison, a d BB King, among others, first broke on the music scene. There are well-done displays and priceless memorabilia galore here. Timing your visit to include a 45-minute tour is highly recommended. On our visit, Mark Edgar Stuart, a most informative and humorous guide, gave the tour and he was very entertaining—like having comic actor Jack Black being in charge.  He shared this tidbit: a few months before, Jerry Lee Lewis gave a private tour of studio, including a long stay in the actual recording studio, to Mick Jagger! What's a better commendation than that?
Graceland
No visit to Memphis would be complete without a stop at Graceland, Elvis's stately home. Being the second most visited private residence (after a certain house in Washington D.C.) in the nation, many Michiganders have been there. But due a recent multi-million dollar expansion across the street from Graceland called "Elvis Presley's Memphis," a return visit is definitely warranted. That 200,000 square-foot complex allows visitors a comprehensive and state-of-the-art guide to Elvis's amazing career and his unshakeable hold on American culture. Included are exhibits from his music career and influences, his automobile collection, motorcycles, Hollywood films, and much more. 
Elmwood Cemetery
As past readers of my travel columns will recall, cemeteries are usually on our itinerary. They contain a fascinating record of a city's past. Elmwood is no exception. This 80-acre cemetery is on the National Register of Historic Places and is also an official Bird Sanctuary and Arboretum. From the comfort of your car, one can take an audio tour of the cemetery and visit the gravesites of both the famous and infamous persons of Memphis. There are generals, senators, governors, mayors and red-light district madams. And also famous authors such as the esteemed writer Shelby Foote, celebrated for his acclaimed Civil War trilogy. (Later, we drove by Foote's home in Memphis.) Open seven days a week, there are also docent tours available for small groups. 
National Civil Rights Museum
This is also a must-stop in Memphis. Encompassing the Lorraine Motel, site of Dr. Martin Luther King Jr.'s assassination in 1968, this museum is devoted to the cause of the American Civil rights movement and the thousands of men and women who carried the torch. There are oral histories, films and interactive displays and several hours are needed to absorb it all. One's tour ends with an emotional wallop as the tragic death of Dr. King is movingly preserved. 
* * * * * * * * * * * ****************************************
Where to Stay
Although there are numerous national hotel chains in Memphis from which to choose we opted for the charming River Inn of Harbor Town. This award-winning and small intimate hotel is located along the Mississippi in the Mud Island district. Besides the hotel's amenities, we loved the surrounding community and the walking, biking and running opportunities. In fact, the nearby paved path is recognized as a National Bicycling Route. We had a lovely second-floor room, with a view of the Mississippi River, and marked by a most comfy four-poster bed, 32" flat screen TV,  Frette Linen and other classy touches.
We particularly relished the separate reading area with morning coffee just a few steps outside our room. A perfect spot to quietly begin one's day.
In terms of dining, the hotel has several options. On our first evening there after a long drive in the car, we ate at the bar at Tug's, a  smart choice for casual dining and libation. The next night, we opted for the well-regarded Paulette's Restaurant. It's a subdued and elegant setting and the service and food were exemplary. All in all, River Inn proved to be ideal for our stay in Memphis. Visit www.riverinnmemphis.com
For more information on these attractions and others, visit www.memphistravel.com
images courtesy of Memphis Travel, Graceland, River Inn of Harbor Town, Stax Museum