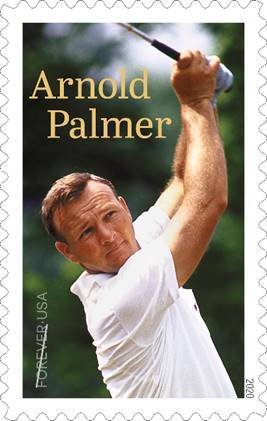 On March 4, 2020, at Orlando's Bay Hill Club and Lodge on the eve of the Arnold Palmer Invitational Presented by MasterCard, the U.S. Postal Service will formally dedicate a stamp to Arnold Palmer, an iconic and beloved figure of the game who passed away in 2016. Palmer is only the fourth American golfer to be honored with a commemorative stamp, the others being Bobby Jones, Francis Ouimet and (trivia stumper) Babe Zaharias. The Palmer stamp was designed by the U.S. Postal Service's Art Director Antonio Alcalá. The image in which Palmer is depicted was taken from an action photo by James Drake in 1964 at the U.S. Open at Congressional CC in Bethesda, MD. 
Recently I spoke by phone with Antonio Alcalá. Here are edited excerpts of that conversation.
Are you golfer and how much did you know about Arnold Palmer?
I'm not a golfer but I am a sports fan. So I certainly knew about Palmer and read about his career. I've watched golf many times on television and saw him there. And I knew about his famous Arnie's Army!
How did you approach this design, what's this process?
There are a number of factors that go into a selection of an image. First of all, everyone wants to see the subject's face; that's important. But that also posed a challenge. If you make a person's face too large on the stamp then you lose other elements and characteristics. I felt it was important to show Palmer in such a way that someone would immediately recognize him. Also, I knew early on a photo, as opposed to an illustration of him, would be best route to go.
I poured through a lot of images  before I found one showing him swinging his club. In that pose you could see his grip, his concentration, and his determination. Also, it was an image of him at the top of his game. 
You certainly selected a very fitting image,  one capturing his signature swing and follow through, but also his grip. Were you aware of those assets in the image?
Yes, I read about his grip and knew that was a key element. There were so many things about Palmer that were terrific. My hope was to find a single image that could capture his golf traits. We were very fortunate to find that image.
How long did it take to find that image?
It took some time, many weeks in fact. There are a number of iconic images of Palmer so there were many to review and consider. Some of these images didn't show his face well enough. Also, the U.S. Postal Service has a research team that spent some time on this project in addition to my own resources.
What's the process of securing that image, in this case a photo?
(Here, Antonio was joined on the line by the U.S. Postal Service's Mauresa Pittman.) We worked with the research team that identified that image and then tracked down the person or entity who controlled the image. In this case it was a photo taken by James Drake in 1964 at the US Open. (Ed. Note: The Open won by Ken Venturi.) We also worked with the Palmer family to make sure they were happy with the selection. We then began a process to secure permission to use the image as well as an agreement to use it for any other stamp-related items.
Were there any issues or nuances you needed to work through with this image?
First, the original photo was a fuller image than what you see on the actual stamp. As art directors for stamps, we're always dealing with this very tiny format, maybe one-inch by one-and-a-half inches. So the challenge is to be able to crop the photo to get the most out of the image. The crop needed to maintain not only a clear image of his face but also his arms and grip. Then the right crop allowed us to place his name with the right typography. And we needed room for the required denomination and the country of origin.
Any enhancement to the image itself?
The only enhancement might have been brightening his face.
What other stamps have you done?
Serving as an art director for the Postal Service going on nine years, I've been involved with over 50 issuances including the Solar Eclipse, Woodstock and several of the Love stamps. In terms of sports stamps, I did the one for Wilt Chamberlain. I also worked on the Star Trek stamps which won awards from the Society of Illustrators and Communication Arts magazine. There have been a wide range of subjects.
Antonio, would you share your schooling and career path?
I was born and raised in Southern California and then moved to the East Coast to attend Yale University where I earned a BA degree in History, then on to the Yale School of Art where I got a Masters in Fine Arts and Graphic Design. I've been a designer for over 30 years but I've been under contract for the Postal Service as an art director for about nine years.
Aren't many commemorative stamps the work of independent illustrators?
That's correct. The stamp development program of the Postal Service will assign a topic to one of four different art directors. And then that art director will have the responsibility to evaluate the topic and determine what's the best way to execute the commemorative design. In the case of the Arnold Palmer stamp, there were options to hire an illustrator or to go another route. But in the end, I felt it was important to show Palmer doing what he does in a photograph.
You made the right call, Antonio! Congratulations. Thank you for your time.
Here is information about purchasing the Arnold Palmer stamp: 
Sales begin March 4, and may be purchased from:
o   Post Office locations around the country
o   The USPS retail booth at the Arnold Palmer Invitational Presented by Mastercard
o   USPS Facebook page
o   usps.com/shopstamps
·      Preorder stamps 30 days in advance at usps.com/shopstamps.
Photos courtesy of the U.S. Postal Service