"Let's play two!"  Yep, that's what Chicago Cubs' Ernie Banks always urged in joyful fashion around the baseball diamond, admittedly in the bygone days of doubleheaders. But if Banks ever plays Forest Dunes Golf Club—a diamond in its own right—he'll be singing the same tune. "Mr. Cub" would undoubtedly say, "You're cheating yourself by only playing it once."
Unless your home address is a cave, you've heard and read of the glowing reviews about Forest Dunes, located in Roscommon in northern Michigan, a few miles east of I-75 and Grayling. Earlier this year, the Golf Channel's Matt Ginella listed the Tom Weiskopf-design as one of his "Top Ten Public Courses in the U.S." For positive press, that's sittin' in high cotton. But heck, smart Michigan players have rated Forest Dunes one of the best for some time, in spite of several ownership changes over the years. Now the rest of the country is just catching up.
Okay, so what makes this place worthy of a Banks doubleheader? Let me count the ways, besides just two:
Natural Beauty: Set within 500 acres of the Huron National Forest, Forest Dunes' remote and isolated location is also one of its most captivating features. Far from the madding crowd, it offers a peaceful yet eye-opening golf experience. Its expansive landscape is marked by hardwoods, red and jack pines, native dunes, ponds and open meadows—the epitome of Pure Michigan and all its allure. The wildlife is noteworthy too. In a recent visit, I was mesmerized by the sights and sounds of a pair of snowy white Whistling Swans that flew over our heads while on the 12th green. With a splash, they touched down in a nearby pond, all the while imparting a mellow bugling call worthy of its own Pandora channel.
Design: Tom Weiskopf really delivers the goods. The variety of holes, shot values and risk/reward options therein are superb. The front nine is more of a parkland layout with fairways carved out of hardwoods and pines but with generous corridors, including the rough line. In spite of its woodsy environs, one's driver never becomes claustrophobic. There's ample room off the tee. The same is true for the back nine which is more open and has a linksy look and feel with prominent sandy waste areas. And both sides offer holes with open approaches to the green and with few forced carries. (I do wish the par-3 ninth hole had an optional forward tee somewhat near the first tee to skirt the water. Oh well.)
In short, you can largely play Forest Dunes on the ground in keeping with classic design. Although there are many impressively-designed bunkers dotting the layout, they can be avoided with accurate shots and if not, they're not too penal. The right balance of enjoyment and challenge can also be found on the putting surfaces. There's movement in them but nothing ridiculous or chagrin-inducing. One pro shop suggestion: Please make available a printed copy of Weiskopf's hole-by-hole playing tips as a helpful guidebook.
Conditioning: Course Superintendent Jim Bluck, a highly regarded GCSAA member, has been with Forest Dunes since it opened more than a decade ago. Such tenure is testimony to his mettle, skill and experience. Sporting a single digit handicap index, Bluck knows the nuances of the game and what conditions are most desirable to the Forest Dunes golfer: smooth and fast greens, firm fairways, ample sand in neatly trimmed bunkers, manageable rough and most importantly, an attention to detail. Most players seeing the top-shelf conditioning standards here are respectful of good course etiquette—fixing ball marks and filling divots. But given the state of the game, an irksome minority always lurks, being too lazy or too ignorant to do such tasks. Thankfully, Bluck's staff fills in the gaps, most notably with a monitored divot replacement regimen. The end result: It's one of the best conditioned upscale courses you'll ever find.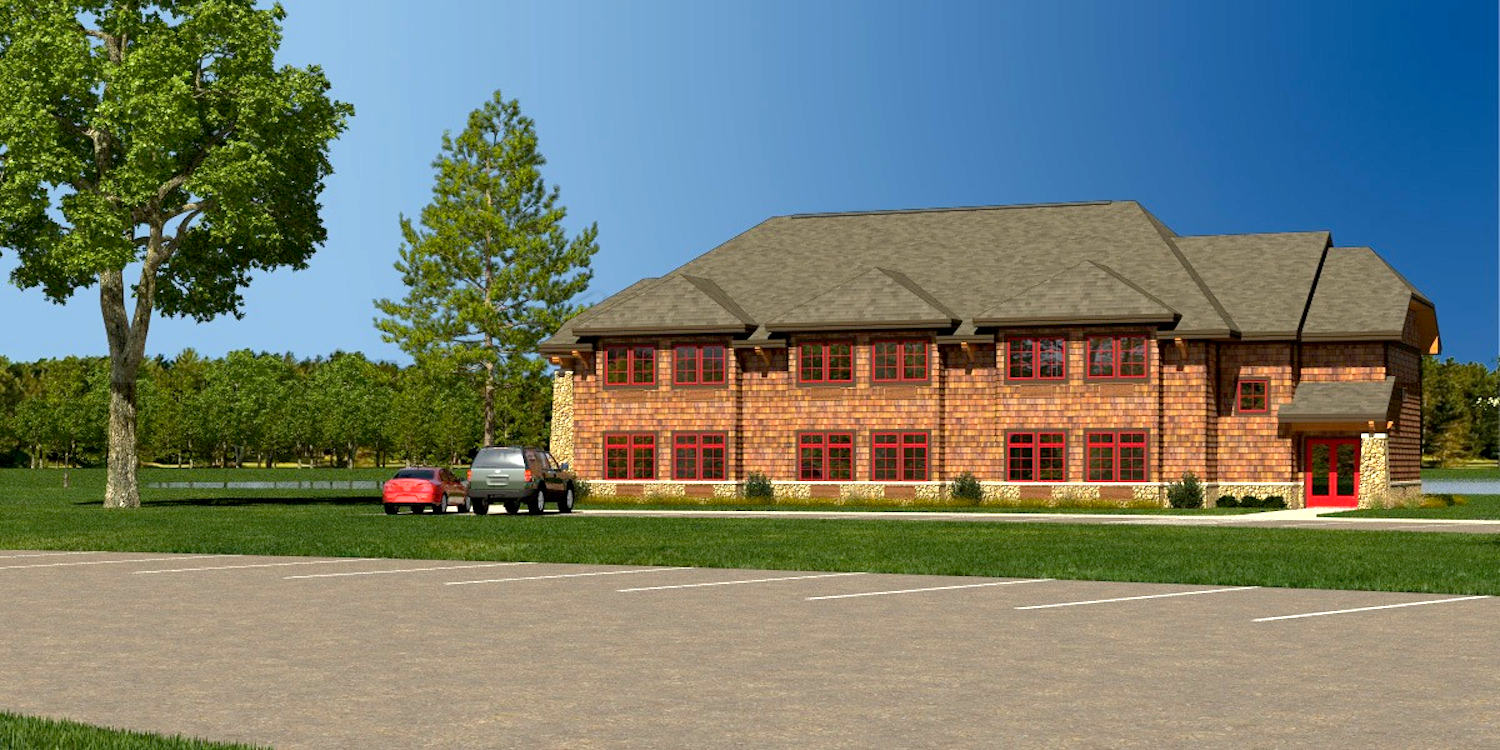 Facilities: The big news in 2013 is the opening of the 14-room Lake AuSable Lodge overlooking the first tee and Lake AuSable. It's a game changer. The Lodge answers the growing need for more on-site lodging that previously was limited to some rental cottages and homes on the property—both of which still provide very attractive housing. Now couples, buddy golf groups and other parties can take advantage of these well-appointed rooms with comfy bedding, flat screen HD satellite TV, and wireless internet. But the catbird seat at the Lodge may be found on the second level, where a duo of handsome two-bedroom suites resides with a fireplace and a life-is-good balcony. A few steps away sits the spacious and finely furnished Adironack-style clubhouse. Its Sagamore's Restaurant is just another reason to stay on the property and not break the spell of a memorable golf experience.
And these added pluses: Wide, stamped concrete cart paths; a big, two-sided practice area; attentive and friendly service (the bag drop attendant actually ran to get my bag out of the car!); buffet breakfast for morning golfers; combination tees on the scorecard; walking allowed any time (bravo!); a 19th Bye hole; gratis from the starter, natural bug repellent (the insects can be pesky at certain times); and the fire engine-red Club Cars that are so striking and distinctive when seen from afar. Psst: the red matches the team color of the U. of Arkansas Razorbacks, the favorite of Forest Dunes' new owner, trucking mogul Lew Thompson from Huntsville, Ark.
With Thompson's support and trust, Todd Campbell—the golf and customer-savvy General Manager of Forest Dunes—has the operation clicking on all cylinders. A PGA member, Campbell spent twenty years at Garland before arriving at Forest Dunes following a short stint at a Wisconsin golf resort. Campbell is back home again, seizing the challenges of the marketplace and relishing what the property represents to Michigan and to destination, bucket list golf. Self-effacing yet confident, he knows Forest Dunes is on the right path.
Just don't expect him to blow his own bugle. Leave that to the Whistling Swans.
For complete information about Forest Dunes, visit its comprehensive website at www.forestdunesgolf.com