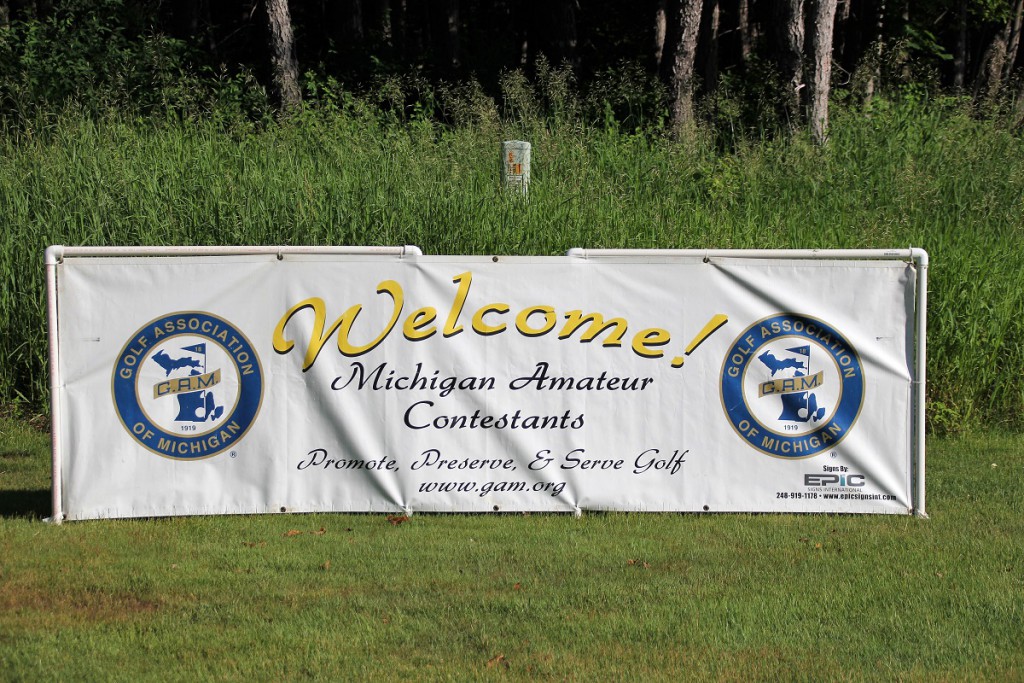 In my nearly 40 years and counting golf career, I've worn many hats—editor and writer, golf show organizer, media relations consultant, board member, tournament volunteer and rules official, and competitor. All of these roles have been uniquely satisfying and fulfilling in their own way. Yet as I have reminded family and friends, it's not always been "peaches and cream and hanging out at the Masters." Not that I'm complaining, mind you. Invoking the obvious,  every endeavor has its good days and its bad days.
One of my really good days is when I get the opportunity to be a walking official during the match play portion of the Michigan Amateur. (Disclosure: I'm a board member (Governor) of the Golf Association of Michigan, the organizing body of the Michigan Amateur.)
Match play competition at the Amateur— held last week at the sublime 'The Heather' course at Boyne Highlands—is the essence of amateur golf with all of its one-on-one simplicities, player dynamics and surprises. As a walking official, one's role is fairly simple: monitor the match, make basic decisions about who's away, assist players when asked about a rule, and announce and report the status of the match after every hole. And as one guideline for officials wisely suggests,"Try to be conspicuously inconspicuous."
For the first round of match play last Wednesday, there were 32 walking officials assigned, four being GAM staff members and the rest GAM volunteers. Of the latter group most of them are seasoned, loyal and long standing tournament volunteers. Many of them, in fact, are past and current GAM officers and board members whose steadfast volunteer efforts and commitment over many years still make me feel like a rookie. Thankfully, none of them ever hazed me by putting shaving cream inside my hat. All of them I consider friends and colleagues who share a passion for the game.
But I digress. 
Like several other officials, I officiated two matches on Wednesday, one at 1:14 pm and another starting at 5:40 pm. I imagine Ken Hartmann, the GAM's admired Senior Director of Rules of Competition with a keen sense of humor, qualifying my double match play walking assignments by saying, "Moore is one of our best volunteer officials from the neck down."
For brevity's sake as well as mindful of reader eye strain, I'll limit my narrative to the first match.
My "round of 64" match was between Matthew Pelak of Mattawan and Scott Strickland of Bloomfield Hills. Both had qualified for match play by shooting identical 75-71 scores. For their second round, they both tee off in the morning wave which was fortuitous given the ugly weather that plagued the afternoon wave and tournament officials (more on that later). 
Pelak will be a sophomore at Wayne State University where he'll be competing on its golf team.   With 0.0 as a handicap index, Pelak is a remarkable player in that he's only been seriously playing golf for three years. Before that he and his twin brother, also a good golfer, were dedicated baseball players. 
Strickland is a well-known and accomplished amateur player. With a +2.8 index and a member of Oakland Hills, Strickland is a frequent competitor in the Amateur. In fact, I officiated his first round match last year at Oakland Hills North where he beat another "crafty veteran" (compared to the wealth of college players) Mike Anderson. A perennial name on the GAM's Honor Roll list of top ten players, Strickland won the 2013 GAM and 2018 GAM Mid-Amateur Championships. In 2016, his stellar game took him to the semi-finals of the US Mid-Amateur where he bowed out to eventual champion Stewart Hagestad. With such an impressive record, some observers might've predicted an easy match for Strickland.
But match play often offers up curious stories and unforeseen twists. The underdog Pelak won three consecutive holes with easy pars against the usually steady Strickland and was 2-up after six holes. But a poor chip on the par-four 7th hole led to a losing bogey and seemed to shake Pelak's confidence. After Strickland striped his drive on the next tee, Pelak seemed to show his nerves again by badly mishitting his drive leading to another bogey. Match tied. Although far from over, the momentum had swung over to Strickland. He would win three of the next five holes with the 14th being particularly pivotal and dramatic. 
There, both players misplayed their approach shots to the green. Pelak was way short of the green in two while Strickland found the greenside bunker. Two-up at the time, Strickland watched his opponent make a weak chip to the fringe, leaving him a 20-footer to save par. Maybe sensing a knockout opportunity by holing his bunker shot or nipping it to within gimme distance, Strickland was possibly too aggressive or careless, blading his shot 20 yards over the green. I even yelled "fore!" to the players near the next tee. Now this presented a classic match play reversal. Pelak could imagine his deficit being only two down or at least remaining only three-down.
After calmly sizing up his third shot, Strickland arched a high flop shot back onto the green where his ball bounced several times before running toward the flagstick. And yes, it found the bottom of the cup. It was such an amazing and stunning shot that I had to ask myself 'was it for a three or a four?' 
It was indeed for a par. But in his shocked state Pelak thought Strickland's shot was for a hole-winning birdie and promptly picked up his ball lying three on the fringe. I had the unfortunate duty to inform the young man if he hadn't picked up his ball, he still had a chance to tie the hole. But by picking up his ball, Pelak incurred a one-shot penalty and immediately lost the hole. Now Pelak was 3-down. 
I felt bad for the player knowing he was more embarrassed than disappointed by his mental lapse. (I wanted to console him by saying, "Welcome to my world, son.")  The sequence on 14 was the quintessential match play turn of events.
When Strickland won the 15th hole, he claimed the match 4 & 3. I congratulated him and then turned to and told the crestfallen Pelak, telling him he had plenty of game and would surely be back competing in more Amateurs. 
With the match over and ending without incident or controversy, I felt relieved and returned to the golf shop area where I rested and got a bite to eat. My 19th hole was a delight, overlooking The Heather's picturesque closing hole.
photo courtesy of the GAM