Recently I was fortunate to play all 18 holes and have a 'sneak preview' of American Dunes (AD) Golf Club located on the same property as the former Grand Haven GC in Grand Haven, MI. And yes, I was impressed. 
(Note: During my high school and post-college playing days, I played a lot of golf at the tree-lined, parkland Grand Haven GC. It was always a popular course in west Michigan, a mini destination in its heyday. By the way, the nines now have been reversed from the original routing.)
A Jack Nicklaus Signature Golf Course and dedicated to the Folds of Honor Foundation founded by the charismatic Lt. Col. Dan Rooney, American Dunes is a major and stunning transformation of the former layout, revealing and accentuating its native dunes and sandy soil—ideal for a grow-in. Acres of trees have been removed, opening up the course to wide and generous fairways and panoramic views. And to the Lake Michigan breezes.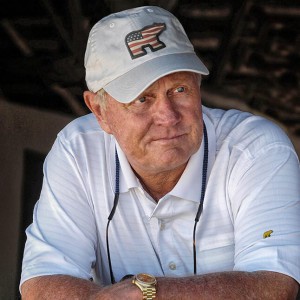 Unlike some of Nicklaus's other celebrated designs, AD is playable and not too penal for the average golfer. This is neither The Bear in Traverse City nor Harbor Shores in Benton Harbor.  As Nicklaus reminded the media gathering the next day, courses of that ilk were designed and built for hosting professional and well-publicized tournaments, giving a turbo boost to name recognition and marketing. American Dunes  instead has the combo appeal of the Nicklaus signature and the Folds of Honor cause.
Most greens are open-front and when missed will accomodate putting around the fringe and surrounds. Ponds are placed laterally and not as annoying "cross hazards." 
The bunkering and waste areas are dramatic, often deep, while lending striking visuals.  But they're largely not positioned in the middle of fairways or in the approaches to greens. 
A few of the holes were only seeded in the past month or two and so are still maturing, but in general the fairways and greens are in excellent shape. In fact, most of the greens on Monday were rolling at a stimp of 12. When it officially opens to the public next May, the conditions will even be better. 
One more plus: it's a walkable layout. Using my battery-powered golf cart, playing and walking American Dunes in less than four hours was my newest version of Pure Michigan.  
For more information on American Dunes, visit www.americandunesgolfclub.com  
Greens fees will be $150 with discounts for active military and veterans. All profits from the golf course will be donated to Folds of Honor, which in 2019 awarded approximately $22 million in educational scholarships to spouses and children of disabled veterans and fallen soldiers. Tee times for 2021 begin Dec. 15, 2020.
Terry Moore can be contacted at terry50moore@gmail.com
Images by Terry Moore and American Dunes (Jack Nicklaus)