(This column is written by Serena Thiede who joined me at the opening ceremony for the inaugural Folds of Honor Collegiate.)
For those of us who do not have service members in our family, it is hard to appreciate all the sacrifices one makes when they sign on to the military. But for others dealing with the aftermath of loved ones dying while serving it is a daily battle trying to keep their spirit alive. No matter the branch of service or cause of loss, every man or woman who serves our country deserves to be honored, and the Folds of Honor Collegiate is one way athletes from around the country are paying their respects to those fallen heroes.
The Folds of Honor Collegiate is a golf tournament held in Grand Haven, Michigan, at American Dunes Golf Course designed by Jack Nicklaus. It is a 54-hole tournament ending this Wednesday that brings eighteen of the top schools of various sizes and backgrounds from around the country to the links for not just a chance at winning, but a chance to make a difference. 
"Well, Dan Rooney (course owner and Folds of Honor founder) and Casey Lubahn (Michigan State University Men's Golf Coach) were the ones to get the ball rolling," said Michigan State legend Tom Izzo who attended the opening ceremony on Sunday. " ….Playing with Jack (Nicklaus) up in Grand Blanc I really got to know the inside story to this whole thing…and how much work it took to put it all together and then being able to be a little small part of it because Jack couldn't make it today is a thrill for me," Michigan State basketball legend Tom Izzo said. Michigan State is the host school for the tournament.
The mastermind is Rooney who in his opening speech on Sunday really emphasized that no matter what you are going through in life, when you know what you want to achieve the answer is clear.
"If you listen to what is in your heart and have the courage to go, great things will happen in your life, and the same thing goes for this situation right here as we live by my saying of 'Go before you are ready' —walking into an idea not knowing exactly what would happen. Everything that we work for here all culminates with this event," said Rooney.
This tournament is one that has a deeper meaning than just playing for a low score, and golfers who have not had experiences with these hardships before, it is an important time to take in all of the pieces connected to the tournament's meaning. 
"Well, it's a deep-seated feeling and a positive feeling being here," said University of Illinois Head Coach Mike Small. "It is great knowing that this is not a normal college event; it has a higher purpose and a higher meaning to it. I think a lot of these college kids know what Folds of Honor is, but now they really get to see inside of it for what it really is so having them be here to experience it to me is a big deal." 
With the Folds of Honor being a different experience for all walks of life, the melting pot of life does not just stop at Big Ten schools, but also fittingly includes the armed forces teams,  Air Force, Army and Navy.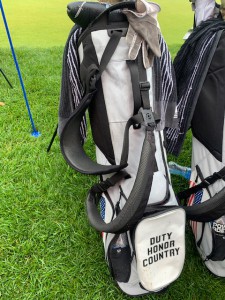 "Obviously being a service academy we are touched by the military every day. I think some schools really get the exposure to what the Folds of Honor is and what it really means to be in the military and in military families which is awesome," said the Air Force Academy's Coach Tyler Goulding. 
American Dunes and MSU are hosting many teams for the Folds of Honor, and one group they specifically include are historically black schools and universities. Two such schools are represented:  Virginia Union and Texas Southern.
"This tournament means we are allowing smaller D2 schools to be able to say we can come and compete and play with the best and the biggest of the boys so it is awesome to be here and we are excited to see where the week takes us," said Virginia Union's Zaccheus Spann. 
Although the Folds of Honor Collegiate means something different to everyone, the everlasting impact it makes on an underappreciated community is enough to last a lifetime. With everyone involved putting their heads and passions together to make it happen, there is no doubt that the Collegiate will be a memorable highlight of the golf season. 
And for those on the fence about attending this week: go before you are ready.
For more informationn, visit americandunesgolfclub.com
A senior at Forest Hills Central HS in Grand Rapids, Thiede is editor-in-chief of the FHC Sports Report and played two years on the golf team.