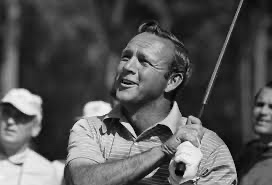 Two summers ago at the PGA Championship at Oakland Hills CC while sitting in the shady grandstand behind the green at the par-five 12th hole, I had a pleasant flashback of sorts. I remembered it was in 1960 that my infatuation for golf took root when my parents brought my brother and me to the PGA Championship at Firestone CC in Akron. That was the first professional golf tournament I'd ever attended and it made a lasting impression on me.
I remembered watching the colorfully clad Doug Sanders with his short backswing that could fit inside a telephone booth (remember those?) I remembered watching muscular Mike Souchak drive the ball out of sight. I remembered the sweet swings and tempos of Gene Littler and Julius Boros. I remembered watching Slammin' Sammy Snead hit practice balls to within a few feet of his caddie's shag bag. (Yes, a pro caddie shagging balls on the range!) But best of all, I remembered watching my hero at the time, Arnold Palmer.
As a lowly buck private in his Army, I would have followed Arnie all 18 holes if my parents had allowed me. The experience was more than just attending a tournament; it was as if a whole new world had opened up to me. These were special men doing extraordinary things and I couldn't get enough of it.
Thinking back on that PGA while at Oakland Hills made me realize how a little policy such as allowing junior golfers to be admitted free to a tournament with an adult is such a powerful initiative. So kudos to the PGA for following up on the example first set by the Masters for this junior golf measure that really costs peanuts if anything. "Growing the game" is a mantra but if we don't get youngsters excited and enthralled about the game at this basic level, then the more lofty measures will fall flat.
I'm thankful my parents loved golf and passed that passion on to me. At a very early age but sans diapers, my mom used to take me to her nine-hole golf outings and had me ride on her pull cart. Amazingly, she managed me and her game at the same time. Later, my Dad allowed me to pull his cart for him on weekends and watch him play the game with his friends and relatives. They bought clubs for my brother and me and encouraged us to play at every opportunity. Best of all, they built a house that was only a bike ride away from a municipal 36-hole golf course that even boasted a caddie program. At ten, I remembered following in my older brother's footsteps and becoming a caddie while also sharpening my fledgling golf skills. Caddying really was a major boost to my game. It fully exposed me to all aspects of golf and how people of all ages handled themselves on the course. It was learning by osmosis and observation and there's no better methodology.
Two years ago this month, I traveled to the Fort Custer National Cemetery in Augusta, Michigan, for a memorial service and burial for my parents. My dad served in WWII as a B-25 bomber pilot and remarkably flew and survived 61 missions. He earned several medals including the prestigious Distinguished Flying Cross. After an equally heroic battle with cancer, my mom passed away 16 years ago but her cremains had awaited internment until my dad passed away. Fort Custer National Cemetery is a beautiful and peaceful place (Michigan's Arlington Cemetery), one that makes you proud of how our country venerates its fallen veterans and their spouses. Led by a close friend who's a priest, my parents were honored with a fitting memorial service that included a six-gun salute and a presentation of a flag to my brother and me. Their cremains were laid to rest in the ground wetted by tears and softened by final goodbyes.
Growing up, I had a series of golf heroes formed by impressions and exploits seen on television or occasionally at tournaments like that PGA Championship at Firestone. But in truth, the two greatest golf heroes of my life were Henry and Mary Moore who grew the game in my heart.