To a reviewer, the mark of a good golf book is a mark. Lots of them. By that I mean, if after reading a book you page back through it and realized you've marked it up to note key passages and insightful observations well that's a good book. That's the case with "Just Hit It," by Frank Thomas with the assistance of professional writer Jeff Neuman. An engineering graduate from Western Michigan University, Thomas is best known as the long-time Technical Director of the USGA where he ruled the roost for determining "conforming equipment" for 26 years. Today, he's the chief technical advisor for the Golf Channel and Golf Digest while also being the principal owner of Frankly Golf, a golf consulting firm that also sells his patented Frog putter.
"Just Hit It" can be relished on several different levels. First, it's a cogent and deft meditation on the game itself and how in many ways it has gone astray due to the modern age's excessively designed, too penal, and overbuilt courses; to greedy golf manufacturers pushing expensive and marketing-obsessed equipment; and timid rule-making bodies (i.e. USGA and R & A) not doing their jobs of protecting the traditions and customs of the game because of lawsuit worries.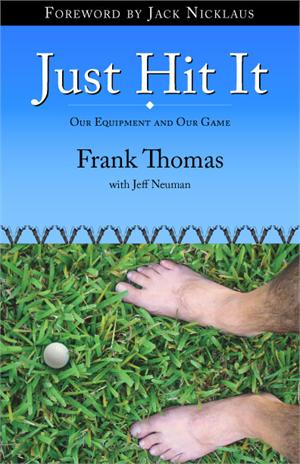 Second, the book provides a concise history of club-making and golf innovations such as the gutta percha ball, the track iron, the center-shafted Schenectady putter, graphite shafts (which Thomas helped to introduce to golf), Ping's putter and perimeter-weighted irons, TaylorMade metalwoods, titanium-headed drivers, and multi-layered balls. Along the way, Thomas drops a number of interesting chestnuts: Bobby Jones's famed Calamity Jane putter had eight degrees of loft to help on the bumpy greens which probably stimped at four; Grand Rapids and longtime Blythefield club pro John Barnum was the first tournament winner with a Ping putter; and the $300 million lawsuit between Ping and the USGA (when Thomas was technical director) was "all about the width of a human hair" on the contested Ping irons' grooves.
I also liked how Thomas serves up a host of practical advice and counsel on equipment decisions for the everyday golfer. For example, Thomas recommends no more than a 44 inch length driver for men of average height. "A shorter shaft will almost always lead to more hits on the sweet spot," states Thomas. He also urges consumers to pay close attention to shaft flex and lie angle before buying equipment which agrees nicely with the positive trend for personal club-fitting. Heck, Thomas even answers the question about how good are those unused golf balls one may rediscovered in the basement? Balls kept in a dry place "for four or five years will see no measurable decrease in distance," promises Thomas. Yet for all of his acclaimed technical skills and equipment knowledge, Thomas is refreshingly candid and frank in advocating "work on improving you, instead of your clubs." Please consult your local PGA teaching professionals and tell 'em Frank sent you.
The only section I found somewhat tedious was an early chapter, offered up as an allegory of sorts, about a fictionalized game of obstak and how its simple roots and appeal had been corrupted and hijacked by commercial and marketing forces. "The game of obstak is in the hands of those who profit from it instead of those who played and loved it." It's ably written and nicely argued but too much time and attention are lent there.
However, I was favorably struck by some of the astute research and studies cited by Thomas and how they should serve as another (how many does it need?) wake-up call for the beleaguered industry. To wit, "the two greatest deterrents to developing an addiction to golf are time and cost." The book ends on a particularly robust note with eight steps for saving the game and as building blocks for its future. Those eight steps are…hey, wait a minute. Just read it!
To order "Just Hit It" visit www.franklygolf.com.