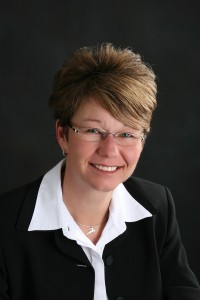 This past month Patti Butcher, Director of Golf and Club Operations for Blythefield Country Club in Belmont, Mich., was named Golf Professional of the Year by the LPGA's Teaching and Club Professional organization. This prestigious award was established in 1980 and it's awarded annually to an outstanding female golf professional involved directly in the entire golf operation. Before joining Blythefield, Butcher owned a very successful golf instruction company and was recognized as a Top 50 Teacher by Golf for Women magazine. Twice she was named the LPGA Midwest Section Teacher of the Year. Recently, Butcher spoke with me at Blythefield CC. Here are edited excerpts of our conversation.
What are the key factors for being a successful golf professional in this challenging economy?
It's all about relationships. Golf professionals must strive to offer an experience at their club or course so golfers feel at home and welcomed. If golfers and members feel a sense of community, if they feel valued and engaged, then they will stay involved and committed to their club. And in this challenging economy, golf is never more relevant as it today. Golf engenders relationships and business –especially small business — relies on relationships.
What about golf and the family?
In this fast-pace world, it's important to have a haven like a golf course, a place where one can slow down and enjoy the game as well as one another. When families play golf together they're away from the computer, away from cell phones, away from texting, and better appreciate their time and experience together.
How did your teaching and golf career begin?
It all started at Oak Hill Country Club in New York where I worked as an associate professional under Craig Harmon. It was there that I really began my teaching career and I was so fortunate to be surrounded by quality people who loved teaching. For many golf pros, the next step would have been a head golf professional position but for me it was the Director of Instruction at The Meadows at Grand Valley State University. That was also a tremendous opportunity. And of course, I'm so appreciative being at Blythefield which gave me the opportunity to be the head golf professional. Not a lot of private clubs were ready to have a female as a head pro. It's been an incredible journey.
What about communication skills in teaching.
I have definitely become a better listener in my teaching career. I've worked with so many interesting people over the years. And I've learned so much from my students who have been champions in business as well. They have counseled me and given me tremendous advice on the business of golf and teaching. I think it's important for golf instructors to be succinct, to focus on one thing that will click with their students. It starts with listening and asking a lot of questions of your students. Good teachers are obsessive about helping their students reach their goals. It all comes down to teachers caring about their students.
How do you use video?
Video is a very useful tool but it's overused at times. For example, I don't think you teach a gymnastics student how to do a back flip off a parallel beam by showing them video of an Olympic gymnast going through her routine. It's more complicated than that. It's more important for students to understand the cause and effect of ball flight and what's going in their swing and with their bodies. Video should be a communication tool, a means toward understanding swing aspects but not an end in itself. Students need a sense of purpose, a sensation through rehearsal, and an objective in their practice so as to know what they're trying to accomplish. If you could hit your golf ball with your brain, you wouldn't need a teacher.
Over the years, you've had a number of prominent students including Muskegon's Brendan Gielow, the Wake Forest All-America who was named to the Walker Cup team last year.
Brendan Gielow was special from the day I first met him. He was ten years old at the time and he came out to see me when I was teaching at The Meadows. He aimed at a tree on the practice range and said, "Okay, I'm going to start this ball left of the tree and bring it back to the right edge of the tree. And he did it." He epitomized at an early age that every shot has a purpose. I was fortunate to work with him for six years. He's destined for more great things in golf. I'm also very proud of Melissa Sneller who played at Grand Valley and was the individual champion at the NCAA Division II golf finals. She was a hard-worker and a tremendous competitor. But I've also been very blessed to work with everyday golfers trying to get better not only in their games but also in their lives and careers. I've received so much satisfaction from these individuals.
What are the fundamentals that you stress as a teacher?
I don't think the average golfer realizes the swing gurus and instructors who accompany Tour players and are out on the range are largely working on set-up, alignment and fundamentals. They may be quoted about swing plane but generally speaking they're working on fundamentals. It's important to know you can't just tell your body what to do. Correct fundamentals come about through rehearsal and repetition.
And what about the all-important short game? Why don't more golfers practice putting and chipping in spite of all of the evidence it's the path toward lower scores?
It's just not as much fun for many people to work on their short games. It's more fun to hit a long drive or hybrid. But to your point, if a Tour player is in the top ten in putting and scrambling statistics he or she will have a great year. The statistics bear it out.
But we've done short game schools here at Blythefield and they fill up fast. We've developed a road map on how to practice the short game and it's been effective for them.
Award winners usually thank others for their support and encouragement. To whom do you want to thank?
First, I must thank my mentors in the golf business. People like Craig Harmon, Pat Lange and Annette Thompson. They're all nationally recognized golf professionals and they have supported me throughout my career. They have freely given me valuable advice over the years on how I could be a better golf professional and teacher. I wouldn't be a golf pro without them. Anything I know I have been taught and everything I've taught has been given to me. It's my obligation to pass it on.