This isn't rant or a political statement but I do want to get something off my chest. As much as I admire Tiger Woods's triumphant win last month at the Masters (and I was there!) and all of the ensuing excitement that came with that victory, I still can't come to grips with him being bestowed the Presidential Medal of Freedom this past Monday. He's only the fourth golfer to earn this award, following such names as Arnold Palmer, Jack Nicklaus and Charlie Sifford. The choice for this award is solely up to the discretion of the current U.S. President, in this case Donald Trump. President Trump announced his selection of Woods shortly after this year's Masters.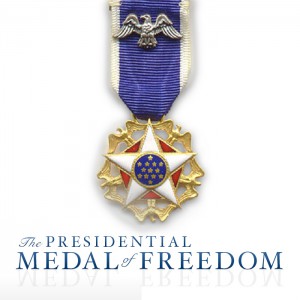 The award recognizes those people who have made "an especially meritorious contribution to the security or national interests of the United States, world peace, cultural or other significant public or private endeavors." Previous honorees, which may be bestowed posthumously, include such names as John F. Kennedy, Pope John XXIII, Mother Theresa, Lyndon Johnson, Paul "Bear" Bryant, Desmond Tutu, Thurgood Marshall, Cesar Chavez, Roberto Clemente, Jack Kemp, Antonin Scalia, Aretha Franklin, Roger Staubach, James Chaney, Andrew Goodman, and Michael Schwerner. Those last three names, honored in 2014, were civil rights workers murdered in 1964.
Certainly, Woods is one of the sporting icons and champions of our times. And his Tiger Woods Foundation has done some notable work. But still the award seemed very premature for someone still competing—fortunately after his latest and most amazing comeback from spinal fusion surgery—and now active once again in the world of golf. At 43, he's far from his sunset years.
In comparison, Palmer was 75 and Nicklaus was 65 when they received their Presidential Medal. And Sifford, commonly referred to as the "Jackie Robinson of golf," received his award in 2014 from President Obama at the age of 92. Incidentally, the nation's other highest award is the Congressional Golf Medal. It's been awarded only to three golfers—Byron Nelson in 2006 (posthumously), Arnold Palmer in 2009 at age 80 and Jack Nicklaus in 2014 at age 74.
To his credit, Woods warmly acknowledged Sifford and others in his brief acceptance remarks. He even choked up when talking about his mother and children. And President Trump gave a fitting introduction that was well-written by the White House staff. No doubt, the President was glued to his television during the final round of the Masters.
But for me, I would have preferred seeing Woods accepting this prestigious award twenty or more years into the future when his competitive playing days are largely over. That time frame seems more appropriate and respectful of an award honoring lifelong achievement and/or significant societal contribution.
But then again, maybe I'm a nitpicker.
Photos courtesy of the PGA Tour and The White House