"What are you most thankful for in golf?"
The golf season may be over for many, but the writers at The A Position—plus renowned golf course architect Robert Trent Jones, Jr.—are taking some time this Thanksgiving season to reflect on what they love best about the game.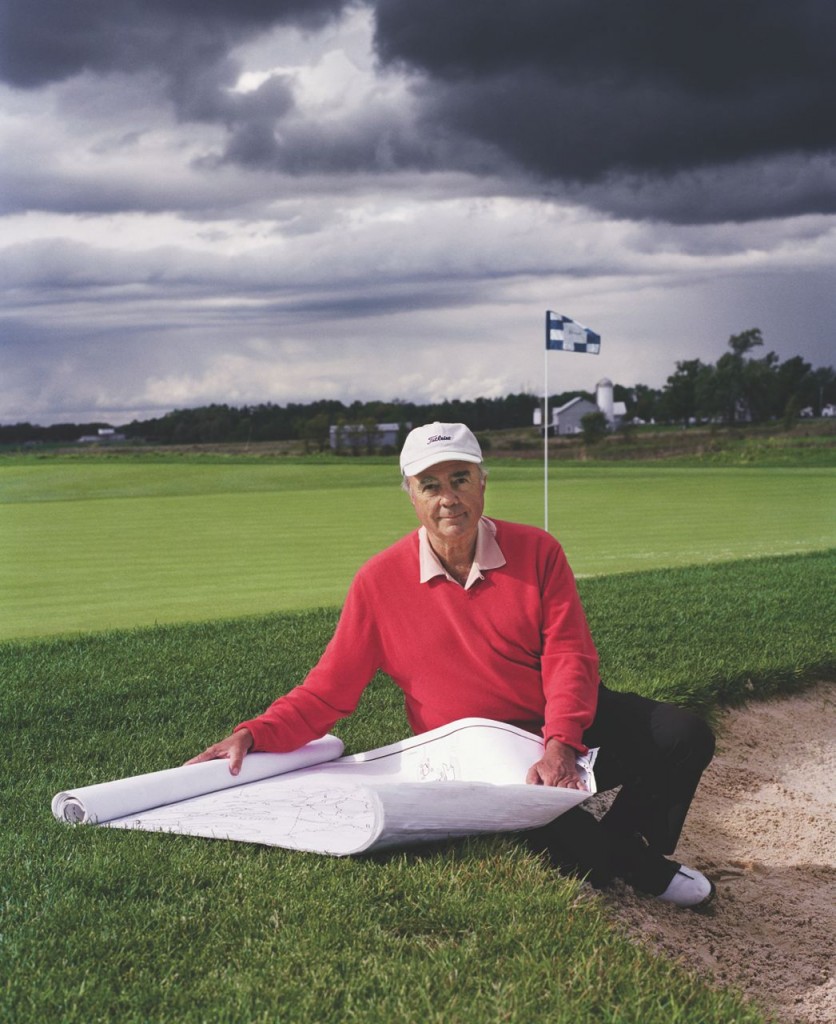 I'm thankful for the USGA's commitment to bring championship golf at the highest level to public courses that are open to everyone who wants to play them. Golf was meant to be a sport of the people and its great to see a return to that philosophy. The USGA has worked on this with great intelligence and a collaborative spirit. I'm particularly thankful to the USGA Executive Committee, which chose our public links course at Chambers Bay, in Pierce County Washington, to host the 2010 US Amateur and the 2015 US Open Championships. It's every architect's dream to have one of his courses host the US Open—like an artist who dreams of his work hanging in the Louvre.
—Robert Trent Jones, Jr. (left), rtj2.com
Quitting golf—that frustrating, maddening, unrewarding waste of time—was the best thing I ever did. Shortly before my wife and I moved from New York to Vermont, I sold my clubs at a garage sale, despite her warning: "You'll be sorry." "I'm never playing again," I said. I did play softball, though, and more than a year after our move I was chatting with a teammate as he pulled his gear out of his car trunk. Upon spying his golf bag, I asked, "You play?" "Yeah. You?" "Used to." "We should head out sometime." And when we did, I was Paul on the road to Damascus: The scales fell from my eyes. I returned from exile with a bright new vision of the game, its simple but bountiful pleasures, beginning with the exquisite beauty of a well-struck shot in flight. I was a new man. And I needed new clubs.
—Tom Bedell, tombedell.com
When I was young, I would get on my bike and head out for the creek. My friends and I would play in the water and hunt crayfish. We knew we were near a special place because everything nearby was so beautiful and well manicured. We could smell the cut grass and peer out at the players passing from our sanctuary in the woods. The creek emerged from the woods and cut in front of the second tee at Scioto Country Club, the very place where Jack Nicklaus started his career. I was thankful for the golf course before I knew what a golf course was. It was one of my favorite places in the world.
—Casey Alexander, caseyalexandergolf.com
Thankfully, golf is about kinship and bringing people together. Like me and my dad. By the time I took him to southwest Ireland for a week of golf nearly 30 years ago, we had already mended our fences. But we had never thrashed around a windy Irish links and later repaired to a smoky Irish pub to sip real stout and listen to the men of the village strum their guitars and sing their songs. Without the game and its post-round diversions to unite us, I doubt he would have told me what life was like growing up in the Depression, or about proposing to my mom at a Sunday picnic after rowing her around a lake, and other family stuff that could only come out after spending so much time together at golf. I've forgotten the shots, his and mine, but I do remember the spidery unmarked roads and the way the afternoon light hit McGillicuddy's Reeks high above the links at Dooks, turning the slopes of the mountains 40 shades of green. But mostly I remember the belly laughs, his and mine, and the piquant Gaelic squalor (this was 1983) and telling my dad I loved him without having to say so.
—Brian McCallen, brianmccallen.com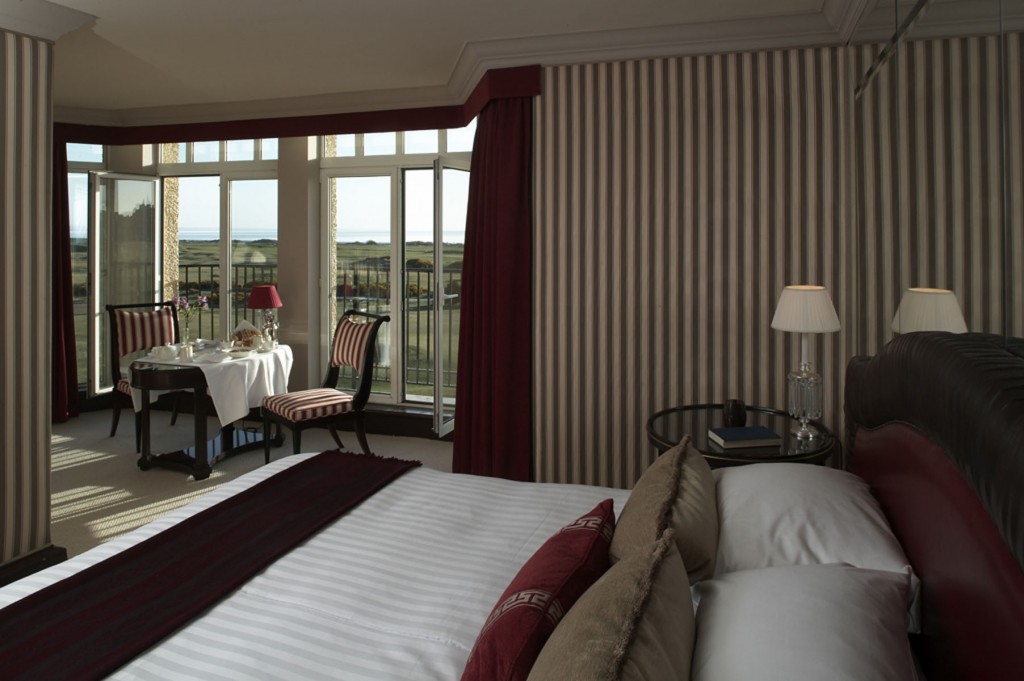 Room 236, The Old Course Hotel, St. Andrews, Scotland. If there are golf gods, this is where they reside. Stepping inside, you're drawn quickly past the silk-lined walls, velvet furniture, and old-world opulence mixed with a hip modern aesthetic. Past the bathroom full of gleaming Kohler fixtures such as a chromotherapy bathtub and a shower with many options for spraying hot water. Past the silk curtains and the floor-to-ceiling windows, and directly to the balcony. From there, look straight down upon the most famous hole in golf, so close that wind could blow sand from the Road Hole bunker into your face. My first time in the room, I opened the blinds and watched Mark O'Meara during the Dunhill Links Championship: I could have almost reached out and patted him on the head. Beyond the course, a moon rose above the new links clubhouse, West Sands beach, and the sea. To the right, light clung to the R&A clubhouse and the ancient gray spires and elegant stone buildings of the most sublime town in golfdom. And two floors above, the Road Hole Bar awaited, with its dizzying concentration of single malts from throughout the land. Thank you.
—Jeff Wallach, jeffwallach.com
I maintain that anyone who tees it up regularly has plenty for which to be thankful. So this year—as I prepare for Thanksgiving by letting out my belt a notch or two and reflecting on my many blessings—I start with one of the game's most essential ingredients: Golf course superintendents. These guys (and gals) perform the game's most thankless job. They are up and at it before the crack of dawn, performing backbreaking work over long hours in all sorts of weather conditions, often on weekends. And yet, the lone feedback a superintendent typically receives from any golfer is a complaint about course condition, which is often caused more by the foul temperament of Mother Nature. For this reason alone, next time you see your superintendent pat him or her on the back and say, "Thank you. Job well done."
—Brad King, bradkingwrites.com
Due to work and the demands of raising kids, I had no time for golf for 20 years. But during moments of stress, especially while on deadline, my mind would flash to when I was young, playing at a public course most often by myself, a memory that always induced a powerful sense of peace and ease. Today I'm thankful for golf whenever it re-triggers that sensation. It's elusive but emerges while playing alone in the early evening, when few others are out, the course is quiet, and the light falls softly on fairways. I believe it takes me to when my parents dropped me off for a couple of hours of unaccompanied play at the wondrous age of 12, when there were few responsibilities and the agony of puberty had not yet hit. Golf meant freedom, and playing a great sport on what seemed like a huge and private playground.
—Jay Stuller, jaystuller.com
I'm thankful for my Saturday morning golf partners. Good guys who take the game seriously but never themselves. Armed with a bulletproof senses of humor, they join me as comrades strolling down the fairways, foregoing noisy carts that spoil the journey, the simple quiet steps of the day. Even more than their deft soft wedges, I admire their good-natured bantering and the little courtesies extended. The emphatic "good shot!" that follows my drive. The rake that is handed over after I barely clear the lip of a bunker. The invoked "mercy rule," preventing me from the ignominy of four-putting. The kind diligence and keen eyes in finding my seemingly lost ball. Reflecting on their polite queries about family and jobs and as we chase after our final drives, I realize the grammar and the social fabric of the game is often revealed in the interrogative, not the declarative.
—Terry Moore, teemoore.com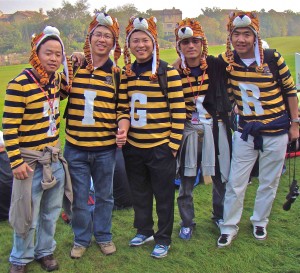 I guess what I am most thankful for in the game of golf is the rise, fall, and rise of the once and future King, Tiger Woods. Most recently, I was reminded how much pure joy and vitality he brings to fans while covering his travails and triumphs at the HSBC World Golf Championships in Shanghai (photo, left). I am thankful because he brings color to a monotone game, and because he follows terrible shots with breathtaking ones so there is never a dull moment watching him. But the courage in his redemption—coming to terms with his human weaknesses, standing up inside himself, forging ahead unbowed and undeterred—and in the process becoming a better person and greater golfer than ever is more thrilling and inspiring than words can say. So thank you Tiger, and Happy Thanksgiving. For without you, professional golf would be boring beyond belief.
—Peter Andreas, peterandraes.com
Thank the "Gods of the Links" for letting there be such a veritable potpourri of efficient, functional, and income-producing golf swings, and not confining us to one-size-fits-all methodology. Swing guru du jour Sean Foley tells us there are "15 reasons why it's bad to have lateral head movement in the backswing." Yet Rocco Mediate has 900,000 reasons (the number of dollars he collected for winning the Frys.com PGA Tour event in October) to thankfully move his head off the ball as the club goes back. Jim Furyk can thank his "octopus falling out of a tree" swing for the $11.35 million he claimed in winning this year's Tour Championship and FedEx Cup trophy. And let's not forget to thank Lee Westwood (bent left arm throughout the swing), Steve Stricker (no wrist-hinge/super-abbreviated backswing), and grotesque overswinger Phil Mickelson—all top-10 players—for their idiosyncratic brilliance.
—Chris Smith, christophersmithgolf.com
I'm grateful for water on the back nine. Not the kind that swallows up your errant shots. I'm talking about cold, pure drinking water on a summer's day when you're walking, bag over your shoulder, sweat dripping from the bill of your cap. I like water from those cheery plastic canisters with the white tap at the bottom. I'll drink it from the little conical paper cups beside the canister. But I prefer to get a 12-ounce cup at the turn, fill it with ice and water, then refill it every couple of holes. I don't like Gatorade. I don't like beverage carts—they're a distraction. And with apologies to my imbibing buddies, I think the proper place for a beer is in the grill. If I owned a golf course, there would be a shade tree beside every tee and underneath it would be a canister of fresh, cold water. Nectar of the gods, indeed.
—Robert Cullen, bobcullengolf.com
I'm thankful for Mike Keiser. Bandon Dunes could easily have been a private destination club, yet one more magical parcel of American golf soil public players could only look at in pictures. Instead, at enormous financial risk, Keiser threw open to everyone the doors of one of the world's greatest landscapes. With the debut earlier this year of Bandon's newest course, Old Macdonald, he's given the public four of the top modern designs in country. With each one situated on Oregon's Pacific Coast atop some of the most beautiful and sublime land ever developed, the public player has the chance to experience, as the book chronicling the resort's creation terms it, "Dream Golf." There will always be haves and have-nots, but thanks to one man's vision, courage, and taste, anyone who can get to Bandon can relish what golf is like at its pinnacle.
—Derek Duncan, theduncanlist.com
The true story of golf's invention may never be known, but we should all be glad the seed was watered and fertilized by the Scots rather than their neighbors to the south, the English. In keeping with their antiestablishment traditions and preference for open land (didn't you see "Braveheart"?), the people of Scotland made sure the game remained available to all. The first, and perhaps finest, of courses, that one at St. Andrews, is a public venue, while Scotland's most private club, Muirfield, welcomes outsiders a few days a week. Had the game originally fallen into English hands, it would have stayed so private and privileged that only royalty would have been allowed to participate and it likely would have died out just about the time those red-coated party-poopers tried to stop play on the greens of Concord and Lexington. Still skeptical? Don't you think of "the course of human events" as having 18 holes?
—James A. Frank, jimgolfrank.com
Growing up, my game was basketball. By the time I was 40, the year I discovered golf, hoops had left me with a pair of compromised ankles, arthritic fingers, and a back prone to inopportune spasms. Golf gave me a chance to continue competing, to bust the chops of my playing companions, and to put my moxie on the line without risking further damage to fragile joints. I am grateful to golf for providing me with a form of physical therapy that managed over time to segue into a path toward spiritual balance, an awakening to the pleasures that can shine through the dying of the light. I count among my blessings the robust good health I enjoy as a consequence of walking endless rounds and taking time along the way to savor my surroundings. I honor the game of golf for showing me how to age with grace—to not so much grow old, but rather to merge gently with a rapidly compressing and not unwelcome future.
—John Strawn, johnstrawn.com
I'm not thankful for gimmee putts. I'm not thankful for the members' bounce. And I'm certainly not thankful for the mulligan. I'm far too dependent on those to be thankful when they actually do occur. Nope, there is one simple thing above all others in golf that elicits my thanks: the under-four-hour round. Golf is a hard enough obsession and over the course of four (or heaven-forbid five) hours I tend to run out of interesting things to say, so I find it a seraphic blessing when I can be back at the clubhouse in three hours, trying to forget the bad shots while relishing the good ones and replenishing my colloquial reservoirs.
—Jason Kerkmans, jasonkerkmans.com