The family that plays together stays together, although maybe not all the time if Mom and Dad figure it out properly. There are three necessities for a family friendly golf resort–pressure-free golf, plenty to do besides golf, and time enough to do it all. Here are a few suggestions: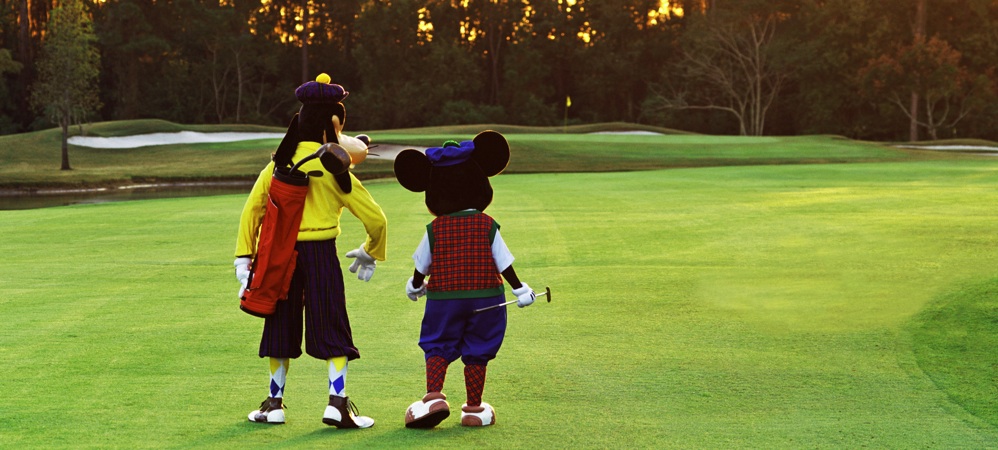 WALT DISNEY WORLD
This is pretty much a no-brainer. With four theme parks and two water parks to choose from and more than a score of resort options, if the addicted golfer can't keep the kids happy at Walt Disney World, then there's no hope.
Out where the grass is short, there are 81 golf holes to take for a ride, five 18-hole tracks (by Tom Fazio, Pete Dye, Joe Lee) and a nine-hole walking course (Ron Garl). And this is only Walt Disney World! With Sea World, Universal Studios and all manner of Orlando Florida golf courses, it's no wonder this is one of the top vacation destinations in the world, much less the U.S.
But for the serious younger golfer, there are five-day golf camps (ages eight to 13) and a summer series of Junior Tour tournaments (ages 14-18). Walt Disney World, Lake Buena Vista, Florida; www.golf.disneyworld.com
HERSHEY RESORT
Coming in a close second in the can't-miss department is a trip to "The Sweetest Place on Earth," as Hershey, Pennsylvania calls itself. The whole town, it seems, is in the business of welcoming kids, and keeping them slightly addled by the ubiquitous aroma of chocolate in the air, street lamps that look like Hershey Kisses, and attractions at Hershey's Chocolate World, ZooAmerica, and Hersheypark. Teens are even welcome in the spa at the stately Hotel Hershey, although the Whipped Cocoa Bath or Chocolate Fondue Wrap treatments are reserved for Mom.
Out at the Hershey Country Club there are 63 holes to choose from. The par-73 West Course should top the list for the adults. The Spring Creek Golf Course opened in 1932 specifically with young chocoholics in mind. The 2,200-yard, par-33 track has regular offerings of junior camps, competitions and "Learn the Game" clinics throughout the summer for resort guests. And kids are even welcome to bring their parents to play along as well. Hershey Entertainment & Resorts Company, Hershey, Pennsylvania; www.hersheypa.com
AMELIA ISLAND PLANTATION
Almost four miles of Florida beachfront, a full range of youth programs, poolside activities, accommodations spread over 1,350 acres, a luxury spa, 23 clay tennis courts, bike paths, Segway tours and we still haven't mentioned the golf yet. But there are 54 holes worth at this full service resort north of Jacksonville, by Pete Dye, Bobby Weed, and Tom Fazio, at the flagship Long Point course.
The 2011 summer schedule isn't finalized yet, but chances are good that the Family Tee Program will again be in effect–with the way upfront tees on the front nine at the Oak Marsh course, occasional free golf for juniors, and four-day Junior Golf Camps throughout the summer for ages six to 18. Amelia Island Plantation, Amelia Island, Florida; www.aipfl.com

Some other good picks:
> Barton Creek Resort & Spa, Austin, Texas: Two Fazio courses, one by Crenshaw and Coore, one by Arnold Palmer. Not bad. A full-blown golf academy and regularly scheduled junior academies as well. Number one golf resort in Texas? No argument here. www.bartoncreek.com
> Los Sueños Marriott Ocean & Golf Resort, Costa Rica: Take a family eco-cation, a zip line through the jungle, and kids play golf for free, as at many Marriott resorts. www.marriott.com
> WaterColor Resort, Watersound, Florida: The No Hassle Family Golf Experience unfolds on the specially-designed and adaptable Origins Course. www.originsgolfclub.com
> Westin Kierland Resort & Spa, Scottsdale, Arizona: Kids' clinics plus junior tees set up on the Mesquite nine in the Family Golf Program. www.kierlandresort.com
[March 31, 2011]

Lake Buena Vista on Dwellable