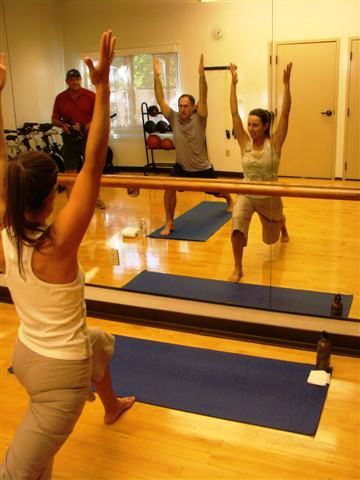 The dance card for a Golf Road Warrior is always full. Maybe a little too full sometimes, looking ahead at our itinerary. Days of 36 holes, massages, lavish dinners at tony hotels, all washed down with local elixirs. It can wear a man down, I tell you. Enough to have you nodding off over your laptop at the close of day.
But considering the trepidation I had this morning about my back, I was all in for the post-round Golf Yoga session at the Movement Studio in the Spa at Four Seasons Resort Scottsdale at Troon North. Though five of us were signed up to attend, only Jeff Wallach and I summoned the courage to go to the mats.
Well, our videographer colleague Jamie McWilliams was there, but he was merely skulking about trying to take shots of Jeff and me in distress, as at right. (Guess I was taking a break, though, since I took the photo.)
But we were in good hands. Dodie Mazzuca is not only a certified yoga instructor, but a former LPGA Tour player. Clearly in great shape herself, she works out of the Four Seasons and her own GolfPROformance enterprise to take players through a threefold approach–body awareness, technical skills, and a mental state of peak performance.
This being the Four Seasons, yoga is but one item on a vast menu of fitness options for visitors–golfers, tennis players, joggers or otherwise, including mat Pilates, spinning or zumba classes.
In our abbreviated session we stuck with classic yoga poses as Dodie explained how they could apply to our games, while making sure I avoided those that might strain my back.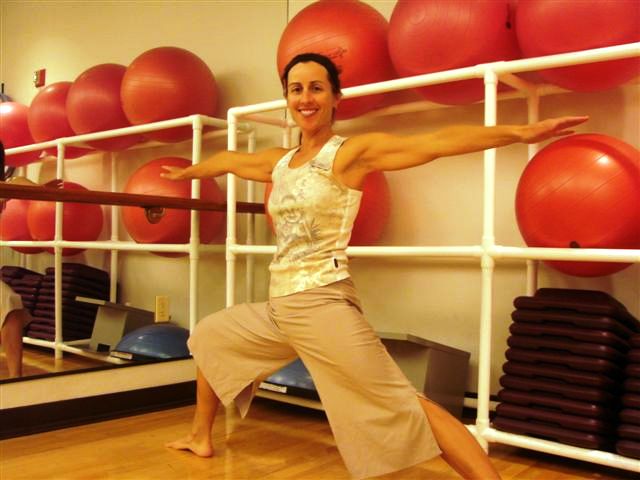 We weren't unfamiliar–both Jeff and I have done yoga before, in my case in specific yoga for golfers classes that culminate in an annual Be the Ball tournament back at the Brattleboro Country Club in Vermont.
It eventually occurred to me–after a check of the records–that Dodie and I had probably crossed paths once before, clearly unknowingly, back in Vermont in 1999. Dodie was in her third year of the FUTURES tour then, and she played at the SmartSpikes FUTURES Classic at the Green Mountain National Golf Course in Killington.
I played in the pro-am event for the tournament. No time machine available, alas, to see if I spilled a beer on her at lunch, whether we spoke or even came within fifty yards of one another. But I do know she finished in a four-way tie for 15th that year, taking away a whopping $798 for the accomplishment.
She was back in 2000, her best on the FUTURES tour, winning the Capital Region FUTURES Classic in Guilderland, New York, making 18 out of 18 cuts, reaching third on the money list and gaining exempt status for the LPGA, where she played in 2001 and 2002.
She eventually headed west and did well on mini tours before turning more toward yoga and teaching.
After putting Jeff and I through our paces, we decided she would be the ideal player to fill in some of the empty tee slots we had for later in the week. Her dance card had some openings, so it's probably a date.

More on the day's round in the preceding post, "Meet and Beat" here.
Next: "TAP Beer of the Day: Nimbus Pale Ale"
More on yoga and golf as practiced in Vermont, "The Yoga Oasis" here.