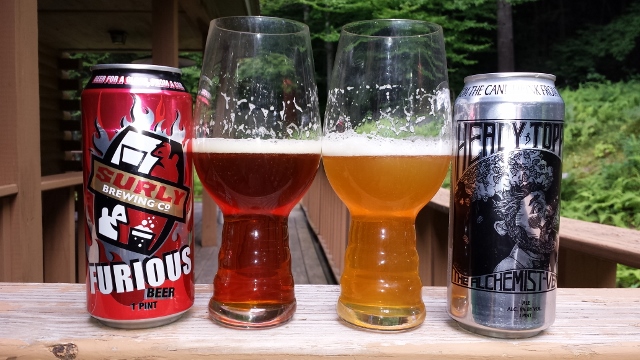 [Aug. 7, 2014]–It's #IPADay, an ersatz beer holiday that has been bouncing around the social media world for a few years. There are a bunch of these now, and if you need an excuse to drink, they'll do, I suppose. Next up, as far as I know, is Sour Beer Day on September 13. (Followed by a real beer blast, Oktoberfest, beginning September 20.)
Lord knows IPA doesn't really need its own day anymore. It's the beer style of the moment, and most of us are drinking some almost every day it seems. As a long-time hophead, I'm certainly a fan.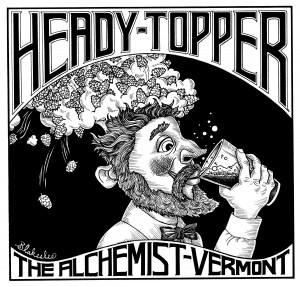 So it was a little strange to find myself with no real IPA guns a-blazing in the house today, and me without the car. But after a trip to the vaults I dusted off these antique cans that, once upon a time, I was going to put head to head.
Well, okay, I have put them head to head, but like the day itself, it's an ersatz comparison. Neither of these beers were meant to be kept as long as I've kept them. I brought the Heady home after a trip to Montreal late last July, and the Surly back from Minnesota after a trip there late last August.
So let's not take this too seriously; indeed, it may warrant no credence whatsoever. But I figured my inertia had gone on long enough, and I didn't have any other IPAs, so….
I've had both beers at their peak, and I'm not alone in considering them at the top of their respective classes, those being IPA (Furious, from Surly Brewing of Minnesota) and Double or Imperial IPA (Heady Topper, from the Alchemist in Vermont). The borderline between these two styles is a little hazy, with Furious coming in at 6.2% ABV, and Heady at 8%.
Even a year down the roads, both beers are quite drinkable. But there's no question that they've lost brilliance. The Heady, in particular, a beer so entrancing when fresh even my wife likes it (which is saying something), is now a faded beauty–still alluring, but showing its age, heading home from the party far earlier than in the past.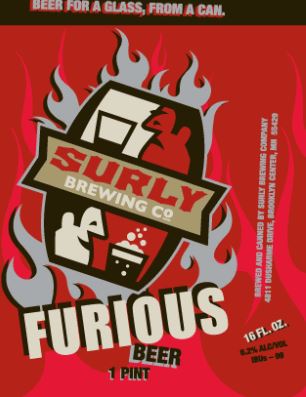 The Furious, as the color suggests, has a sturdier malt backbone which seems to cover some of the sins of its waning hop character. If once a wild redhead, the beer has become handsome in time, the fury abating, but still getting by on wiles.
Both are still playing pretty hard to get. Heady is rarely found even in southern Vermont, while Furious roams a bit more, spending time in Illinois as well as Minnesota, with occasional sightings in a few other states. If these are to be believed, and are not just ravings from the other 364 #IPADays of the year.
Name: Furious
Brewer: Surly Brewing Co., Brooklyn Center, Minnesota
Style: IPA
ABV: 6.2%
Availability: Year-round, Minnesota, Illinois, smattering of outlets in a few other states
For More Information: www.surlybrewing.com
Name: Heady Topper
Brewer: The Alchemist, Waterbury, Vermont
Style: Double IPA
ABV: 8%
Availability: Year-round, central and northern Vermont
For More Information: http://alchemistbeer.com/