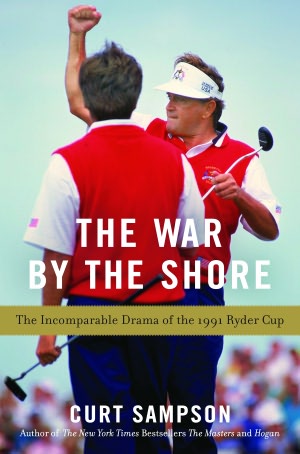 The opening ceremonies for the 2012 Ryder Cup at Medinah Country Club in Illinois begin the evening of September 27. If not already overdosed on the hype, Curt Sampson's book may push you over the top.
Not that The War by the Shore (Gotham Books, 2012, $28.00) isn't entertaining, because it most certainly is. But Sampson's topic is the notorious 1991 Cup waged (which seems the apt word) on the Ocean Course at Kiawah Island, South Carolina, and which became the seedbed for some of the worst jingoistic aspects of the event.
What had once been a sleepy competition that biannually confirmed the superiority of U.S. over U.K. golfers, the matches began gathering steam, and heat, in 1983, when what was now a European team almost broke the stranglehold the Yanks had on the Cup.
They succeeded in 1985, won again in 1987 and retained the Cup in 1989 when the teams tied. Meanwhile, the players, and fans, were increasingly displaying less than gentlemanly behavior during the Cup while the media fanned the flames. In 1989 Paul Azinger and Seve Ballesteros in particular were at each other's throats, and both returned as part of the 1991 teams.
The stage was set for a barnburner, and the stage was the Ocean Course (site of this year's PGA Championship). Then it was a new seaside design by Pete Dye, unfamiliar to all, but downright scary in the many possibilities it seemed to promise for disaster.
And there was a lively cast joining Azinger and Seve, among them Lanny Wadkins, Ray Floyd, Mark Calcavecchia, Fred Couples and David Feherty, Ian Woosnam, Nick Faldo, Sam Torrance.
It's all old news of course, but Sampson tucks into the task at hand with reportorial vigor and writing relish. He may crack a little too wise at times, but mainly he shows how, with the 1991 tilt, "…the Ryder Cup became a Big Thing and an event never to be missed."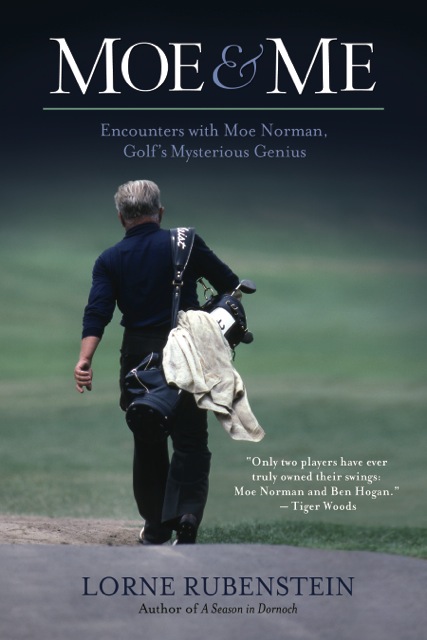 The pressure cooker atmosphere of the Ryder Cup is enough to unnerve the steeliest of professional players. For Moe Norman, the mildest of social interactions could be a trial. In Moe & Me (ECW Press, 2012, $19.95), Lorne Rubenstein relates the curious tale of a player said to have had the most repeatable swing in the game, one of only two who "owned their swing," according to Tiger Woods–the other being Ben Hogan.
Public range rats or professionals warming up, like Woods, would stop to watch Moe Norman hit–and he hit about 800 balls a day for forty-some years. The curious may have been drawn first by Norman's peculiar stance far from the ball, feet wide apart, club set up well behind the ball. (A method now frequently being taught as Natural Golf by the likes of Todd Graves in Edmond.)
But they would continue watching as shot after shot and shot went straight down the middle.
Norman was never officially diagnosed with autism. Rubenstein makes a case that he may have had Asperger's syndrome, or frontal lobe damage from a sledding accident when he was five, or the former exacerbated by the latter. Whatever the cause, Norman's eccentric dress, social awkwardness, repetitive chatter and antic behavior on the course remained enigmatic to many, and surely inhibited his tournament success–which nonetheless included two Canadian amateur championships, over 50 wins on the Canadian Tour and two trips to the Masters.
Norman was inducted into the Canadian Golf Hall of fame in 1995, and passed away in 2004 at 75. Rubenstein's valedictory tale is a poignant rendering of a life that seems a little sad—the Glenn Gould of golf–though Norman himself said he was the happiest guy on two feet.
At a clinic someone once asked Norman why he never practiced from the sand. "Why would I?" he answered. "I hit it in the fairway." Or as he put it another time to Rubenstein: "I never get tired of the middle. It's beautiful there."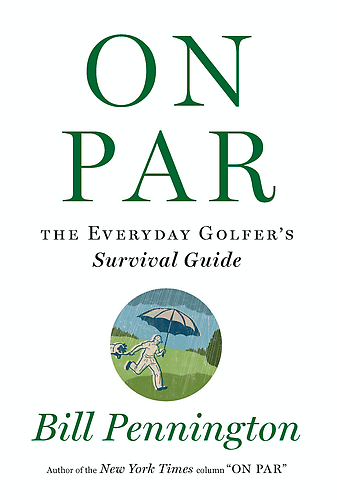 For those of us who wish we were in the middle more often, there's On Par: The Everyday Golfer's Survival Guide by Bill Pennington (Houghton Mifflin Harcourt, 2012, $26.00), an aptly titled collection of essays on various aspects of the game. Although I might have added "Essential" to "Survival Guide."
Moe Norman always considered golf a game, not work. And Pennington, who writes the "On Par" column for the New York Times, wisely sounds that theme throughout the book: when it's not torture, golf is a game.
In his genial and humorous voice, Pennington covers some basics—how to be a good golf partner (illustrated by how to be a bad one), ten rules to remember, ways to handle five fearsome shots, a treatise on the evils of cheating, a treatise on the evils of cell phones, and some indispensable lingo.
(One I hadn't heard comes from British announcer Henry Longhurst, who would say of a putt that falls in from the side, "Safely in the tradesman's entrance.")
But Pennington also delves into some standard golf lore, like "drive for show and putt for dough," and comes up with some fascinating findings—such as working on your driving accuracy may be more beneficial than practicing your putting. Or that when you do putt, you shouldn't even look at the ball, but at the hole.
He reports on statistical trends that show the most effective way to play golf in terms of scoring is to walk with a pushcart, followed by playing with a caddie, following by taking a cart, and lastly carrying your own bag. And best news of all? A Swedish study showed that golfers outlive non-golfers by five years!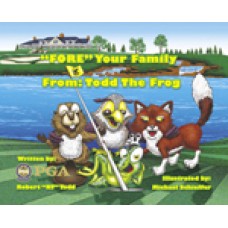 Whether that holds true for golfing frogs is unknown, but by the end of the children's book "Fore" Your Family From: Todd the Frog (Robert Todd, 2012, $16), the title character is out on the course with a fox, a beaver and an owl. They all look healthy.
The book was written by PGA Professional Robert "RT" Todd, the director of golf operations at the Turning Stone Resort and Casino in Verona, New York, and uses Tom Fazio's Atunyote Golf Club as a backdrop in the Michael Schieffer illustrations. (The course hosted a PGA Tour Fall Series tournament from 2007-2010.)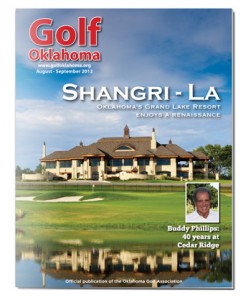 The tale is sweet and simple enough—tadpole Todd is sucked up by a water tanker being used to fill ponds on the developing golf course and as he turns into a frog goes in search of his parents. He's helped along the way by members of his future foursome, and later by a friendly PGA Professional as well.
Along with Todd the Frog's adventures, Schieffer has hidden (but not too obscurely) a ladybug on each page. This should help train young readers in counting, and young golfers in finding lost balls.
This piece first appeared, in slightly different form, in the August-September 2012 issue of Golf Oklahoma.