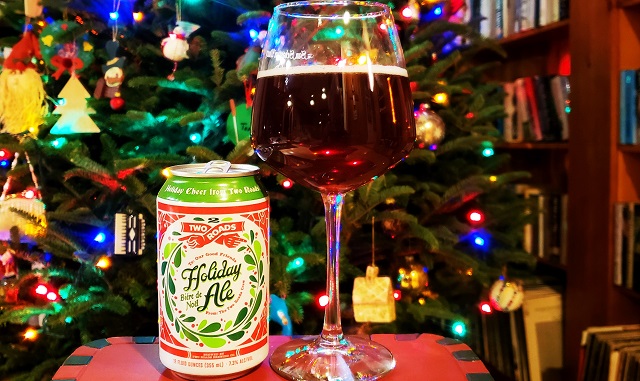 Two roads diverged in a wood, and I—
I took the one less traveled by,
And that has made all the difference.
–Robert Frost, The Road Not Taken
The quote from Frost's famous poem was the inspiration for naming the Stratford, Connecticut brewery when it opened in December of 2012, and the quote wound up on the tasting room wall. But it was also part of the business plan—go down one road brewing its own beers, and utilize the huge capacity built in from the start to do contract brewing for other companies.
Pretty good plan, gauging by some of the contract clients Two Roads has helped out—Lawson's Liquids, Evil Twin, Stillwater Artisanal, Terrapin, Peak Organic. The company has routinely turned out more beer for the contract clients than its own brands, although it's almost leveled out to 50-50 in recent years. In any case, it's brewing over 100,000 barrels annually and has flitted on and off the Top 50 of the Brewers Association annual list of top craft brewing producers.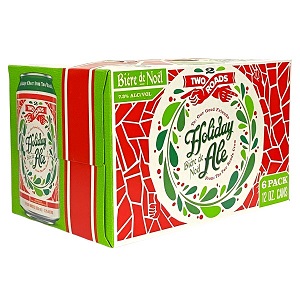 Why I waited so long to add the Holiday Ale to the 12 Beers list is a bit of a mystery to me. Maybe because it was too readily available and I was looking down the other road?
The beer is said to be in the Biere de Noël style, a subset of Biere de Garde, traditionally farmhouse ales brewed in Northern France in early spring and cold conditioned for drinking in warmer weather. Nowadays Bieres de Garde are brewed year-round, are similar to Belgian saisons, if tending to have more malt character. What Bieres de Noël are brewed in France tend to be available only for a few weeks leading up to Christmas.
I thought I'd never heard of the style until I read one of my old posts about a Biere de Garde from the St-Sylvestre Brasserie.
In any event, what we have on hand is a pretty, clear, ripe amber brew heading to red, with a light tan head. The nose is alluring, biscuit and caramel aromas pouring out of the glass. As per the style, there's a firm malt structure supporting some dark fruity esters. It's medium bodied.
There's no spicing in the beer that I'm aware of, but there are clearly some spicy hops at work—accordingly to a couple of sources I ran across, French Strisselspalt and Aramis hops. They lead to a lightly puckering but lingering finish. All in all, a real pleasant surprise.
Then I pondered why it should be such a surprise. The guy behind the beer is one of the brewery partners, Master Brewer Phil Markowski.
I vaguely know Phil from the old New York City Homebrewers Guild days and subsequent beery events. Phil's brewing resume include six years with the New England Brewing Company, and just shy of 16 years with the Southampton Publick House on Long Island before beginning with Two Roads.
Phil has clearly been having fun in the brewery's expansion, Area Two, given over to all sorts of experimental brews and the tricky traditional brewing styles (lambics, sours and the like). He's well-poised for it all. He also literally wrote the book on farmhouse ales, Farmhouse Ales: Culture and Craftsmanship in the Belgian Tradition from Brewers Publications. If surprised it took me so long to pull a six-pack of the Holiday Ale from the shelf, I won't hesitate next year.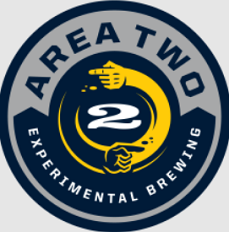 Name: Holiday Ale
Brewer: Two Roads Brewing Co., Stratford, Connecticut
Style: Biere de Noël
ABV: 7.3%
Availability: Seasonal, CT, CO, DE, MA, ME, NH, NJ, NY, PA, RI, VT, VA
For More Information: tworoadsbrewing.com
[December 30, 2022]
< 12 Beers of Christmas 3: Black Hog Gingerbread S'mores Stout
12 Beers of Christmas 5: Fremont Brewing B-Bomb >