Call 911!
It seemed a good thing that Lynn and I decided to once again opt for a Chinese food and movie New Year's Eve, once I cracked open the wax-sealed B-Bomb from Fremont Brewing of Seattle, Washington. Immediately claiming the high ABV honors of the series at 14%, this dark, opaque stealth explosive device went right to work on me.
Considering that I had a 750ml bottle in front of me, it put maintaining consciousness during the movie on shaky ground. (I made it—"Glass Onion"). Would I have any chance of making it to ball drop time? (Yes.) Would I wake up in 2023 without a pounding headache? (To be determined.)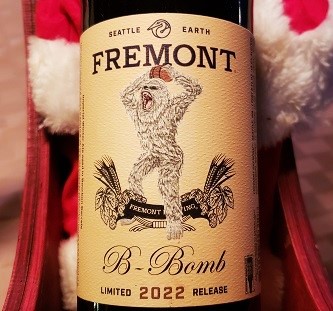 I didn't care. I was thoroughly seduced by a beer that, when first released back in 2009 (the year of the brewery's founding)—then called Bourbon Abominable—was a puny 8% ABV. The story goes that brewery co-founder Matt Lincecum (along with his wife, Sara Nelson) and Fremont's director of brewing operations, Matt Lincoln, felt that the original beer, while good, wasn't quite what they were after.
The tinkering began, upping the alcohol level and a higher finishing gravity that would be more suited to barrel aging. It seemed to work. The beer is ranked fifth in the Beer Advocate website's listing of favorite American Strong Ales. Interestingly, the brewery also makes a couple of variants that stress flavors already perceivable in the regular B-Bomb, a Coffee Cinnamon version and a Coconut B-Bomb. On the same list, they're ranked numbers one and two, respectively. (Maybe next year.)
The annual release of the beer(s) became an event, and Fremont grew by leaps and bounds, growing from 300 barrels of production in 2009 to around 50,000 in 2020, the one year it cracked the Brewers Association annual Top 50 list of craft brewing producers. It has a full roster of year-round beers, the limited release barrel specials, an Urban Beer Garden and two brewery locations in Seattle, Fremont East and Fremont West.
The B-Bomb is a downright riot of aromas and flavors. Once past the alcohol burn in the nose, the bourbon note comes to the fore. Might as well let the brewery explain the process, right on the label: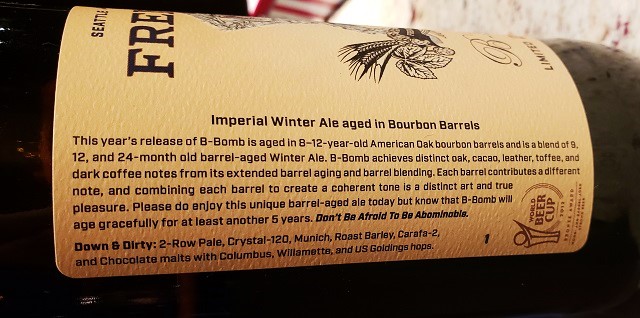 All sorts of malts are at work: 2-Row Pale, Crystal-120, Munich, Roast Barley, Carafa-2, and Chocolate malts, along with a blend of Columbus, Willamette, and U.S. Goldings hops.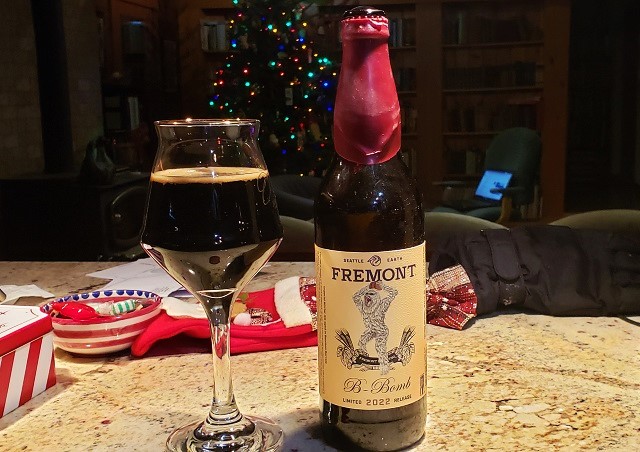 I had Lynn take a sniff and a sip and she was finding notes of licorice, honey and coffee. But it's a real Rorschach test. I was thinking molasses, brown licorice, espresso, coconut, cocoa, raisins. And probably a few other things. The mouthfeel is rich and velvety, the alcohol burn distinct but not overwhelming, and the same goes for the bourbon flavor, which is more noticeable in the nose than the palate, allowing all those other flavors to stream on through.
The brewery suggests it will age nicely for about five years, but since I had but one bottle on hand, that's out the window. Along with 2022. Happy New Year!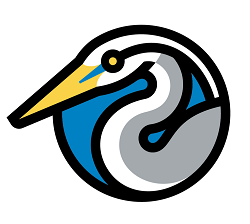 Name: B-Bomb
Brewer: Fremont Brewing Co., Seattle, Washington
Style: Bourbon Barrel Aged Imperial Winter Ale
ABV: 14%
Availability: Seasonally, WA, OR, ID, AK, CO, MT, CA
For More Information: fremontbrewing.com
[December 31, 2022]
< 12 Beers of Christmas 4: Two Roads Holiday Ale
12 Beers of Christmas 6: Lone Pine Winter Carnival >