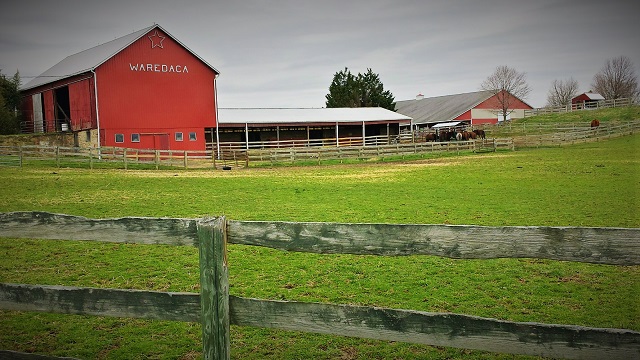 [March 28, 2016]–I was given an assignment about a month ago to do a little piece on a new farm brewery in Laytonsville, Maryland, the Waredaca Brewing Company. I had to do it via phone interview, a sizable drawback in that I didn't have a chance to taste the beer. But the piece came out all right and I rectified the situation last week by paying a visit.
As various pieces of luck had it, my wife and I were heading south to celebrate the 100th birthday of Lynn's Aunt Mary, whom I accused of lying about her age. She doesn't look a day over 80! We went from thence to visit old friends in Virginia. Between the two events I neatly slipped in a quick visit to Waredaca, spiriting away a couple of the brews now available, one in a crowler, the other in a growler.
A farm brewery in Maryland is not the same thing as a farmhouse brewery in Flanders. (See the recent review on 3 Monts Grande Reserve Amber.) In 2012 the Maryland General Assembly passed a bill (similar to one in New York State) that enabled farms to apply for a state farm brewer's license, an intriguing niche in the small brewery world. The license basically allows a farm to begin a brewery providing one or more of the ingredients used in the beer are grown on the farm. The brew can then be sold on or off-site, with production limited to 15,000 barrels a year.
That shouldn't be much of a constraint at Waredaca, which expects to make about 600 barrels in 2016 on its ten-barrel system. One of almost a dozen farm breweries that have sprouted in Maryland since 2012, Waredaca is the newest, having opened in December, though the farm has been around for three generations. The late R. Beecher Butts, for whom the flagship IPA is named, started an overnight camp for boys in the early 1930's. In 1953 it moved to its present location in Laytonsville, about 20 miles from Washington D.C. and 25 miles from Baltimore.
The camp later became coed, and still later became what it remains today, a full-service equestrian facility that offers instructional riding programs for all levels, boarding, and training and competitions in eventing—which combines dressage, cross-country, and show-jumping.
A little over a year-and-a-half ago Butts's children charged the third generation with bringing something new to the farm table, so to speak. Jessica Snyder, Beecher's granddaughter and the brewery manager, said, "We ran through a lot of scenarios—not all as seriously as some others. We talked about a brewery and a winery straight off the bat, but we also considered raising free range cattle, flower production, commercial food production—herbs, edible flowers, pumpkins—different recreational things. But in the end the brewery was the one everyone thought was a good idea. And it has been a good idea. Of course, it certainly helped in figuring it all out that we had a professional brewer in the family."
Jessica's cousin, Steph, one of five principals in the brewery, is married to Keith Kohr, who had honed his chops at Flying Dog Brewery in Frederick, Maryland. Kohr is now Waredaca's chief cook and bottle washer. But he can speak for himself:

It requires some chutzpah to produce beer at a horse farm, considering the easy opening it gives potential critics. Waredaca tackles this head-on; the recent Belgian-style dubbel and tripel beers, Maude and Geedie respectively, are named after two Belgian draft horses that worked on the farm in the 1960's. I had the Geedie and it was a lovely beer, fruity and estery with the ample depth you'd expect from a 9% brew. So no worries there.
The Beecher IPA is equally appealing, a relatively mild IPA by modern standards at 5.8% ABV, citrusy and distinctive for its lemony, slightly camphor-like flavor due to the addition of lemon verbena grown at the 230-acre farm. This will be a common practice, said Snyder: "We have a hop yard, a brewer's garden where we're growing herbs and fruits and vegetables that we can add to the beers, and we're doing some beekeeping, so the honey from that is included in our honey wheat beer, Little Dam."
If not a farmhouse brewery in the Old World sense of the term, it is a brewery on a farm. So, said Snyder, "We'll always have some kind of saison on hand. And for non-drinkers or designated drivers there will always be an in-house soda using some ingredient from the garden—currently, a lemongrass ginger."
There was a respectable crowd in the new tasting room on the Sunday afternoon I showed up, though it was still a bit too cool to use the spacious patio area where select music nights take place. Seven different beers were on tap, horses were in the meadow, spring was in the air, and all seemed right with the world.
Name: Beecher IPA
Brewer: Waredaca Brewing Co., Laytonsville, Maryland
Style: IPA
ABV: 5.8%
Availability: Locally, year-round
For More Information: www.waredacabrewing.com