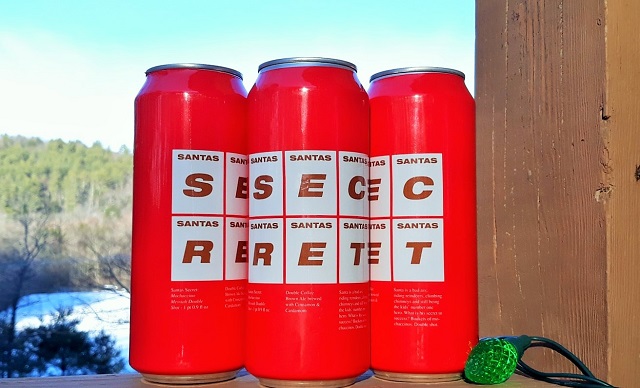 To Øl is Danish for Two Beers, which seems apt, since I tried two from the once-nomadic brewery last year (Santastique and Jule Mælk) and then went ahead and had two again this year, too, Santa's Secret and Frost Bite. But if you could actually find the beers it would then be easy to fill up an entire year's 12 Beers of Christmas solely from brews created by To Øl.
They make a bunch. Aside from the four just mentioned, there's Santa Gose F&%# It All, Shameless Santa, Snowball, Rudolph Under the Radar, Fuck Art Winter Is Coming, Blizzard (In a Beer Mug), Driving Home From X-mas, 3Xmas, 1 ton of… Christmas, and probably a few others I missed. The brewery is nothing if not prolific.
I said once-nomadic, because To Øl is now producing out of its own brewery, which they're calling To Øl City, though it's actually in Svinninge, about an hour east of Copenhagen. According to Nick Anderson of Shelton Brothers, which imports To Øl's beers to about 45 states, the first shipment of beers from the new brewery should arrive in the U.S. in March.
To Øl did a lot of brewing at De Proefbrouwerij in Belgium, including the two beers I had tonight. My son, Mike, son-in-law, Glenn, and I had the Frost Bite in relative quiet before the very house became prolific—eighteen of us together to gobble some pizza, trim the tree and exchange presents among relatives. It was a night of teeming energy and a lot of laughs.
The Frost Bite is billed as an American pale ale, comes in at 6% ABV, but is brewed with orange peel and pine needles. None of us could perceive the latter, Glenn thought he detected some orange peel. Mostly we thought it was a pleasant pale ale, which, despite hopping with Aurora, Citra, Tettnanger, Simcoe and Amarillo, comes off as distinctly malt-accented.
It was that that made me answer an admittedly hesitant yes to Glenn's question: "Do you think it's worth the trip across the ocean?"
Santa's Secret, however, was the featured performer of the night. Despite the seven glasses shown below, I think almost our entire cast of characters tried it, even the minors, and to varying degrees most seemed to like it. Definitely deserving of an ocean crossing.
"To Øl brewed it for the first time last year and it was a big success," said Anderson. "The mix of crazy ingredients and the crazy name and that it's a double brown ale just make it seem like Christmas in a can."
The beer is actually an adaption of a To Øl brew called Mochaccino Messiah, a 7% ABV beer made with chocolate malts, some lactose and espresso coffee. Santa's Secret adds some cinnamon and cardamom to the mix, which somehow ups the ABV a percentage point.
Our tasters found all these flavors–coffee, chocolate, cardamom and cinnamon, but some mentioned molasses, maple syrup, mace. One found it tart, another quite sweet, another a little boozy.
According to the brewery, the beer itself is Santa's Secret. Without a good jolt of caffeine, how else is he going to keep going on Christmas night? Even if he is Scandinavian. As the note on the can puts it: "Santa is a bad ass: riding reindeer, climbing chimneys and still being the kids' number one hero. What is his secret to success? Buckets of mochaccinos. Double shot."

Name: Santa's Secret
Brewer: To Øl, Copenhagen, Denmark (though brewed at De Proefbrouwerij, Lochristi, Belgium)
Style: American brown ale
ABV: 8%
Availability: Shelton Brothers now distributes to 45 states and Washington D.C. Check their "Locate Our Products" list to see if the beer might be near you.
For More Information: https://toolbeer.dk
[December 24, 2019]
< 12 Beers of Christmas 3: Stony Creek Winter Weight
12 Beers of Christmas 5: Four Quarters Gifts of the Magi >