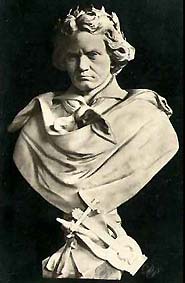 In the Ny Carlsberg Glyptotek museum in Copenhagen there's a bust of Beethoven in the heroic mode, sculpted by Frenchman Eugène Guillaume in 1870. I mention this only because it's Beethoven's birthday—always worth celebrating—and because the museum was founded by Carl Jacobson, scion of the Carlsberg brewing family.
Also because we're sticking with Copenhagen (via Belgium) for another pick, not all that different from yesterday's Mikkeller beer in a variety of ways.
The To Øl brewery ("Two Beers") released its first beer in 2010, not terribly long after founders Tore Gynther and Tobias Emil Jensen began brewing beer in their high school kitchen under the tutelage of their teacher, Mikkel Borg Bjergsø.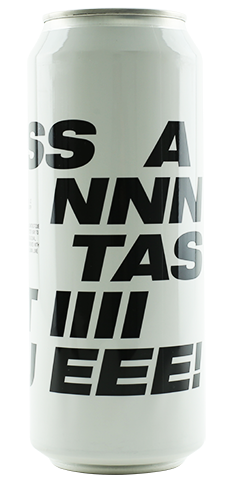 The three started brewing their wildly experimental beers largely out of dissatisfaction with the large national breweries, like Carlsberg, which they felt were suffering from hardening of the arteries.
Bjergsø went on to found Mikkeller, and his two pupils followed his example four years later. (Jensen left the company last year.) Like Mikkeller, To Øl is based in Copenhagen and like Mikkeller it produces a wide variety of beers in nomadic fashion, brewing their widely distributed beers at other facilities. Frequently, To Øl does this at the De Proefbrouwerij in Lochristi, Belgium, as Mikkeller does. In addition, the two breweries frequently collaborate on beers.
To add to the similarities, I managed to pick up a 2017 can of Santastique instead of the 2018 version, a different animal. My can has a best before date of August 30, 2018. I did most of my shopping for this year's roster of beers at Provisions in Northampton, Massachusetts, which has one of the broadest selections around. But I guess I should have paid the fee for the parking garage instead of zipping into the 15-minute parking slot right next to the store. I didn't spend a lot of time looking at best before dates.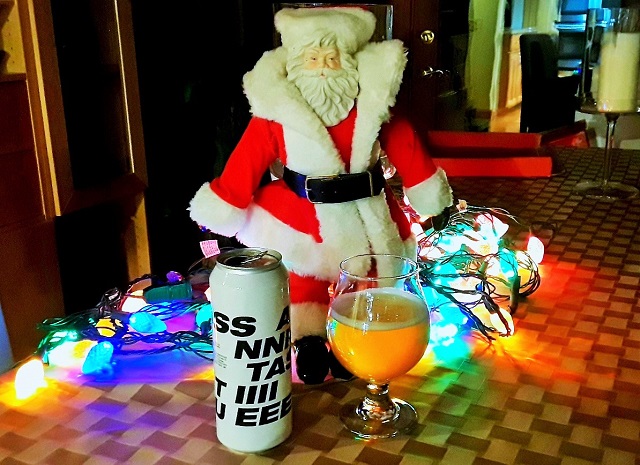 No worries. Santastique tasted just fine. Like the Mikkeller Win Bic, it goes in a different direction than many holiday ales. It has a modest ABV (5.6%), takes a Belgian Blond ale as its model with Pilsner malt and unmalted rye and wheat, and it bulks up on spices (cardamom, coriander, orange peel, lemon zest and lime zest).
The result is a lightly hazy yellowish brew with a healthy white head, a strong herbal nose and palate, a zesty mouthfeel—effortlessly refreshing. The herbal quality was a little off-putting at first, suggesting a hand heavy enough with the cardamom that the beer was almost eucalyptic in nature. I got over it, though.
Still, it made me wonder about the 2018 version, which the brewery has termed an "improvement," lowering the ABV to 4.7%, using flaked oats, pilsner, rye malt and unmalted Wheat and adding what it called "To Øl's very own pear tree brettanomyces." Hmm, gauging by yesterday's Mikkeller Win Bic, with its touch of Brett, sounds like one worth hunting down.
My haul from Provisons also included the To Øl Jule Mælk, which translates as "Christmas Milk." I don't normally have two beers from the same brewery in a holiday season, but I couldn't quite resist an Imperial Milk Stout at 15% ABV. This one is, clearly, loaded, or as the brewery's website puts it, "…loaded and loaded and loaded with lactose, … the Foie Gras force-feeding edition of a beer."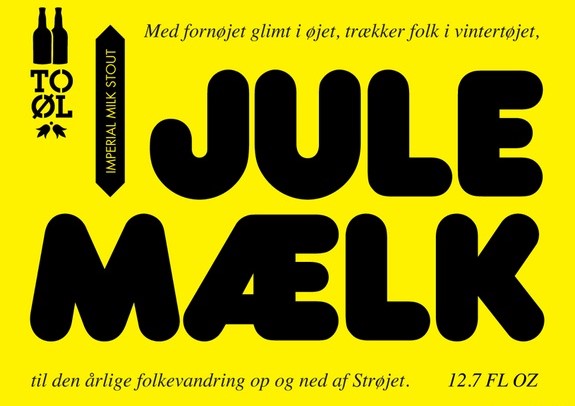 Luckily it's only in a 12.7 oz bottle, because it's putting me into a coma as I type, an opaque brown beer jammed with chocolate, licorice, molasses and roasted notes that fall just this side of creosote. Yet it does manage to be incredibly sweet—too sweet for me, really—but if you have a friend you want to club over the head with a beer, some Christmas milk should do the trick.
Name: Santastique; Jule Mælk
Brewer: To Øl, Copenhagen, Denmark (though brewed at De Proefbrouwerij, Lochristi, Belgium)
Style: Spiced Belgian Blond; Strong Milk Stout
ABV: 5.5%; 15%
Availability: The 2017 Santastique is no longer in the pipeline, but may still be in stores that Shelton Brothers distributes to in 28 states and Washington D.C. Otherwise look for the 2018 version. Check their "Locate Our Products" list to see if the beer might be near you.
For More Information: https://toolbeer.dk
[Dec. 16, 2018]
< 12 Beers of Christmas 2: Mikkeller Win Bic
12 Beers of Christmas 4: Samichlaus Helles >