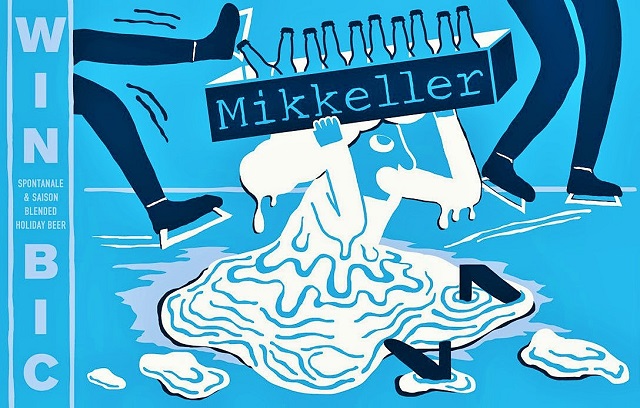 My friend Jerry went skating on the Retreat Pond near Brattleboro the past few days, as it's been plenty cold before a near 50-degree thaw today. He said he hurt his back a bit, but at least he wasn't carrying a case with ten beer bottles in it, as would appear to be the precarious situation confronting the maiden on the Mikkeller Win Bic label.
At least I think it's a maiden. It's not crystal clear exactly what's going on there, but she admirably appears to be in the process of holding onto all the beer, if at the expense of her bum.
We wrapped up last year's list with the Mikkeller Ris a la M'ale, a beer based on a Danish rice pudding dessert, and had the Hoppy Lovin' Christmas back in 2013 (where some of the brewery history resides).
It's easy enough to do, as Mikkeller produces a sleighful of holiday beers, most brewed at the De Proefbrouwerij in Lochristi, Belgium as this bottle was.
When is the question? It looks like I picked up an older bottle, as the best before date (if Google has translated correctly) was August 13 of this year. But those of us who tasted it at John Bouffard's annual Christmas party could detect no ill effects.
John and his party made a cameo in last year's tasting of the Thiriez Bière de Noël. But my bottle model this year is Jeremy Paquette, who calls himself "an amateur beer fan," while playing a mean guitar in the trio of players who led us through Christmas songs and then a host of oldies we could bellow out. Sometime before the music I put Jeremy, Michelle Grist-Weiner and Tim Cavenaugh through the paces and all of us enjoyed he beer.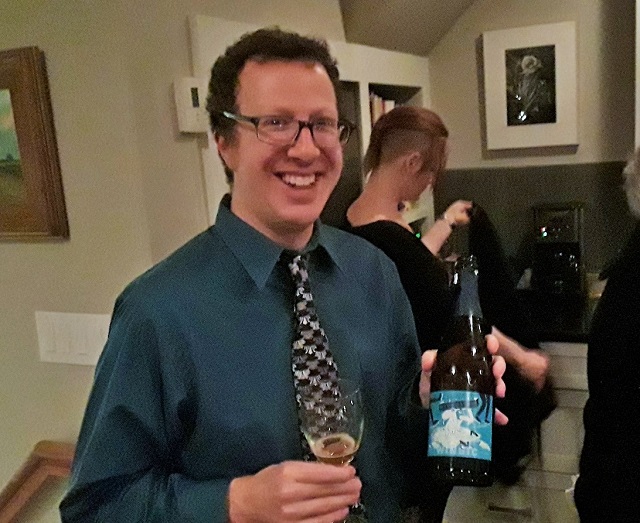 I was a little surprised at this, since there's definitely a hint of Brettanomyces to it, but it fazed no one. When I suggested some of the qualiities of Brettanomyces Michelle said, "Well, there's only so much horse blanket I can take, but this is fine." "Consider me a fan," said Jeremy. Tim said, "Is there any more?" Actually, we'd downed the 750 ML bottle pretty quickly, and probably all felt like Tim.

Mikkeller makes a whole series of spontaneously fermented beers from wort produced by lambic producers, aged in oak barrels for 1 to 3 years and dosed with Brettanomyces for further bottle fermentation. Which was used in this beer I have no idea, but it was then blended with a saison to produce a beer far removed from the archetypical big Belgian holiday ale loaded with malty sweetness. It's a bit more like a geuze. Naturally, when I asked my wife to take a sip, she gave one of her classic one-word reviews: "Geuze." Woman has a natural palate, I tell you.
The beer pours out with a lively dense white head, some mild haze, an appealing orange hue in the glass. "Win Bic" appears to stand for Winter lambic, and It's the blending that seems to be working well here. Think tart and acidic instead of sweet, though there are ample fruity esters floating around—mainly citric, with a touch of apple. Then there's just that light touch of Brettanomyces peeking through, making for a highly refreshing and moreish brew. It would serve well as an aperitif, or to warm up the pipes before a night of holiday singalongs.
Name: Win Bic
Brewer: Mikkeller, Copenhagen, Denmark (though brewed at De Proefbrouwerij, Lochristi, Belgium)
Style: Saison and lambic blend
ABV: 6%
Availability: Seasonally. Imported by Shelton Brothers Inc., which distributes to 28 states and Washington D.C. Check their "Locate Our Products" list to see if the beer might be near you.
For More Information: www.mikkeller.dk
[Dec. 15, 2018]
< 12 Beers of Christmas 1: Anchor Our Special Ale
12 Beers of Christmas 3: To Øl Santastique >