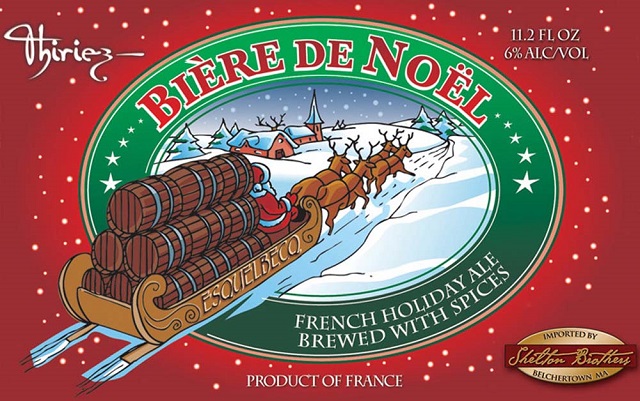 In years past it's been pretty much possible to list the great beers from France on one hand even if you're missing a few fingers. Everyone deemed this permissible because, after all, it's France—great wine, cheese, food, Paris, beautiful women, debonair men, François Truffaut and on and on.

As the 21st century has gained momentum, so has the trend of craft brewing in France, to the point of near-frenzy with enough hundreds of new breweries opening that there are now more than 1,000. It may take awhile to see where early promise leads to continued repute, but Stephen Beaumont and Tim Webb had no trouble picking out close to 75 French beers to include in their new book, Best Beers (reviewed here).

The authors nominate a select few breweries in each country as "Iconic" (five in the U.S., three each in Belgium and Germany). One French brewery is so named, Brasserie Thiriez of Esquelbecq, a small town in French Flanders, only a half-hour from the famed hop area of Poperinge, Belgium.

I've been to Poperinge a couple of times, once to take in its grand triennial Hop Festival, but had no idea what Daniel Thiriez was up to when he began his small farmhouse brewery operation in 1996. The rustic brick building he began brewing in was the former Poidevin brewery, but that had closed down in 1945. (Having made it through the war despite being virtually around the corner from Dunkirk.)

Thiriez gave up a human resources career in a large supermarket chain to start his brewery, heavily influenced by the saisons of his Belgian neighbors. He developed his own yeast strain, now said in the beer press to be the same strain used for most of the many saisons now being made in the U.S. Because of this writer Jeff Alworth titled an "All About Beer" article on Thiriez, "The Most Influential Brewery You Probably Never Heard Of."

True enough in my case. The Bière de Noël was the first Thiriez beer I've had. I was happy enough to make the acquaintance on Saturday evening. It was Beethoven's birthday, cause enough for celebration, and I was at an annual Christmas party hosted by our friend, John Bouffard, a French name if ever there was one. (That's him holding the Thiriez bottle in the photo.)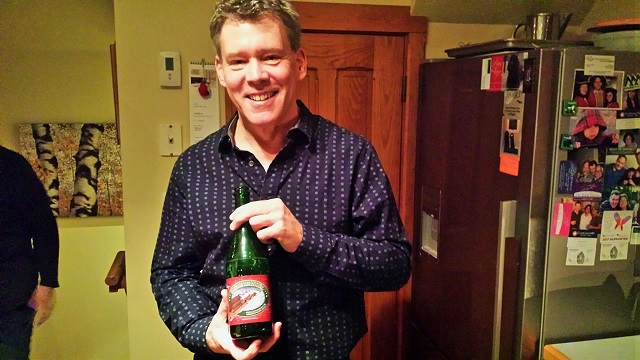 That I hadn't planned. Lucky coincidence. Although, as John told me, while the name may be French Canadian, his paternal grandmother was Irish and his maternal grandparents mostly Irish, so he's far more Irish than French.
No matter. A Christmas party may not be the best place for a serious beer tasting, but it's absolutely the best place for a convivial one. I passed some samples around to about seven willing imbibers, not particularly beer geeks, and everyone enjoyed the beer. It was a hazy reddish amber in the glass, with a pleasant malt character, subdued spiciness, but nothing that jumped wildly out of the glass. Only one taster really claimed to detect any spice, and no one could put their finger on the prevailing aroma.
Except Lynn, my wife, who has one of the better palates around. She took one whiff, said, "Clove," and handed me back my glass. Naturally, then I could unmistakably smell clove, and little else. From that special yeast?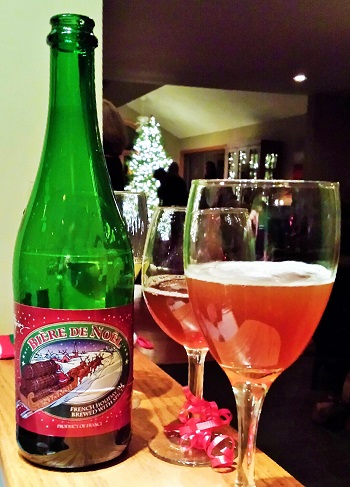 The Sheldon Brothers website (the importers), suggest that Thiriez brews up a new recipe each year and that this year's was a lighter version than in the past, with more wheat and subtle additions of allspice and orange peel.
If batting seven for seven the Thiriez was gone all too soon, and we went on to other beers, more food and desserts, music, singing, and all the good fellowship the season, and its beers, is meant to provide. Bien joué!
Name: Bière de Noël
Brewer: Brasserie Thiriez, Esquelbecq, France
Style: Spiced winter warmer
ABV: 6%
Availability: Seasonally. Imported by Shelton Brothers Inc., which distributes to 28 states and Washington D.C. Check their "Locate Our Products" list to see if the beer might be near you.
For More Information: www.brasseriethiriez.com
[Dec. 17, 2017]
< 12 Beers of Christmas 3: Baird Jubilation Ale
12 Beers of Christmas 5: Au Baron Saison Saint Médard Cuvée de Noël >