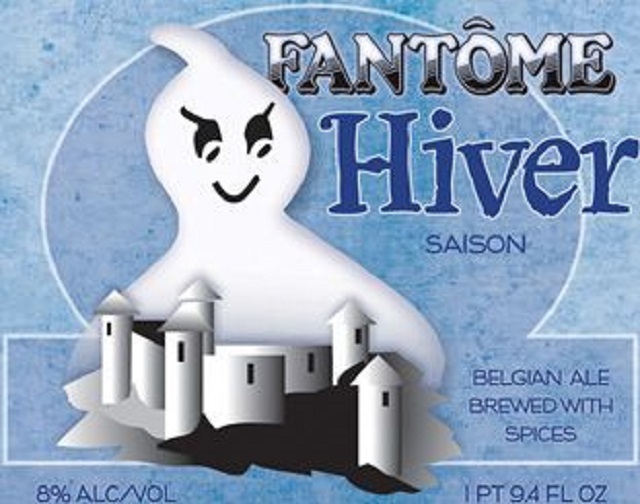 Winter has begun. Therefore, Hiver, from the Brasserie Fantôme (Ghost) in Belgium's Wallonia region. After tonight, the longest of the year, shorter days and spring are just around the corner.
It does look like winter around here in southern Vermont. We had at least two feet of snow from the storm on Wednesday-Thursday, and my back is still sore from all the shoveling that entailed. But here in the Eastern time zone, the solstice officially arrived at 5:02 am. My wife tells me I woke her up just about then for my nightly trip to the smallest room in the house.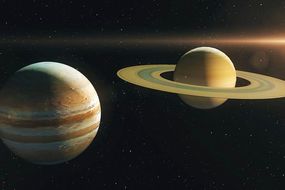 And as the gears started to slowly grind toward spring, more momentous planetary doings were in store for this evening—the Great Conjunction, when Saturn and Jupiter appear to be so close in the cosmos that they look like one heavenly body.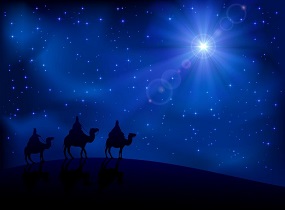 Maybe, some astronomers have theorized, like the Christmas Star, or the Star of Bethlehem. The two planets align somewhat like this every 20 years, but such a close passing is exceedingly rare. The last one was back in 1623. The next will actually be right along, in about sixty years, which lets me out.
So I'd hoped to have a gander tonight, not that we have an unobstructed view toward the southwest, where the action is. It wasn't to be, the sky a thick haze tonight, barely letting the moon shine through. I had some Hiver in hand for a toast anyway. Which might have been heaven enough. And which officially marks Beer #100 in the 12 Beers of Christmas all-time canon.
It isn't hazy at all; the beer is bottle-conditioned, so after pulling the cork I took care to pour it off before the yeast joined the fray. It was tough enough to deal with a lively rocky head. I gather the color and flavor vary from year to year. This year's edition is a garnet beauty.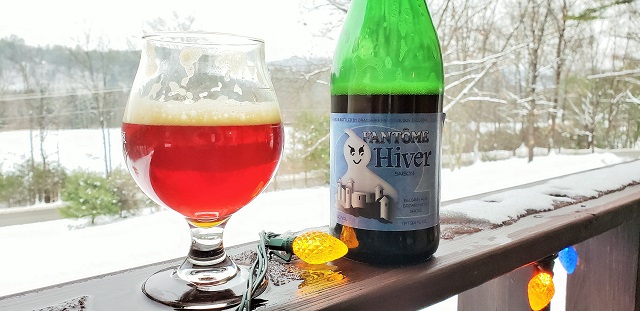 The Fantôme brewery is a small operation in the town of Soy begun by Dany Prignon with his father back in 1988. Even in the oft-eccentric world of Belgium brewing Prignon is considered something of an outlier, specializing in saisons of all sorts, particularly the cleverly named Fantôme Saison, at a whopping 8% ABV.
Prignon makes a Christmas beer, but I couldn't find one. He also makes beers for all four seasons each year, rarely repeats himself, and tends to stay rather mum about the ingredients in any of his eclectic beers, though they've included mushrooms, dandelions, mustard seed, to the point that it's easy to see why he's been called eccentrically brilliant, an artist, a mad scientist, a seat of the pants brewer.
I didn't call him anything because I hadn't had the pleasure until now. I did manage to contact him briefly on Facebook this afternoon to ask if I had the 2017 vintage in my hands, since the label seemed to indicate that (lot 3N 2 17, best before End 2020). "No," he replied, "it's only bcse I had 5,000 labels! For 3 years!"
Prignon took a pass on my query as to whether he had anything to say about the beer, but he did point me to a private Facebook group, Fantome Serious Knowers, with 1.1 K members. This seemed to confirm what I heard about the brewery having a wild cult following.
It's reasonable to ask what the Serious Knowers are going to do now that the Shelton Brothers, which imported Fantôme, has declared bankruptcy and had its assets seized. It's also reasonable to ask what I'm going to do; the vast majority of the imports in past 12 Beers of Christmas were imported by Shelton. Stay tuned.
Meanwhile, the beer, now almost gone… now actually gone, was a bit of a surprise in that I was expecting some Belgian farmhouse funkiness, but instead found a malty rich, sweet and chewy brew. The nose is redolent of dark dried fruits—raisin, date, prune, maybe cherry pit—my wife's suggestion, as I inveigled her into a sample as usual.
Once we took a taste, though, she put her finger right on it: "There's something there that's not quite there." Exactly! We went scrambling to the spice cabinet to try to figure out what the note was that was sailing through what is otherwise a bready, caramel rich brew—yes, maybe with a hint of cherry—that finishes with a lightly puckering alkaline bite. We tossed out the tarragon, sacked the sage, ousted the oregano!
Maybe cardamom, we decided. Maybe.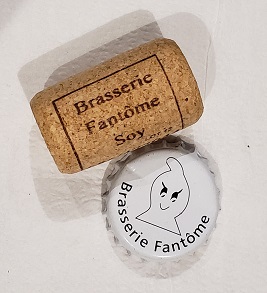 Name: Hiver
Brewer: Brasserie Fantôme, Soy, Belgium
Style: Spiced Saison
ABV: 8%
Availability: Hmm…. Before they went bankrupt, Shelton Brothers distributed to 45 states and Washington D.C. Good luck.
For More Information: The website (http://www.fantome.be) is in French, but the brewery also has a Facebook page.
[December 21, 2020]
< 12 Beers of Christmas 3: Four Quarters Buffalo Plaid
12 Beers of Christmas 5: Einbecker Winter-Bock >