One more Vermont beer for the list before we cross the Atlantic tomorrow, Buffalo Plaid from Four Quarters Brewing in Winooski. We featured owner and brewer Brian Eckert's Gifts of the Magi last year, which managed to be an eye-opener at 4% ABV.
Eckert didn't bring back Gifts this year, but Buffalo Plaid is a repeat, and it should become a regular holiday season visitor. [Christmas Eve update! A Four Quarters Brewing Holiday newsletter has just appeared, announcing that Gifts of the Magi is indeed returning this year, not to mention "A Christmas Doppel for the Christmas Devil: Krampus Nacht," a 9% ABV Bavarian doppelbock.]
To say Buffalo Plaid, the beer, is as advertised on the label—as a holiday spiced beer with sweet orange peel, nutmeg and cinnamon—sells it short. It's all that to be sure, but the sum of its parts adds up to a really lovely brew. A copper beer with an off-white head, Buffalo Plaid has a real come hither aroma with its heady spice blend, the citrus perhaps rising to fore, but the nutmeg right on its heels, along with some alcohol vapors (this is a hefty 9% ABV beer). My wife picked up some clove in the nose as well.
The cinnamon is more noticeable in the palate, along with a tongue-coating malty sweetness that puts on the brakes just in time. Still, this seems like a real sipping beer, best in a snifter, while relaxing by the fire all cozy in your favorite flannel shirt.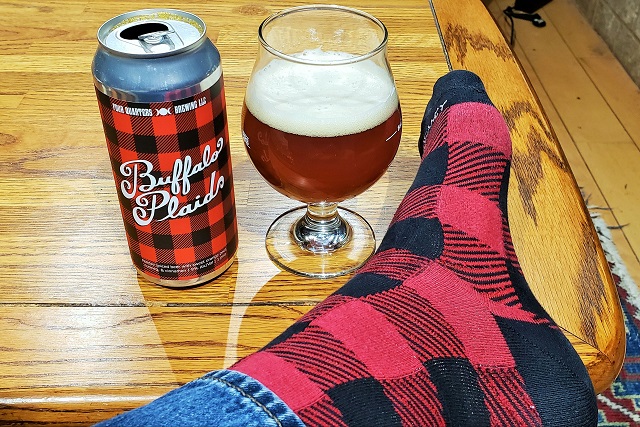 Buffalo Plaid, the design, wraps around the can like a Christmas present (can art by Jake Martin). It's certainly apt for Vermont, where flannel shirts are our middle name. But where aren't they these days? If once seemingly the purview of cowboys, outdoorsmen, lumberjacks (Paul Bunyan!), Buffalo Plaid is just about everywhere on everything these days from shirts to sheets, scarves to socks (see above), pillows, mugs, boots and bow ties, endless rolls of Christmas wrapping.
And then there was Lamar Alexander in his Buffalo Plaid facemask. Better yet, Kendall Jenner in her Calvin Kleins:
It's ubiquitous, particularly in Christmas pajamas, seen here on a regular basis worn by our grandkids. They've spent every Christmas of their lives here, a streak coming to a screeching halt this year thanks to the pandemic. We're trying not to dwell on that, and failing miserably.
The origin of Buffalo Plaid is a little obscure. It clearly derives from Scottish tartan, particularly the Rob Roy MacGregor tartan. And one line of thought is that a MacGregor descendant, Jock McCluskey, was a fur trapper and trader in the early American west who bartered with Native Americans, often trading Scottish blankets with the family tartan for buffalo pelts. Eventually, ergo, the conflated name for the design.
But the Woolrich outdoor clothing brand has its own version, claiming it developed the pattern in 1850, that the designer responsible for it owned a herd of buffalo, and there you have it.
Take your pick, but if shopping for a holiday beer, go Plaid.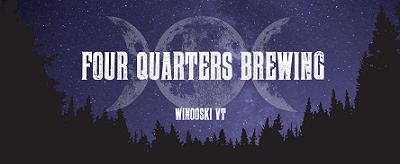 Name: Buffalo Plaid
Brewer: Four Quarters Brewing, Winooski, Vermont
Style: Spiced winter warmer
ABV: 9%
Availability: Going fast in Vermont, Maine, Massachusetts
For More Information: fourquartersbrewing.com
[December 20, 2020]
< 12 Beers of Christmas 2: Liambru Tasty Arctic Al
12 Beers of Christmas 4: Fantôme Hiver >