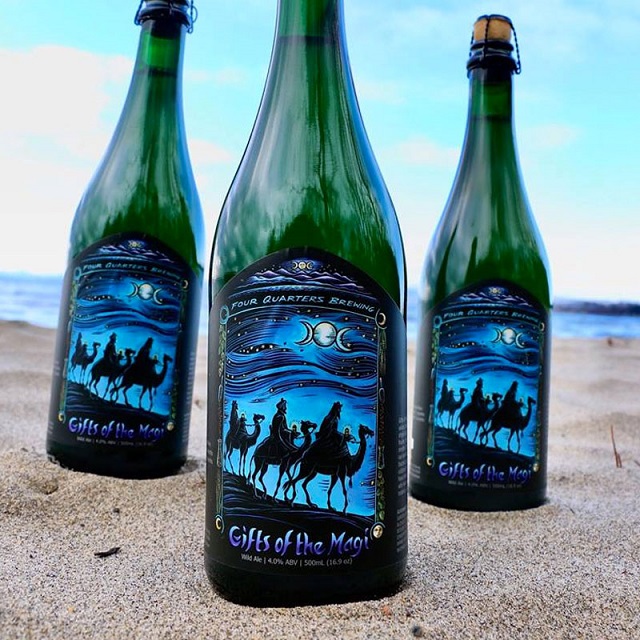 "And when they were come into the house, they saw the young child with Mary his mother, and fell down, and worshipped him: and when they had opened their treasures, they presented unto him gifts; gold, and frankincense, and myrrh."—Matthew 2:11
By the time of the O. Henry story, "The Gift of the Magi," first published in 1905, the gifts had transmuted to ornamental hair combs and a watch fob chain.
For the nine of us celebrating Christmas here today, gifts were all over the map, not to mention all over the floor and two levels of the house. Not much in the way of watch chains or gold, but there were definitely some hair care products in there, and some incense. The sentiments of love and wonder were all the same, and went into our Christmas groaning board as well.
With about an hour before Boxing Day begins and before I fall down in a heap, a quick word about the Gifts of the Magi from Four Quarters Brewing. It's been awhile—like four years—since I went up north to Winooski, Vermont to celebrate the first anniversary of owner and brewer Brian Eckert's operation. He's been through four anniversaries and one expansion and move since.
He's also brewed a series of fascinating Belgian-style beers and sours and won national praise for a few of his New England style IPAs. And my Santa's cap is off for this beer, a single malt and single hop saison brewed in December of 2017, using a house yeast and bacteria as well as cultures from other breweries. (On the label these are referred to as the beer's "gifts.") The beer was then aged three months in a foudre, six months in red wine barrels, and bottled in October of last year.
But only 450 times. I managed to find bottle 334 at Meulemans' Craft Draughts in Rawsonville and I loved the beer. Others in the tasting crew were put off by what they thought was an overly tart, almost cidery brew. Tart it is, with clear influence from the red wine oak barrels. The puckery, tannic finish may be what did some of the others in; I found it one of the main attractions. Son-in-law Glenn of Wildwood Barbecue fame liked it, though he said he probably wouldn't want to drink a pint of it.
I could handle it, though I tend to doubt I'll ever see another bottle. But it's worth looking for, if in better beer stores in Vermont, Massachusetts or Maine. If you find one, consider it a gift. And Merry Christmas to all.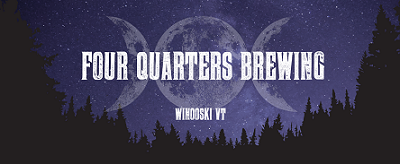 Name: Gifts of the Magi
Brewer: Four Quarters Brewing, Winooski, Vermont
Style: Saison
ABV: 4%
Availability: Vermont, parts of MA and ME, but this one could be tough to find.
For More Information: fourquartersbrewing.com
[December 25, 2019]
< 12 Beers of Christmas 4: To Øl Santa's Secret
12 Beers of Christmas 6: Weird Beard Black Christmas >