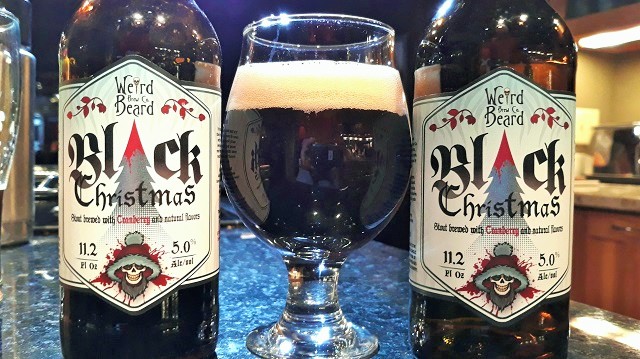 It's Boxing Day, an actual holiday in England, once allowing the upper classes to show how generous they could be to their lower classes help—giving them the day off (after no doubt having worked on Dec. 25) and boxes of gifts and/or leftovers from the previous night's festive dinner table.
Now it's mainly time for another Bank Holiday, but worthy of some festivity no doubt. Certainly worthy of dipping into the only English beer in the collection this year, from the Weird Beard Beer Co. from West London, established in 2013.
I know little about the brewery, other than that the principals do indeed sport impressive facial hair, all of their labels include a grinning skull festooned with some sort of head gear, and that they're clearly an eclectic company, willing to make all sorts of experimental brewing forays, albeit the flagship beer is Mariana Trench, a 5.3% ABV "Transatlantic Pale Ale" so called for its use of New Zealand and American hops.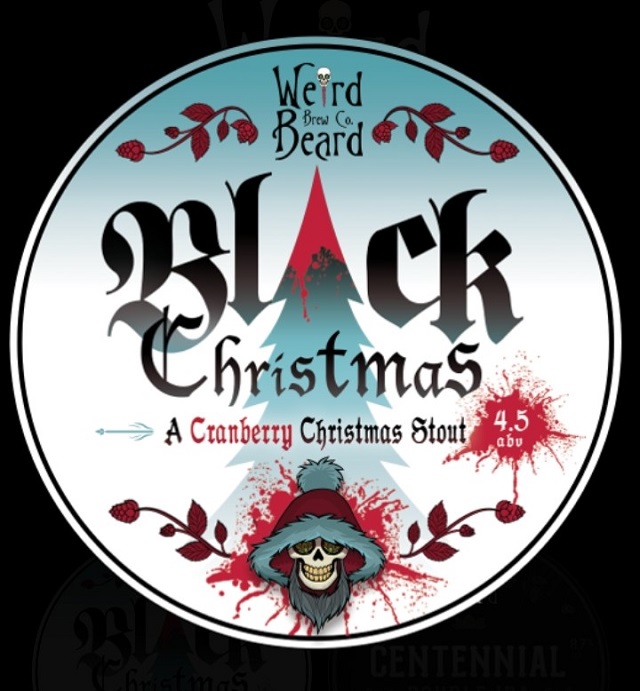 Black Christmas was first brewed in 2017, if then a 4.5% ABV, and seems to be carrying on. Why not? It's a low ABV stout spiked with cranberries, easy-drinking and certainly more celebratory than the label would suggest. That looks vaguely threatening with the skull encased in a Santa's cowl and sporting its own sepulchral beard, all against a red splatter. There's also a Christmas tree that is probably supposed to suggest the cranberries but appears to be dripping with blood.
This is all more than likely a reference to the film "Black Christmas" one of the earliest slasher films, from 1974, starring Olivia Hussey, Keir Dullea, John Saxon, and Margot Kidder, and re-made in 2006 and 2019, with increasingly diminishing returns if rising body counts.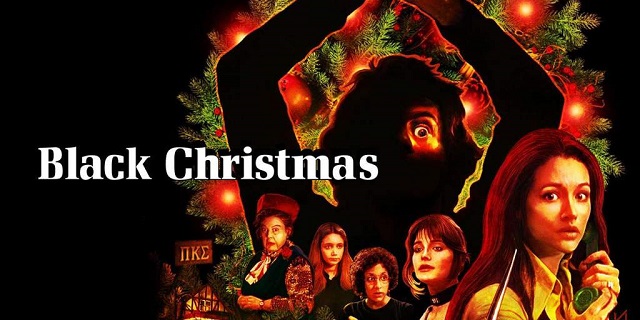 The beer won't kill you. It's a pleasing and mild dry stout, that looks like a number of the beers we've had this season, dark with almost hidden ruby highlights and a generous tan head. While stylistically similar to the Winter Weight of a few days again, there's no comparison in terms of the fruit. In the former it was the main show. Here the cranberry is certainly evident, but in more hushed tones. It contributes more to a sly tartness in the palate, along with the more prominent roast quality of the brew, which becomes even more evident if you allow the beer to warn up a little.
My son, Mike, and I whisked right through three bottles, and we both liked it. He said, "It's smooth, soft on the palate, not as aggressive as a Guinness, say." Seems like a good analysis to me, though Mike was a little unsure of himself: "Am I going to go to jail for being a terrible beer judge? This is coming from a guy who used to buy Piels Light in the supermarket for $2.38 a six-pack."
That was a long time ago, back in his single days. Now we're here with his three kids, watching the clock drive toward midnight, when his oldest, Nate the Great, will begin his twentieth year. Nate doesn't drink beer (or anything) at all, making me wonder where I've gone wrong in my grand-parenting duties. Although he does want to be a writer. Making me wonder where I've gone wrong in my grand-parenting duties.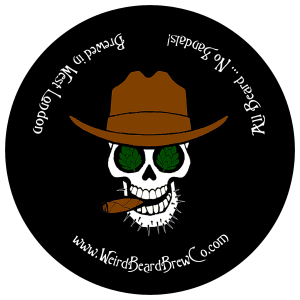 Name: Black Christmas
Brewer: Weird Beer Brew Co., Hanwell, England
Style: Fruit stout
ABV: 5%
Availability: Nov.-Dec., Shelton Brothers now distributes to 45 states and Washington D.C. Check their "Locate Our Products" list to see if the beer might be near you.
For More Information: weirdbeerbrewco.com
[December 26, 2019]
< 12 Beers of Christmas 5: Four Quarters Gifts of the Magi
12 Beers of Christmas 7: Struise Tsjeeses Reserva >