Branford, Connecticut is about eight miles east of New Haven, meaning it's about two and a quarter hours due south of me. Still, I hadn't heard of the Stony Creek Brewery of Branford until it blipped the brewing news this summer when it laid off three key employees. It sounded like another story of small brewery expands too soon into a fragmenting marketplace and then feels squeezed.
After all, Stony Creek was barely three years old when it announced a second brewery to be established at the Foxwoods casino in Mashantucket. I had forgotten all about all this when I saw the Stony Creek Winter Weight on a beer shelf, and didn't recall it until I started surfing the interwebs.
Nor did Dave Herrington, the GM and CFO, go over the balance sheet with me when I spoke to him earlier today. But he sounded upbeat about the brewery's upcoming fifth anniversary in March, 2020. And he said the Foxwoods location, which opened last August, is a sight to behold, a two-story 7,100 square foot five-barrel brewery and tasting room.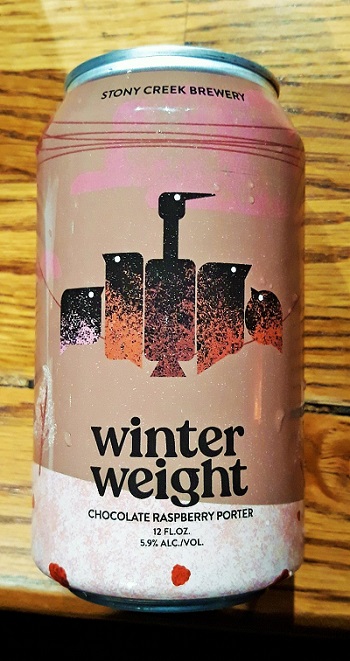 Well, all righty then. Dave was pretty keen on the Winter Weight, too, a brand new winter seasonal. "We wanted something approachable, hence a 5.9% ABV chocolate and raspberry porter, with over 600 pounds of all-natural raspberries poured into the mix."
Whatever the brewery's financial situation, I'm pretty keen on the beer, too. Once you pour it into a glass both chocolate and raspberry aromas—but mostly raspberry—pour out in fairly stunning fashion. There's a copious tan (with a crimson tinge?) head and like our first two beers this year, the Winter Weight is also dark as night. Actually, it's pretty much opaque in this case.
Yet, despite its name, the beer is not particularly heavy. Well, heavy on raspberry, so if you're not a fan of the fruit you might want to pass on by. But having been largely disappointed by the many dark fruit beers I've had over the years (still looking for a really great cherry stout), I'm impressed by the Winter Weight.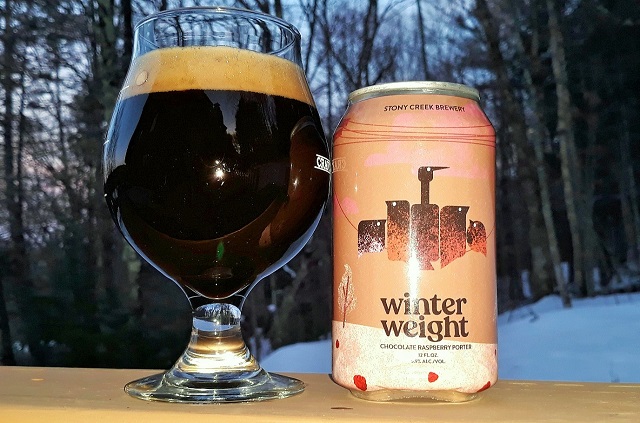 It seems particularly successful in bringing the fruit fully forward without being overly sweet. It's nicely ensconced with the very mild chocolate and roast notes; if anything, a touch more malt character might have been nice.
But no complaints here. And if you are a raspberry fan, we're forced to say that Winter Weight should make for a very berry Christmas.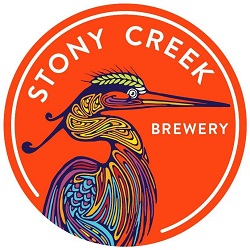 Name: Winter Weight
Brewer: Stony Creek Brewery, Branford, Connecticut
Style: Fruit porter
ABV: 5.9%
Availability: Nov.- Feb., all of New England, upstate New York and Long Island
For More Information: stonycreekbeer.com
[December 23, 2019]
< 12 Beers of Christmas 2: Brooklyn Winter Lager
12 Beers of Christmas 4: To Øl Santa's Secret >