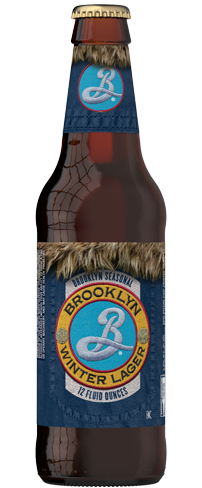 It's the first full day of winter. For those whose beer glasses are half full, the good news is that the days are now getting longer. Glass half empty? Well, let's fill it up.
A beer as dark as the many winter nights still to come should do the trick, though it has to be admitted that the one at hand is neither a strong nor spiced Christmas beer nor, at 5.6% ABV, a hearty winter warmer. It's the winter seasonal beer from Brooklyn Brewery which, its website claims, "… is our answer to the heavy ales and stouts that emerge in wintertime."
Fair enough. It's not going to knock your socks off, but it says "winter," it's from Brooklyn Brewery, it's in.
I've written often enough about Brooklyn Brewery's beers and brewmaster Garrett Oliver. I was still living in New York when the former came along in 1988, and before that was an early member with Garrett of the New York City Homebrewers Guild.
Brooklyn started out as a contract brewer, making the flagship Brooklyn Lager at the F.X. Matt plant in Utica, New York. Now it has it own brewery in its namesake borough, not to mention satellite breweries with various partners world-wide. The Brewers Association ranked it as the 12th largest craft brewery in 2018, and the 21st overall.
I do have documentary proof that I bested Garrett in one or two of our homebrew competitions way back when. But there's no gainsaying that he stuck with it and went on to become a rock star of the beer world—actually, a James Beard Award-winning brewmaster. I wandered off to play golf. But I managed to track Garrett down on Facebook and ask him about the Winter Lager.
He said, "The Winter Lager is a slightly strongish interpretation of a classic German Schwarzbier. Slightly more roast gives it just a hint of stout-iness about it."
Just a hint is right. Visually it's almost a dead ringer for the Anchor Christmas Ale we had last night—dark as sin in the glass but with telltale garnet highlights. It's a completely different beer, of course; this is a lager after all, and a fairly easy-drinking one at that.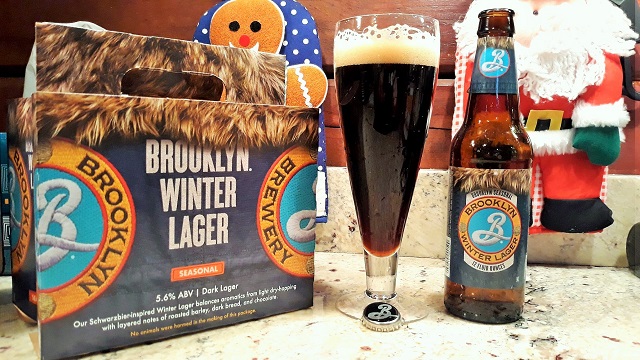 If perhaps more dark mahogany than schwartz (German for black), it's pretty true to traditional Schwartzbier standards, which tend to suggest roast characteristics, often in terms of chocolate and/or coffee notes. My wife took one whiff of the beers and promptly said, "Chocolate."
I agree, and it blends in nicely with some flowery hints of the Hallertauer, Amarillo and Centennial hops. A bit of coffee does emerge in the lightly sweet malt flavor, there's some mild hop bite in the finish, but it's more an impression of lightly bitter chocolate.
This would be a pretty good dark beer for your friends who say they don't like dark beer. Spring it on them (or winter it on them) with their eyes closed at first, and see how it goes.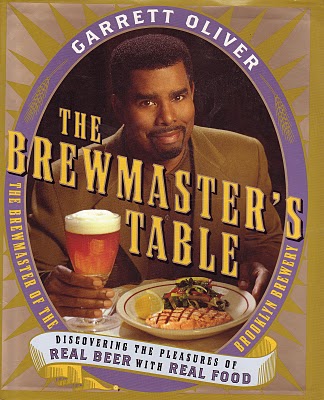 Mine, it went pretty quickly.
Name: Winter Lager
Brewer: Brooklyn Brewery, Brooklyn, New York
Style: Schwarzbier
ABV: 5.6%
Availability: Nov.-Jan., about 30 states
For More Information: brooklynbrewery.com
[December 22, 2019]
< 12 Beers of Christmas 1: Anchor Our Special Ale
12 Beers of Christmas 3: Stony Creek Winter Weight >