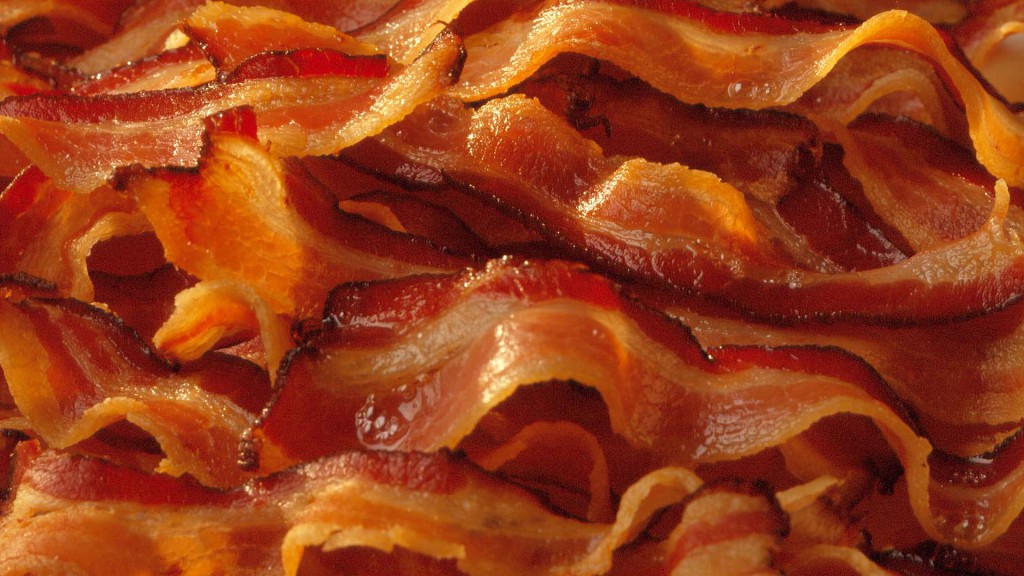 Bacon mania probably reached its U.S. peak in 2008 when eight babies per million were named Bacon. These are first names, mind you, not like Kevin Bacon, who has his own separate mania going. The name is not about to challenge the top-ranked Sophias or Jacksons of the land (about 10,000 Sophias per million so far in 2014; 7,000 Jacksons). And the mind sizzles at the thought of the teasing these Bacons may face in their tender years; good luck to them.
Prior to 2000 bacon had fallen on hard times. What did it have going for it? An unholy trinity of nitrates, salt, fat. But the addition of bacon to fast food chain burgers began to reverse the tide. In 2001 the National Pork Board began pushing the slogan "Bacon Makes It Better."
And according to an October Bloomberg Businessweek article, celebrity chefs like Mario Batali and David Chang, "… began openly praising pork belly and featuring it in dishes that drew tremendous media attention." Now bacon, or bacon aroma and flavor, is in ice cream, cookies, toothpaste, deodorant, sunscreen, dental floss, sex lubricants, baby names.
And beer. An idle "bacon" search on Ratebeer shows 88 brews with bacon in the name, including Goose Island Maple Bacon Stout, Mikkeller Beer Geek Bacon, Pisgah Bacon Stout, Rogue Voodoo Doughnut Bacon Maple Ale, even Blue Moon Dark Chocolate Bacon Porter.
Plus the Kevin Bacon Collection: Big Time Kevin Bacon Stout, Captain Lawrence Pilot Batch #88: Kevin's Bacon Ale, White Flame Hot Kevin Bacon and Copper Tank Six Degrees of Kevin Bacon.
I haven't had any of them. I have had Lefty's Big Brekkie Breakfast Stout, which doesn't even come up on the list because "bacon" isn't part of the name–which suggests even more bacon beers are out there and may overtake pumpkin beers at any moment. That would be okay with me if Big Brekkie is a representative example. It's a hefty 8.5% ABV stout that includes just about all the ingredients needed for breakfast—oats, maple syrup, cocoa, coffee and bacon.
Bill Goldfarb and his girlfriend (now his wife) were on vacation in Maine about three years ago. Bill said, "We were drinking some kind of roasty stuff out in a hot tub when Melissa said to me, 'I want you to make a beer with this and this and this in it,' and that's how the breakfast beer was born."
When I first heard about the Big Brekkie Breakfast Stout I thought it was a joke. The concept is amusing, as is the label, and the beer will probably put a smile on your face, but it's for real. Available from November to April, the beer is the most popular seasonal from the Greenfield brewery, which opened in 2010.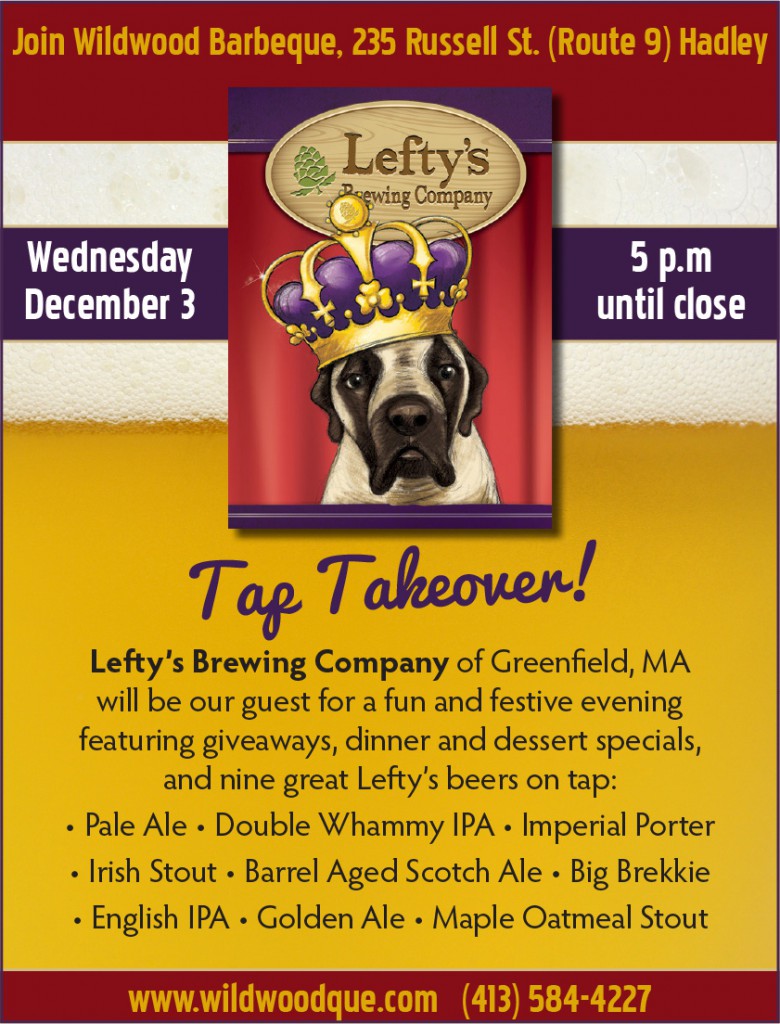 (There's more on the brewery's background in the review of its year-round Irish Style Stout, last encountered in an August Lefty's tap takeover at Wildwood Barbeque in Hadley, Massachusetts. That event was so popular that Lefty's returned for the December tap takeover, although it was more accurately an invasion, with 11 handles commandeered. The brewery has already signed up for another next summer. The Wildwood tap takeovers are always the first Wednesday of the month, although not in January as the restaurant closes up for a couple of weeks of R&R.)
The brewery clearly has many local fans, and it returns the favor in sourcing many nearby Massachusetts ingredients. The maple syrup comes from the Mt. Massaemet Sugar House in Shelburne Falls, the coffee from the Esselon Coffee Roasters of Hadley, and the nitrite-free, hormone-free bacon from Little Brook Farm in Sunderland.
"We add the organic cocoa nibs and flaked oats during the mash," said Lefty. "The maple syrup goes in during the boil. The cold-pressed coffee we add to the bright tank prior to carbonation. We add the bacon at that point, too, so we can maintain our yeast as vegan. It's an awesome balance of roast coffee and grain. There's a little sweetness from the maple syrup and at the finish that little bit of smokiness from the bacon. We use Northern Brewer and Williamette hops, but the focus is on the malts and other flavors."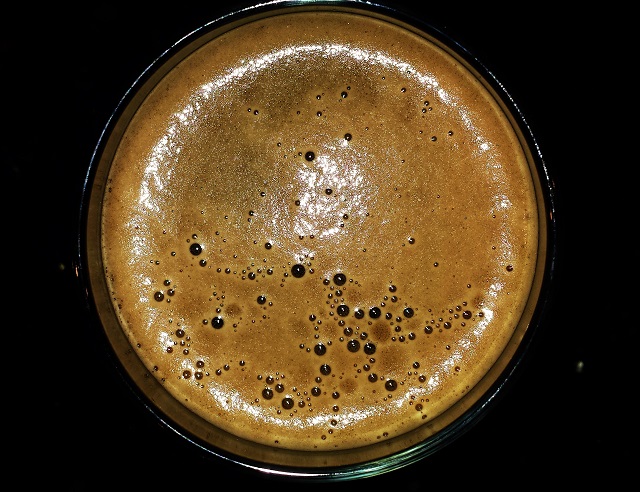 It's a cognizant self-review, though when I had the beer on tap at Whetstone I had to mentally squint to actually detect much from the bacon. But it's a pleasingly complex mouthful, creamy and sweet, even if I had it for dinner rather than breakfast. But at least I had a pancake—with maple bacon crumbs at that; as is its wont, Wildwood cooked up some dishes and desserts to complement the tap takeover beers. I went off to the specials board and straight for the Walk of Shame: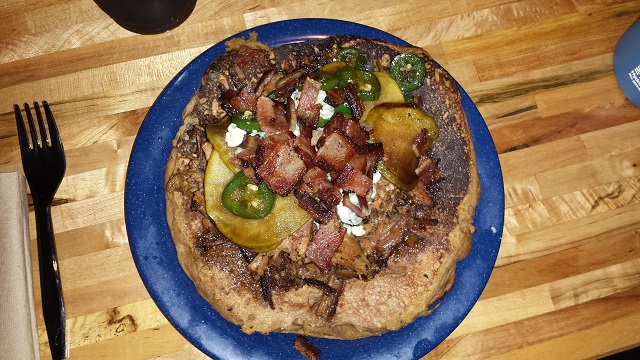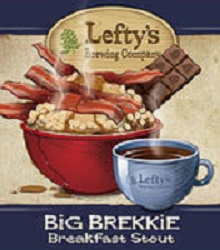 To my credit, I took half of it home.
Name: Big Brekkie Breakfast Stout
Brewer: Lefty's Brewing Company, Greenfield, Massachusetts
Style: Kitchen Sink Stout
ABV: 8.5%
Availability: November-April, Massachusetts
For More Information: www.leftysbrew.com