Someone had to put this video up on The A Position, and it looks like it's me. So enjoy–or not, according to your predilection:
Personally, I think it's pretty hilarious, and as good a way as any for today's touring pros to puncture their uptight image.
For anyone who suggests that the new breed of player is colorless compared to the linksman of yore, well, try to image Arnie, Jack or Gary romping around like this. Better yet–Ben Hogan!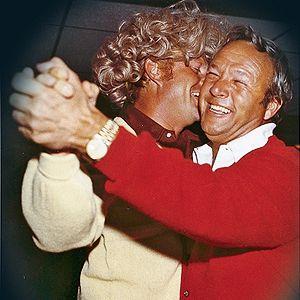 (Well, there is the famous shot of Arnie dancing with a bewigged Nicklaus in Palm Springs during some Bob Hope Classic. Palmer, who is leading, looks like he's having a great time while Jack appears to be nuzzling him in the ear.)
The video debuted on The Golf Channel on June 14, and I'm sure there will be those who say if Ben Crane, Hunter Mahan, Rickie Fowler and Bubba Watson weren't jumping around like lunatics in a music video they might have mounted more of a challenge to Rory McIlroy in the U.S. Open.
But we'll consign those to the screw-you-if-can't-take-a-joke category.
Crane is the driving (so to speak) force behind the Golf Boys video and other comedy bits that have been making their way around the web. He drummed up backing money from one of his sponsors, Farmers Insurance, and the company is donating $1,000 to charity for every 100,000 views. Good enough reason to click on the Golf Boys again. And again….
Related posts:
Ah, Ah, Ah!
Uh Oh – Golf Boys "2.Oh"