Will Ray McNeill play the cello at the May 22 Brattleboro Brewers Festival? With Ray, you never quite know. He's a classically-trained cellist, but given to wearing t-shirts emblazoned with his motto, "Beer is the reason I get up each afternoon."
Ray, his pub, his beers, are all indispensable institutions in Brattleboro, Vermont, all trailing colorful histories. The pub is a no nonsense, funky and unpretentious hall usually replete with students and a noisy mixed crowd reveling at long tables or kibitzing by the dart boards. Ray has owned the bar for over 20 years now, from its first incarnation as Three Dollar Dewey's on South Main Street, to its current location in the old Elliot Street firehouse, which he moved into in the summer of 1990. Brewing began the following year, after Ray did an internship at the late and lamented Vermont micro, Catamount.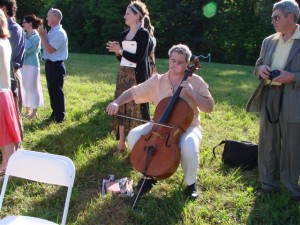 In the early years, some of the beers were as wild as Ray's tied-dyed fashions, since toned down. But the range of beer styles was and remains a hallmark. There are usually about a dozen McNeill recipes on tap, including a few cask-conditioned ales, many of which have won regional, national and international awards, not to mention sweetly scenting the air of the great metropolis of Brattleboro (actually a town of about 12,500), with malt aromas on brewing days.
When the town built a parking garage near the Elliot Street facility it literally cast a long shadow over the brewhouse, cutting off the passive heat and playing havoc with production for a time. Ray solved that by moving the bottled brewing operations into larger facilities out on Route 5, although he said starting that up was a nightmare: "Whatever could go wrong did go wrong."
McNeill's bomber bottles were missing from local shelves for a mournfully long time, but all is well once again, and production has increased; McNeill's fancifully named and labeled beers (including Blonde Bombshell, Dead Horse IPA, Pullman's Porter, Professor Brewhead's Brown Ale and my go-to favorite, McNeill's ESB) can now be found in six states. Sales have recently begun in New York City and according to Ray are going like wildfire, exceeding the combined sales for the beer in the other five states where it's available.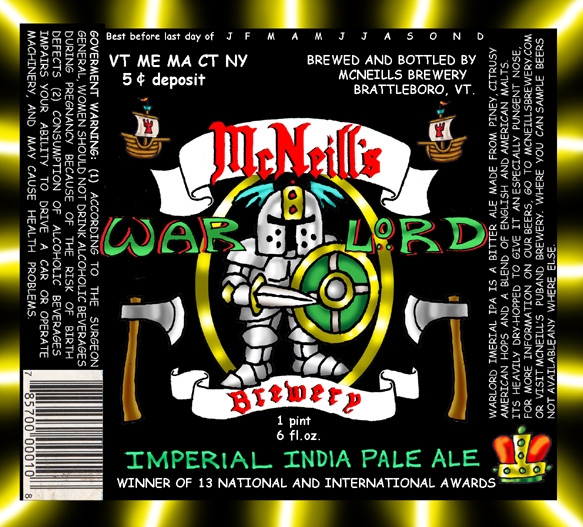 Ray's relatively new Warlord, the fifth in our imaginary 12-pack from brewers represented at the festival, will be poured that day, as will a special beer brewed especially for the occasion. "We haven't started brewing that one yet, but it may well be a pale ale with Amarillo hops for bittering, finishing and dry-hopping."
The Warlord uses equal parts of Chinook, Cascade and Centennial to balance a rich malt character. Indeed, the beer is sweet, not unlike a barleywine in character, although probably too bitter for that style, Ray said. Indeed, it's so hoppy that it makes me sneeze every time I initially take a sip. But that assault past, I settle down for the ride, which turns out to be smooth and satisfying. It should pair nicely with a Bach unaccompanied suite for cello.
Name: Warlord
Brewer: McNeill's Brewery, Brattleboro, Vermont
Style: Imperial IPA
ABV: 8.5%
Availability:  VT, NH, MA, RI, TN (east), NY
For More Information: mcneillsbrewery.com