H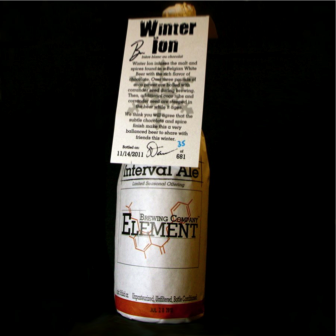 appy New Year, one and all, and thanks for taking the ride on the Twelve Beers of Christmas Express. It's been fun, if a little exhausting. Maybe we'll try again in 358 days or so.
I don't really mind paying attention to each beer I drink. But sometimes it's nice to be able to just throw one back. Writing about a beer every day, however, is simply too demanding if one if trying to do any kind of decent job. Most of the blogs I've seen which attempt to do this are often poorly done, or cursory at best, and now I can well understand why.
And that said, my final pick turned out to be a doozy, on the New Year's Eve that couldn't shoot straight. And that's why I didn't get around to writing this post until today.
We had firm plans in hand with friends Jerry Carbone and Kathy Maisto—an early dinner at Fireworks Restaurant in Brattleboro, followed by a showing of "Lincoln" at the Latchis Theatre. But Jerry, who had been suffering with a cold, took a downward turn.
Thus ensued that awkward interregnum when with parries and thrusts one tries to figure out the next move. Finally, we decided to stick to the original plan and Kathy decided to join us. All well there, until we wandered over to the theatre across the street, only to find out that "Lincoln" was sold out.
Plenty of seats for "The Hobbit," so off we went, though this was a movie that Lynn would never have chosen to see. And she hated it. (Well, I didn't love it; it's more amped up than the book as I remember it, presumably aiming at "The Lord of the Rings" audience. It has its moments, but the action sequences become a lot like watching someone else play a video game.)
We went into the Den of Illness later—Jerry was upright by this point—and toasted in the new year. The beer, from the small brewing company housed in the former Millers Falls post office, is exceptional.
Element wraps its large label-less bottles in thin paper, drapes neck tags around them, and charges quite a bit for them. This one was about $15. So much for the days when you could say that the very best bottle of beer was still less expensive than a bottle of wine.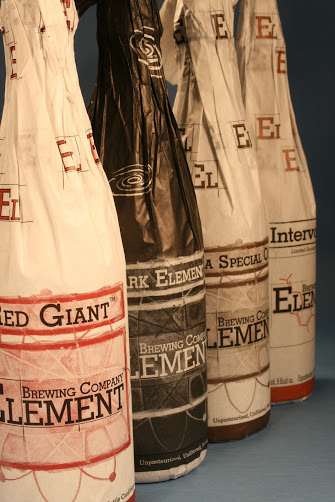 But I can well imagine this was a costly beer to produce. With malt and spices common to a Belgian Wit beer (orange peel and coriander), Element adds cocoa powder to the boil. Then the beer is dry-hopped, so to speak, with additional coriander seeds and cocoa nibs. The end result, suggests the brewery, is a "bière blanc au chocolat."
To be honest, I'm not sure how to characterize the flavor, especially from the distance of the next day. But I remember loving it. There was indeed some spicy character to the beer, even the slightest suggestion of funk, but also a well-controlled sweetness and a touch of licorice that makes the package quite alluring.
At this point Element makes only three year-round beers, Extra Special Oak (7.75% ABV), Red Giant (8.1%) and Dark Element (8.95%), supplemented by three seasonal Interval beers like Winter Ion. Other specials come along and are quickly snatched up at the brewery.
Or so I hear. I haven't actually visited yet, though Millers Falls is only about 35 miles down the road. Something to look forward to in 2013.
Name: Winter Ion
Brewer: Element Brewing Company, Millers Falls, Massachusetts
Style: Spiced ale
ABV: 9.1%
Availability: Limited seasonal release; MA, VT, RI, CT, NY, AL, IA
For More Information: http://elementbeer.com