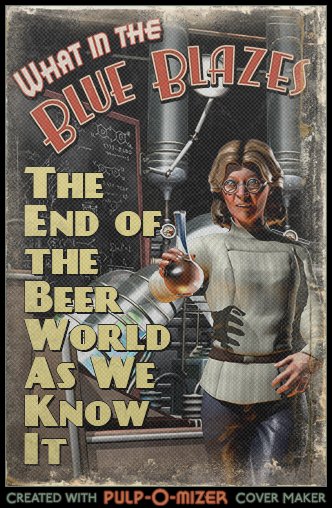 (October 3, 2012) — I was just out in Denver and had my share of beer, but sadly did not make it to the Wynkoop Brewery, the state's first brewpub. If I had, I might have discovered what kind of balls it really takes to be a brewer these days.
The brewery was started in 1988 by John Hickenlooper, who went on to become Denver's Mayor and is now the Colorado Governor, an event that did not go unnoticed by those at the brewery (click here).
But now, in what started as an April Fools' Day joke, the brewery has gone ahead and produced a Rocky Mountain Oyster Stout.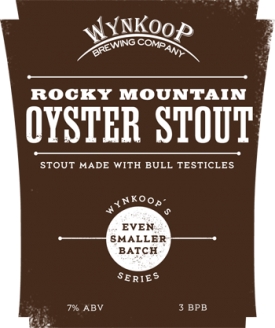 Weirdly, four of us were driving around in Denver this past weekend and the subject of Rocky Mountain Oysters came up. For those unfamiliar with the treat, they're not seafood.
The discussion was one of nomenclature. My wife said the treats were known as prairie oysters, while Denver native Jerry Carbone insisted they were Rocky Mountain oysters.
They're both right, as they would have been if they had called the morsels Montana tendergroins, swinging beef, cowboy caviar or calf fries, which begins to suggest what they really are—bull testicles.
Marty Jones, who serves as Wynkoop's Conductor/Idea Man, said he was doing a radio show in March, tasting an oyster stout from the Odell Brewing Co. of Fort Collins, made with real oysters of the seafood variety in collaboration with Jax Fish House.
"I was riding home, thinking about Wynkoop's efforts to brew with local ingredients, and something hit me. I made a note." Jones is clearly not the Idea Man for nothing. "One of our servers is a videographer, so we put together the spoof for April 1."
In a classic supply and demand story, the brewery began receiving messages: "Great idea, I'd love a sample."
"People showed up asking for it," said Jones, but there was no beer. "But it's part of our mission to smash the status quo, change things up a bit, so our head brewer, Andy Brown, started work on it."
They produced only eight barrels of the beer that should fill a warehouse of puns. "I wouldn't want to steer you in the wrong direction," said Jones, "but this is a good meaty beer. We're bullish on it."
Sales will be only at the brewery beginning October 8, with some held back for the Great American Beer Festival. It's not hard to foresee, so to speak, that shortages could lead to some testiness.
Speaking of steers, Styrian Goldings hops were used in the brew, with almost ten different malts, and the bull testicles put into sacks and lowered into the steaming sweetness.
Actually, 25 pounds of local Rocky Mountain oysters were sliced and roasted before being added to the mash. The stout finished off at 7% ABV, so it's a stiff one. It also rates at what Jones called 3 BPB—balls per barrel. (See more on the Wynkoop website.)
The calls are just starting to come in about the beer, but Jones admits it's already getting hectic. At least I think that's what he meant when he said, "We're going nuts!"
Related pieces:
The End of the Beer World As We Know It, Part III: Arise, Prince Willy
The End of the Beer World As We Know It, Part II: Fried Beer
The End of the Beer World As We Know It, Part I: The Arms Race
TAP Beer(s) of the Week 19: Harpoon 100-Barrel Island Creek Oyster Stout, Single Hop ESB