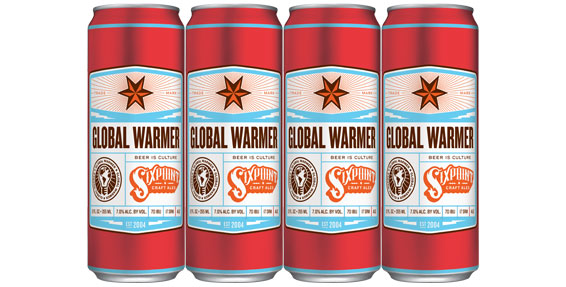 The good news is that starting tomorrow, the days are getting longer. Well, still 24 hours, but more light. The other planetary observation is that we're in some kind of schizophrenic weather condition here in Vermont. Up north they're dealing with a devastating ice storm, and we wish them well.
Down here in southern Vermont we're undergoing a pre-Christmas thaw. After two recent and hearty snowfalls and frigid temperatures, today it almost hit 50°. Tomorrow it almost surely will. So what better choice for this screwed-upness than Global Warmer?
We've even got some New England poetry on the side of the svelte 12-ounce Global Warmer can, the first four lines of Robert Frost's Fire and Ice (attributed on the brewery website, but not on the can):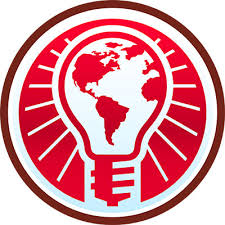 Some say the world will end in fire,
Some say in ice.
From what I've tasted of desire
I hold with those who favor fire.
Sixpoint, founded in 2004 in Red Hook, Brooklyn, has never observed stylistic boundaries too strictly. Global Warmer, introduced last month, is no exception. If the brewers had climate change in mind with this beer, it's mainly the change in the beer climate. Hence they took the notion of a winter warmer, kept a strong malt profile with lots of crystal and bits of chocolate malt, left out any spices, but hopped the hell out of it (70 IBUs) with Citra and Simcoe.
They call the end creation an Imperial Red, and certainly it's a lovely amber in the glass. But it could just as easily be called a double IPA. This is a winter beer for hopheads, a sweetish hop nectar. Those looking for darker, malt-rich spiced beers will have to look elsewhere, though there's plenty of spiciness here just from the hops and yeast. (A totally unplanned trend of our last few picks–since there isn't really a plan.)
Sixpoint Founder Shane Welch recommends letting the beer warm a bit before drinking, claiming it will open up the flavors more. I'd already finished my first can before I ran across this useful tidbit, but he may be onto something.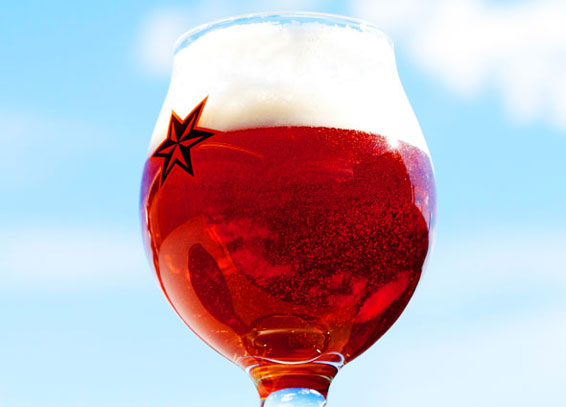 And for the completionists in the crowd:
But if it had to perish twice,
I think I know enough of hate
To say that for destruction ice
Is also great
And would suffice.
Name: Global Warmer
Brewer: Sixpoint Brewery, Brooklyn, New York
Style: Imperial Red Ale
ABV: 7%
Availability: Winter seasonal, broadly distributed
For More Information: www.sixpoint.com
[Dec. 21, 2013]
< 12 Beers of Christmas 7: Mahr's Bräu Christmas Bock
12 Beers of Christmas 9: Nöel des Géants >