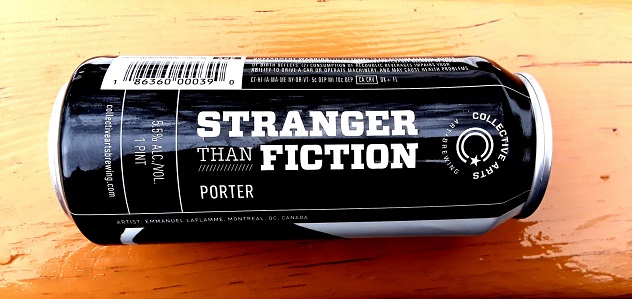 [Apr. 7, 2018]–The wildly decorative cans of Collective Arts Brewing have been on local shelves for quite a while now, but until recently I hadn't bought any. Why not? Certainly not because they're not eye-catching. They most certainly are, and will continue to be, because even for its ten year-round beers the brewery constantly changes its label art.
It was mainly because every time I reached for a four-pack I thought, well, there's also a new four-pack from [insert Vermont brewery name here] and I might as well support a brewery from Vermont as opposed to one from Hamilton, Ontario.
It was only a matter of time before I gave in, but I had a useful push from Wildwood Barbeque, which had a Collective Arts Brewing Tap Takeover April 4 in Hadley, Massachusetts. (I was there as is my Tap Takeover wont, helping to pour at my daughter and son-in-law's place.)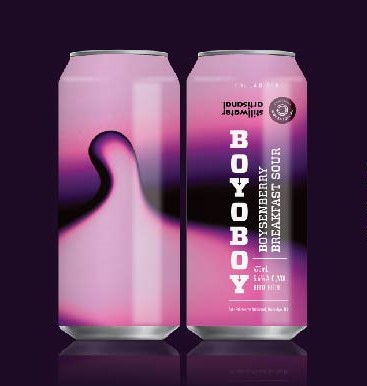 There were four cans available–Mash Up the Jam Sour Ale, IPA Project No. 4, Lunch Money Blonde Ale and Life in the Clouds IPA–along with four beers on tap: Ransack the Universe IPA, Radio the Mothership Imperial IPA, Stranger Than Fiction Porter and perhaps the real prize—as Wildwood was the only western Massachusetts venue to score a keg—the very limited release of Boyoboy. Brewed in collaboration with the Stillwater Artisanal Beer Company, Boyoboy is a Boysenberry Breakfast Sour. So we had it for dinner, where's the harm?
Before the Tap Takeover I picked up the Stranger Than Fiction Porter. On the can was a rendering of a Montreal Canadian hockey player with a face-off going on in his face. Okay.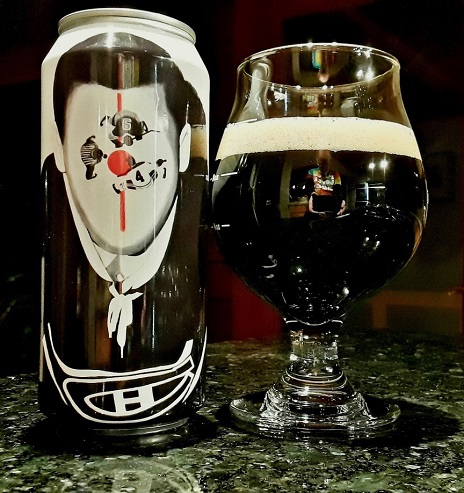 In the can was a beer that poured out a virtually opaque brown. It's not a coffee porter, but the dark malts give off a strong aroma of roasted coffee. It's a full mouthfeel, but at 5.5% ABV this is an utterly approachable porter, with less of the coffee note on the palate, more of a muted molasses flavor, with a slightly tannic bite in the finish. Most agreeable.
I also subsequently found the year-round Saint of Circumstance Citrus Blonde Ale, this one illustrated with a space cowboy. It's aptly named, as it's a zesty 4.7% ABV easy-drinker, actually fashioned with orange (or blood orange in season) and lemon zest, along with its pilsner and wheat malts, toasted wheat flakes and Citra, Centennial and Amarillo hops. Also most agreeable, though almost the polar opposite of the porter.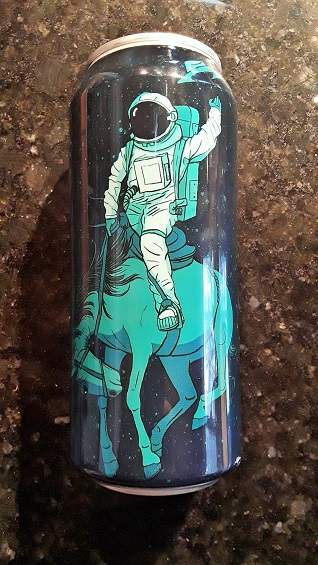 I needn't have been so parochial in the first place; I found out that the clearing house for all the dizzying artwork of Collective Arts is the design house Independent Allied, located in Stowe, Vermont. The firm was founded by Ryan Thibault and Bob Russell. Russell, who now lives in Vermont, is also the co-founder of Collective Arts with Matt Johnson of Hamilton.
The company, launched in September of 2013, lives up to its name by soliciting art (and music) from the public. Thanks to what Thibault called, "…the power of modern connectivity," the regular Calls for Art prompt thousands of responses, "from all over the world—I mean, from Tehran, Cuba, you name it." Thanks to its ten year-round beers and various seasonals and one-offs, Thibault says, "Collective Arts has 90 different labels in circulation at any one time, and we've done over 650 unique labels so far."
Artists who create the chosen labels are paid, and beyond the brewery's use maintain ownership of their works. The deadline for the next Call for Art is coming right up on April 30. Check the website, crack open a beer, and let those creative juices flow.
Name: Stranger Than Fiction Porter
Brewer: Collective Arts Brewing, Hamilton, Ontario
Style: Porter
ABV: 5.5%
Availability: Year-round, across most of Canada, New England, NY, IL, VA, TN, WI.
For More Information: collectiveartsbrewing.com