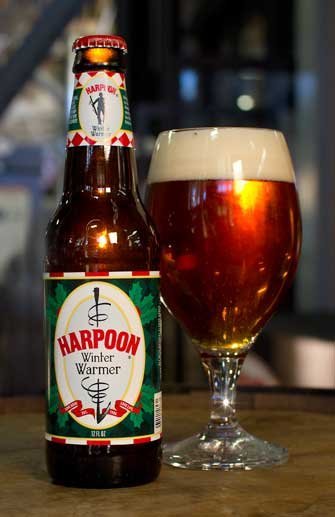 Have to make this a fast one here on Christmas eve. A boatload of company was here earlier tonight, the tree is awash with presents underneath and I've just wrapped up my wrapping. I'm the last conscious being in the house, and there are nine of us here. Three of them are grandchildren who will be chomping at the bit in the morning, so I'm not looking at a lot of sleep as is.
We'll skip the background, since I've written plenty about the Harpoon Brewery before, most recently with the El Triunfo Coffee Porter as a TAP Beer of the Week.
Suffice it to say that the Harpoon Winter Warmer is an old standby, brewed since 1988 by the Boston (and Vermont) brewery, hence an early exemplar of the spiced winter beer style. It's a coppery beer packed with cinnamon and nutmeg, tends to the sweet side, and after a quarter century, produces its own nostalgia. I usually pick up a six-pack each year, but that turns out to be more than enough for me.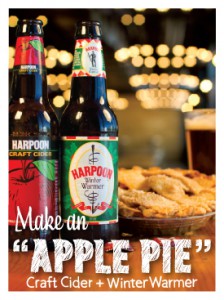 The beer also seems to produce reactions at both extremes on beer rating sites, folks that love it, those who hate it, much as pumpkin ales seem to do these days; indeed, the Winter Warmer wouldn't be out of place in that category, either.
Harpoon has another idea, however, and that is to mix the Winter Warmer with their Craft Cider, producing what they call Apple Pie. So I tried it. At first I was aghast, feeling I'd ruined a perfectly decent beer with a cider I don't particular care for.
But I let it sit awhile, tried it again, and dang if it didn't give off apple pie aromas and flavors. Granted, still not an apple pie I'd want to be eating (like one made with Delicious Apples, which I loathe). But at least they're not pulling our leg about it. [Dec. 24, 2013]
Name: Winter Warmer
Brewer: Harpoon Brewery, Boston, Massachusetts and Windsor, Vermont
Style: Spiced ale
ABV: 5.9%
Availability: November through January, in about 25 states
For More Information: www.harpoonbrewery.com
< 12 Beers of Christmas 10: Hoppy Lovin' Christmas
12 Beers of Christmas 12: Dupont's Avec les Bons Voeux >