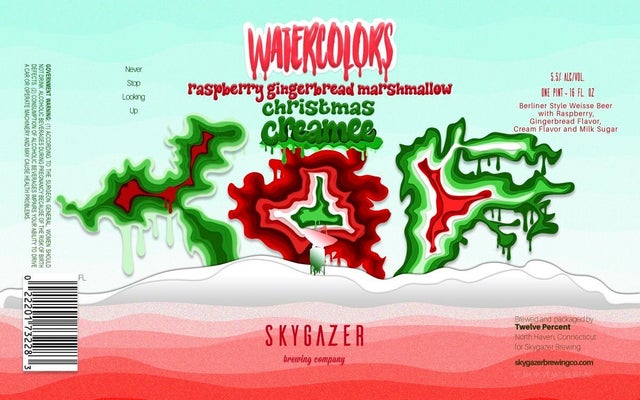 Whoa! We've moved to the east coast, but maintained yesterday's fruit theme, substituting raspberries for peaches today. But why stop there? Why not throw in some gingerbread "flavor"?And some cream "flavor"? And some marshmallow, milk sugar, with a Berliner Weisse style yeast?
Do that, and you have the creation before us today, from the Skygazer Brewing Co. Skygazer opened in 2019 in Southington, but last year the founding partners, Taylor Pilewski and Erik Tynik parted ways. Tynik held onto the premises and transformed into Transcend Beer Crafters, specializing in fruited sours, rich milk stouts, and hazy IPAs.
The parting was said to be an amicable one involving creative differences, but it left Skygazer without a brewery. That led it to the Twelve Percent Beer Project in North Haven, Connecticut, a brewery and taproom that primarily contract brews for other brewing companies without real estate, or ones that need more beer brewed than their brewery capacity can handle.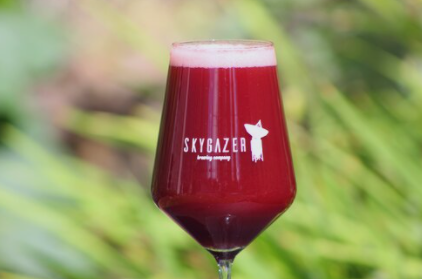 There has clearly been no lack of beers pouring forth from Skygazer, and the sky seems barely the limit in terms of what it is willing to throw into a beer. The Christmas Creamee is part of an apparently limitless series called Watercolors, with an equally vast palette. The beers are laden heavily with fruit additions and as the website notes, "Lately we've been really in love with marshmallow." I called for more information, but no response by the time I posted.
Clarity is clearly not issue with Skygazer. Nor are any stylistic norms. Again from the website:
This isn't beer!
How could you call this a beer?!
This is not what beer is supposed to be!
We've heard it all and guess what? We don't care.
Well, I care a bit. I took a look at Untappd, a site where drinkers log in the beers they've had, often with a one to five star rating. The Christmas Creamee notched a 4.11 rating. The classic English bitter, London Pride, averaged 3.41. I might once have discussed such dispiriting results in a brief series I wrote called "The End of the Beer World As We Know It." But this is the world we're in now, where tradition is sledding uphill against novelty, as mentioned in the Anchor post of a few days ago.
And then it may say more about Untappd drinkers than anything, and in any case the Skygazer votes came from a small sample of 629, whereas the London Pride had to contend with 181.8k raters.
The Skygazer website does go on to say, "It's true; there is nothing quite like a cold, crispy, German pilsner. Tried and true. Built upon tradition and heritage. That said there's also nothing quite like a heavily fruited sour with cheesecake, marshmallow or cream! We say, live and let live!"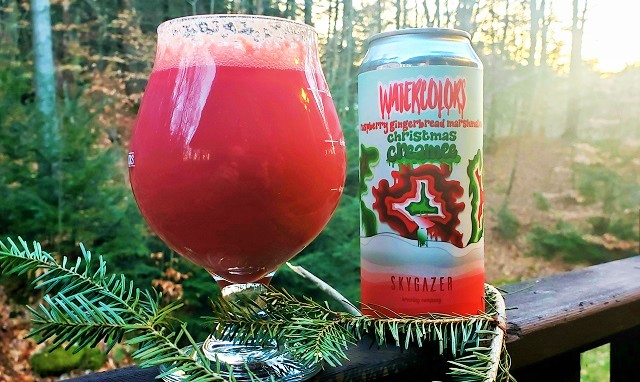 Okay. The beer certainly made a big splash at our recent book group get together. I poured it out at David and Michelle Grist-Weiner's house before the other guests arrived. The three of us were fairly astounded at the look of the thing—Pepto Bismol in a glass, with a head—and we were about as dubious to try it.
Of course we did, and Michelle offered the perfect succinct review: "That's not as bad as I thought it was going to be."
I quite agree. While never a beer I would order twice, the Christmas Creamee is pretty much as advertised, a fruit bowl punch of a brew, with a Creamsicle mouthfeel (itself a little unnerving), and the top-heavy sweetness cut by a touch of sour, no doubt from the yeast. I couldn't find any trace of gingerbread, but the marshmallow is right there, too. When my wife tried the beer the marshmallow was her immediate impression, quite enough to disgust her.
When the other book club members arrived, David and I readied ourselves to perform "Desperado" and "The Long and Winding Road," he on guitar, me on the piano that he has been mentoring me on for the last two years or so. I made the dreadful mistake of putting the beer on the piano, and a picture of David's hero, Leonard Bernstein, slid forward and knocked the whole pink concoction onto me and more frighteningly, onto the piano keys.
We both survived. I was newly decorated, and the piano was able to play something other than cuts from "Sticky Fingers."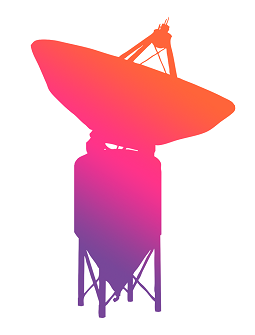 Name: Watercolors Christmas Creamee
Brewer: Skygazer Brewing Co. out of the Twelve Percent Beer Project, North Haven, Connecticut
Style: Sour Berliner Weisse with fruit and other adjuncts
ABV: 5.4%
Availability: Seasonal, Connecticut, other states via mailorder
For More Information: skygazerbrewingco.com
[December 20, 2021]
< 12 Beers of Christmas 2: Shiner Holiday Cheer
12 Beers of Christmas 4: 3 Floyds Alpha Klaus Christmas Porter >