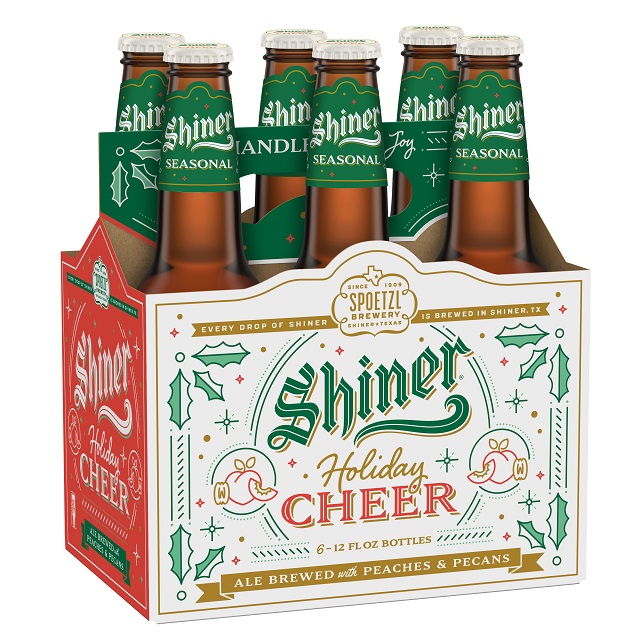 There are fewer than 2,200 souls in Shiner, Texas, roughly halfway between Houston and San Antonio. The town was founded in 1887 as New Half Moon, but as it was largely on land donated by local cattleman Henry B. Shiner, it took on his name in 1888.
German and Czech immigrants quickly became the prevailing ethnic groups, so obviously it was a matter of not much time before a brewery would be established.
Enter the Shiner Brewing Association in 1909, which limped along until a Bavarian brewer named Kosmos Spoetzel took over the brewery lease in 1914 with an option to buy in 1915. He did. It became the Spoetzel Brewery, but the beer name remained Shiner, confusing people ever since.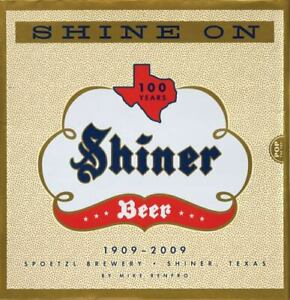 I learned most of this from Mike Renfro, who wrote a book about the first 100 years of the Spoetzl Brewery, Shine On, which for some reason I had on my bookshelf. Renfro goes into the 1989 acquisition of the brewery by Carlos Alvarez, owner of the Gambrinus Company, which also produces Trumer Pils in California. Alvarez managed to turn around, rather spectacularly, the then fading fortunes of Spoetzl.
Today Spoetzl (actually pronounced like Schpoetzl, Renfro informs me) is the largest craft brewery in Texas, is distributed nationwide, and its Shiner Bock, once a cult beer in Austin, 80 miles north of Shiner, is far and away the flagship brew. Go to the "Attractions" page on the town of Shiner website and the brewery gets top billing.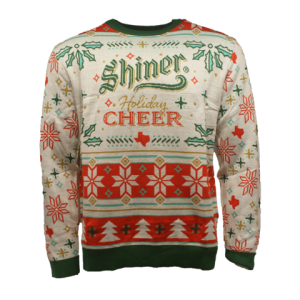 The brewery began producing its Holiday Cheer on an annual basis in 2010 and it caught on big time locally, not only making it the best-selling seasonal beer in the portfolio, but inspiring its own Christmas sweater line. I've never run across it before but it does have national, if spotty, distribution. There's a handy "Find beer" function on the brewery website. I would particularly recommend that if you're fond of peaches.
I happen to be, so this dark wheat beer, a Dunkelweizen brewed with Texas peaches and pecans, was appealing. The beer looks stunning, a clear and vibrant mahogany. The nose is 95% peaches, with some caramel malt making a cameo appearance.
The palate is just as fruity, but not too peachy sweet. Maybe the pecans are helping out in that regard, but any nuttiness that comes through seems more of a suggestion than an actual perception. I know they're in there, but I can't really discern them.
And no need for concern by those suffering from haptodysphoria, the aversion to touching peaches. There's no fuzz involved here. Just the juice.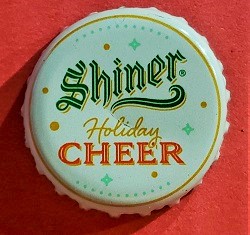 Name: Shiner Holiday Cheer
Brewer: Spoetzl Brewery, Shiner, Texas
Style: Dunkelweizen, with fruit
ABV: 5.4%%
Availability: Seasonal, nationwide
For More Information: www.shiner.com
[December 19, 2021]
< 12 Beers of Christmas 1: Anchor Our Special Ale
12 Beers of Christmas 3: Skygazer Watercolors Christmas Creamee >