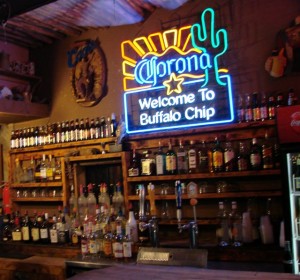 Man plays 36 holes, man gets hungry. Barbecue by the pound should do the trick, and it's tough to beat the grub at the Buffalo Chip Saloon & Steakhouse in Cave Creek, a short gallop north of Scottsdale.
Invoke Cave Creek in these parts and people seem to roll their eyes a bit, as if you've mentioned an eccentric uncle who is a lot of fun, even if he asks you to pull his finger from time to time.
Cave Creek's bent rears toward a wild west heritage, with a heavy streak of pigskin fanaticism woven in. Though Buffalo Chip began life in 1951 as a feed and bait shop, it has evolved into an ample western dance hall and saloon, complete with bull-riding.
Not mechanical bull-riding, the real thing. And on Wednesday nights, which this was, it's amateur night. Anyone with sufficient balls and lack of sense enough to sign a waiver can mount up and try to hang on to a 1,800-pound manically lurching bull for eight seconds. The evidence (and amateurs) on the ground suggested this was nearly impossible, and no one in our group was about to chance it.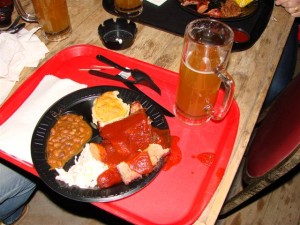 I felt at sufficient risk asking the bartender if she had any good craft beer available. Her disdain was like a pointed cowgirl boot to my crotch. But actually they did have Widmer Hefeweizen on tap, which went pretty well with the pulled pork, grilled sausage, biscuit, beans and coleslaw I larded onto my plate.
The Buffalo Chip is also known as a Green Bay Packers bar. Walk a little ways across a large parking lot, which a few of us did, and you come to Harold's Corral, which I was told is the largest Pittsburgh Steelers bar in the U.S. (And therefore, presumably, in the world.)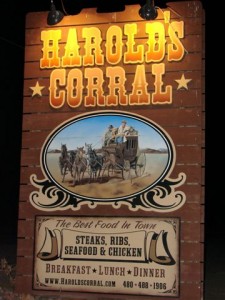 I neglected to ask how that was measured, precisely, or where Cardinal fans go. But in 2009 over 4,200 fans jammed into huge tents set up on the property to watch the Steelers beat Arizona in Super Bowl XLIII, 27 to 23, and then doubtless went crazy on beer.
I wasn't crazy about the selection at Harold's, but across the street we struck paydirt. The Cave Creek Tap Haus is a new kid on the block, opened only a few weeks, but for good beer fans it's the mother lode, offering over 50 craft beers on tap, and claiming to have the largest local selection in the state.
By this time our entourage had been whittled down to me and Jerry Rose of Communication Links. As this post suggests, Jerry and I have been spending most of our time together of late atop barstools. We can deal with it.
We took our time deciding on our pints because bartender Pam Porter (perfect name for a beer bar), kept giving us samples so we could make up our minds.
I wanted to keep it local, and so settled happily on an Old World Brewery Eclipse Black IPA, a not overly hoppy but fairly rich and slightly roasty dark ale that seemed more like a porter than anything. Fine by me.
I can't say I know much about the Phoenix-based brewery beyond what's on its website and Facebook page, noting that the lineup of regularly distributed beers include an Old World Wit, a Nitro Blonde, a 4Leaf Irish Red Ale, a Dark Knight Porter and seasonals like the Eclipse, which is probably eclipsed by now. The brewery and a taproom is located at the old Capital Station Post Office at 334 North 25th Avenue in Phoenix.
I sort of lost track of the beer because we were soon chatting and taking pictures with Pam and assistant bar manager Carrol Douglass, before one of them pointed out that Robbie Knievel was sitting at the bar right alongside us.
Knievel, who turns 50 in May, was eight when he first performed on a motorcycle with his legendary dad, Evel Knievel. Robbie carries on the family stuntman daredevil ways as Kaptain Robbie Knievel, having made over 250 jumps himself, sometimes replicating the feats of his late father, often surpassing them.
Robbie has jumped over a 228-foot span of the Grand Canyon, broken all sorts of records for leaping over cars and buses, and hopes someday to cap his career with a jump of the Snake River Canyon in Idaho–the feat he father attempted in vain in 1974.
Robbie has had his own share of wipeouts, surely enough to sympathize with the amateur bull riders over at Buffalo Chip. But this night, he had the old man on his mind. Evel Knievel was 69 when he died on the way to a hospital on November 30, 2007.
"I haven't had a drop of hard liquor in quite some time," said Robbie. "But it's exactly four years ago today that my dad passed away. So I've been thinking about him. I thought I'd have a drink in his memory."
That sounded like a good idea to us. So we clinked glasses, and joined in on the memories.
Name: Eclipse Black IPA
Brewer: Old World Brewing Company, Phoenix, Arizona
Style: Black IPA
ABV: 7.3%
Availability: Seasonally, Arizona
For More Information: www.oldworldbrewery.com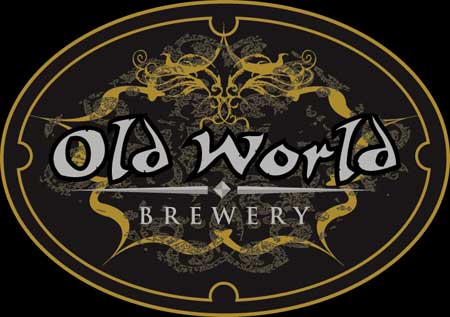 Previous: "TAP Beer of the Day: Nimbus Pale Ale"
Next: "TGI TPC Scottsdale Friday"