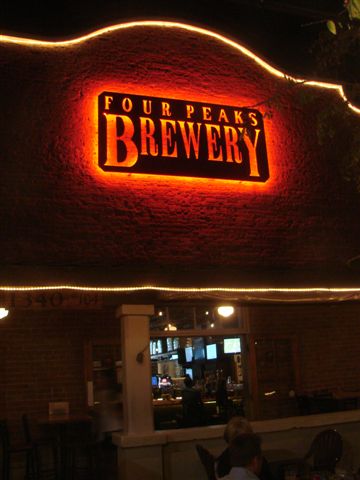 [Nov. 28, 2011] Why land at a destination and go immediately to your hotel when you can detour to a brewpub instead? That's exactly what fellow Golf Road Warrior Terry Moore and I did when our plane landed in Phoenix.
Jerry Rose, a vice president at the Communication Links public relations firm, picked us up. The last time I saw Jerry was atop a barstool at a Yard House near Miami, so this wasn't hard service for him.
He took us to the Four Peaks Brewery in Tempe, which I had heard was a favorite hangout for Arizona State University students, but the immediate world actually seemed to be here; it was a Monday night, and the place was packed inside and out. (And since Four Peaks can serve roughly 350 at capacity, my guess is that about 349 people were there.)
The brewery has been in existence since 1996, housed in a brick building dating from 1892, home of the Pacific Creamery, the first functioning dairy on the west coast, according to manager Matt McCormack. There's a second location in North Scottsdale. McCormack also quickly delivered the bad news: the brewpub had plowed through 51 kegs of its popular Pumpkin Porter seasonal by Thanksgiving, and there was no more to be had, nowhere, no how.
Well, revise, adapt and improvise. We made do with a sampler tray, and we pretty much went through this entire list: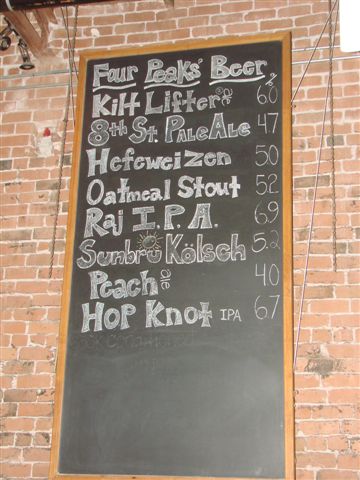 The Kilt Lifter is the flagship beer, a Scottish-style ale, though thanks to reverse osmosis tanks and clever water chemistry, Four Peaks mimics foreign styles pretty well. They also cultivate their own yeast cultures, and the big news, according to McCormack, was that a lease had been recently signed for a 16,000 square foot new production facility in Tempe.
Doing three brews daily six days a week in its 40-barrel brewhouse (all boldly on display in the brewpub), isn't quite enough for Four Peaks to expand distribution beyond its 300 accounts in Arizona. But the new 60-barrel brewhouse will enable it to brew, bottle and can even more fine suds (over the current 10,000 barrels annually).
Kilt Lifter was suitably malty, with a bare hint of smokiness, and perhaps even less hop character as befits the style, coming in at 6.0% ABV. It's a solid beer, and the wink and a nod name undoubtedly adds to its popularity. "My marketing guy tells me it's the number one selling craft beer in Arizona," said McCormack.
When we finally arrived at the Four Seasons Resorts Scottsdale I had another bottle to wrap up the night. But I can't say it was my favorite beer of the evening. I was taken by the bold attempt to brew two different IPAs, the Raj and the Hop Knot.
The Raj is an attempt at an English-style IPA, though at a hefty 6.9% ABV, with Magnum, Fuggles and Golding hops, while the Hop Knot is the New World version, an American-style IPA at 6.7% with Cascade, Glacier, Magnum, Liberty and Simcoe hops. The latter is a hop bomb, and it suited me quite well.
Name: Kilt Lifter
Brewer: Four Peaks Grill and Tap, Tempe, Arizona
Style: Scottish Ale
ABV: 6.0%
Availability: Year round in Arizona
For More Information: www.fourpeaks.com
Previous: "The Long Haul: Luggage Matters, Part II: Changes'
Next: "My Aching Back vs. The Monument Course"