I live in a dream world. The slightest breeze can distract me. I lead the league in Walking Into Rooms and Forgetting Why You Went There, and the concomitant stat, Returning to Your Desk Chair and Realizing You Forgot to Get the Thing You Went Out of the Room For in the First Place.
I'm like the absent-minded professor who buttered his dog and patted his pancakes. I'm sure I've lost days of my life in search for lost keys, missing wallets, vanished cell phones–all of which usually turn up, if in some unlikely outreach of the house: atop a bookshelf, out on a deck railing, in an upstairs bathroom, under a pile of newspapers.
Since nothing concentrates the mind like a trip to the gallows, deadlines are useful in keeping me on target. Fear in general works well.
So does order, which is why my wife long ago tacked up a key rack, so I'll always know where my keys are. (If I remember to hang them there, that is.)
It's also the reason Lynn rightly says, "You don't like change." It's not true about everything; there are plenty of things I'd like to see changed in the running of the country. I always say I'm liberal in politics, conservative in baseball.
But when it comes to routines–how I do things or where things are, it's true, because order helps. Hence I've become rather fastidious about packing and moving through airports. I've had some close calls–almost forgetting to pick up my car keys after going through screening, or the time I had to dash back from a gate to a distant bathroom, where I was lucky to find my datebook and passport folder still resting atop a toilet paper holder.
All by way of saying when two new suitcases arrived from Travelpro, I could see the applecart was about to go flying.
When last packing, in my first Long Haul post, I speculated that the sturdy Travelpro T-Pro Bold 30" Drop Bottom Rolling Duffel was perhaps a bit too large for my typical golf travel situations, if dandy for transporting beer.
Travelpro came to the rescue with a 26" Expandable Rollaboard Suiter, and a Walkabout Lite4 20" Expandable Business Plus Rollaboard, both in black.
I won't need a suit on the Golf Road Warriors trip–all resort casual–but one could be neatly folded between pressboards in the larger suitcase, which in all other respects seems ideal for my checked luggage piece. I easily packed all my necessary gear for this week's trip, which will include warm days and cold nights.
The knotty problem came with the carry-on bag. My usual routine is to take along a L.L. Bean knapsack (monogrammed, by the by) that has a padded sleeve for my laptop, and ample zippered pockets to fling all kinds of stuff into. Which is naturally what I did.
But the Business Plus Rollaboard eliminated the need for the knapsack. It also has a neat laptop pocket, one that would clearly make removing the laptop easier at airport security. It also had the boon of getting a heavy knapsack off my back, and the goods onto the ground on wheels.
I don't like change; nonetheless, I began emptying the knapsack and finding equivalent or better locations for the stuff in the Travelpro bag. About halfway through I realized I'd probably actually need the knapsack on the ground, heading from golf course to golf course. Problem solved: I packed the knapsack in the Travelpro.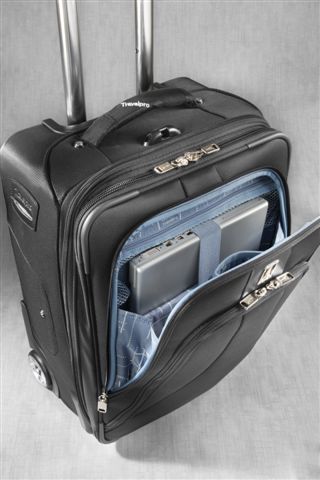 I'm writing this in the air, enroute to my Dallas connection to Scottsdale, and all is going well. I may not quite be over the mental hurdle, as I had some uneasy moments this morning driving to the airport. I knew my passport and boarding printouts weren't in the knapsack, and I had a spasm of panic because I couldn't visualize where they were.
And my mental rehearsal of going to the ticket counter, taking the knapsack off my back to pull out all the necessary documents and debit card wasn't going to happen either, I realized; actually, it should be easier.
And, gentle reader, it was.
Fellow Golf Road Warrior Jeff Wallach can attest to a third category I shine in (making me a Triple Crown winner?), Things I've Lost or Forgotten on Golf Trips. At the drop of a hat, or pants, he'll happily tell the story of a time I actually forgot my pants (the official version of which I hope to post soon).
But we'll tally it all up at the end of the week and see if Travelpro helps dreamers as well as Road Warriors.
The MSRP for the Walkabout Lite4 20" Expandable Business Plus Rollaboard is $300, and the 26" Expandable Rollaboard Suiter, $400. Both retail for about half of that.
Previous: "TAP Beers(s) of the Week: Golf Road Warriors Scottsdale"
Next: "TAP Beer of the Day: Four Peaks Kilt Lifter"