"Our Bifrost Winter Ale is named for the mythical bridge connecting the mortal world to the heavens," said Jason McKinlay, the events coordinator at Elysian Brewing Company in Seattle, which opened in 1996 and now comprises four Seattle restaurants and a production brewery. One of the original partners, Dick Cantwell, is part of one of craft brewing's real power couples, his inamorata being Kim Jordan, the CEO of New Belgium Brewing in Colorado.
The Bifrost Bridge notion of Norse mythology showed up in both of the Marvel comics "Thor" movies. But most of us have a touch of mythology in our homes each December, since Christmas trees can also be traced back to Norse pagan nature worship.
My wife and I, for the last 23 Octobers, have tagged our Christmas trees from the same tree farm in Dummerston, Vermont: Elysian Hills. That was enough of a coincidence for me; I requested some of the beer from the brewery and it obliged. (It's not available in Vermont, but is in New York and ten other states.)
And when Castle Freeman and I went off to pick up the recently cut tree today—crossing a couple of bridges in the process–it was only natural to bring the beer along and pose Castle holding it up in front of the tree farm sign. I sort of like the way this one came out, because the sign looks like it's floating in midair:
I took quite a few photos, but not that many came out well because Castle kept delivering ersatz commercial lines about the beer: "My beer is Elysian…," "Elysian: A Man's Beer…," "Ask for Elysian, there's nothing else like it…" and I kept cracking up.
There's often comedy involved in picking up the tree, although more of the pratfall type. I usually have Bill Schmidt give me a fresh cut on the tree before we load it into Castle's truck, haul it back to Williamsville, trundle it up the stairs and into the house before the real work begins—trying to get it to stand and stay upright. None of these are easy tasks in years when the tree seems unusually large or coated with snow and ice.
We didn't see Bill today; he and his wife Mary Lou, who have been working Elysian Hills for more than 35 years, sold it this past year. But part of the arrangement is that they can live out their days in their home on the site, now owned by Walker Farms. Seems like a good deal all around.
Speaking of movies, Castle is wrapping up an interesting year in which a screen version of his terrific novel, Go With Me, has just wrapped up filming. The finished movie should appear late in 2015 with Anthony Hopkins, Ray Liotta and Julia Stiles in the principal roles. It is not a comedy.
Today's tree-hauling was fairly undramatic; I think I finally convinced my wife and grandkids that something smaller would do as well as the usual monster. And there was no snow or ice to deal with. We had the tree installed and looking pretty good in record time, so it seemed like a great idea to try the Bifrost.
It's neither a spiced nor dark beer; the brewery calls it a pale ale and it's a somewhat hazy gold to amber in the glass. Peach and citrus aromas mix with caramel sweetness and all this is delivered in the distinct hoppy flavor and bite (the beer is bittered with Magnum hops and finished with Chinook and Styrian Golding).
There's a strong malt backbone that gives the beer some real heft. The overall effect is quite appealing, smooth and a little boozy. It may well be a bridge to another world, and certainly a warmer one.
Name: Bifrost Winter Ale
Brewer: Elysian Brewing Company, Seattle, Washington
Style: Winter warmer
ABV: 7.6%
Availability: November-December, WA, AK, CO, OR, ID, MT, PA, NJ, MD, DE, NY
For More Information: www.elysianbrewing.com
[December 19, 2014]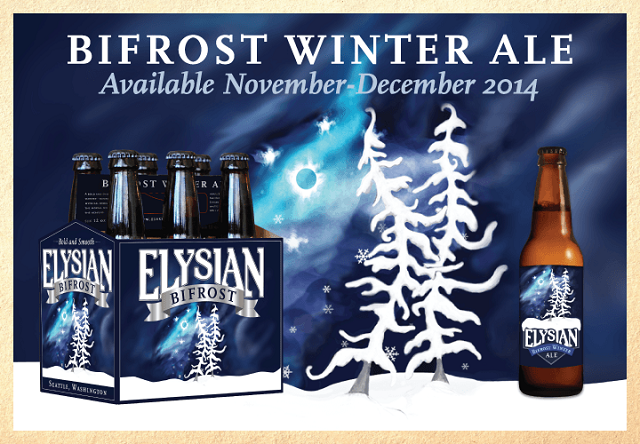 <12 Beers of Christmas 7: Ommegang Adoration Dark Winter Ale
12 Beers of Christmas 5: Samuel Adams Merry Maker Gingerbread Stout>