Dogfish Head founder Sam Calagione will not likely be at the Brattleboro Brewers Festival on May 22, although you never know; he's originally from Greenfield, Massachusetts, just down the road a piece, and returned to these parts to pick up some maple syrup for the collaborative brew with Sierra Nevada, Life and Limb, which was our TAP Beer of the Week 2.
I then referred to Dogfish Head as the east coast star of innovative brewing, and it wouldn't be far wrong to call Calagione the rock star of craft brewing, such has been his impact and influence on the industry. It all begins with the willingness to throw just about anything into a brewpot–the company motto, after all, is "Off-Centered Ales for Off-Centered People"–and to ultimately pull it off.
But Calagione has more than a touch of the showman about him, and he also has the good looks, humor and intelligence to come off well under the klieg lights. He has modeled Levi jeans, written three books, given countless talks, been profiled by The New Yorker, and most recently gamely played a robot in a short film by actor/musician Will Oldham that played at the Dogfish Off-Centered Film Festival in April.
Last June the paperback version of He Said Beer, She Said Wine (DK Publishing, $16.95) appeared, the result of a battle that began in 2003 at the Dogfish Brewing & Eats brewpub in Rehoboth Beach, Delaware. In one corner, wearing the beer trunks, was Calagione. In the opposite corner, robed in the wine togs, was Marnie Old, the founding education chair of the American Sommelier Association and head of her own wine consulting firm, Old Wines.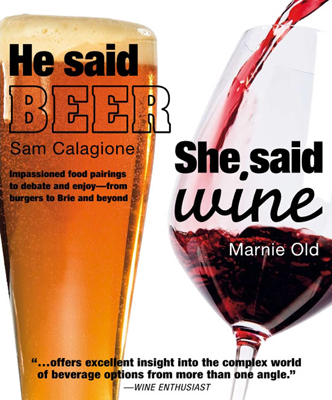 The two experts had long battled privately if good-naturedly at trade shows about which beverage was better, and which paired better with food. They finally decided they had to take it public, in a competitive tasting that matched a wine and a beer with each of five courses and letting the audience vote on which went better with the dish on hand. The evening was called, "Beer is from Mars, Wine is from Venus," and both combatants came out swinging, no verbal holds barred.
The debate, now between covers, is every bit as entertaining, and informative, as Sam and Marnie are in person at the various tastings they've continued to do through the years.
At the first beer versus wine event, as in all subsequent events, there were surprises in store. Beer campers discovered that wine wasn't so bad after all. Wine aficionados admitted that beer was sometimes the better pairing with a dish. And after scores of such tastings, the authors report that the results of many votes taken are a virtual dead heat. Some nights beer might win, barely. Other nights wine gets the nod, barely.
Maybe this shouldn't be so surprising after all. Both beverages share the glory of antiquity, wine dating from about 5000 BC and beer reaching back further to 7000 BC. Both are blessed miracles of agriculture and the happy confluence of grape or grain with yeast. The end products are almost primal foods. So even playing field there.
The real debate is getting past one's personal prejudices, and seeing behind images. As Old relates in the book, "[B]oth wine and beer can be mass-produced, sacrificing quality in favor of quantity. What I hadn't realized before was that because cheap beer is so much popular than cheap wine, I had dismissed beer based on that alone."
From my vantage point, there's always been a blind spot for beer in this country for that very reason–people see no further past the image of beer than as a cheap glass of yellow suds too often drunk in quantities leading to largely questionable behavior. Such a stereotype overlooks beer's history and breadth–the wide variety, flavors and complexity that beer easily encompasses.
On the flip side, Calagione said he learned that one needn't spend $20 or more for a good bottle of wine. He'll still maintain that some of the finest beers in the world are less expensive than most good wines, although that virtue of beer is also sometimes viewed condescendingly by those too heavily invested in the cultural mythology (or collectibility) of wine.

The best part of this debate is that it's ongoing, one is free to dive in anytime, and taste a lot of fine beer, wine and food in the process.
As for antiquity, Calagione has attempted to recreate a variety of ancient beer recipes in collaboration with Patrick McGovern, an archaeological researcher at the University of Pennsylvania who has literally written the book on the subject. Their efforts have led to Midas Touch, Chateau Jiahu, Theobroma and Chicha.
In the kaleidoscope of Dogfish brews, the Indian Brown Ale is almost a sleeper, relatively straightforward. But only relative to the rest of Calagione's restless catalog.
He calls the beer a hybrid of ale styles– Scotch, IPA, American Brown–and certainly the beer has the malty character of a Scotch Ale, the hoppiness of an IPA, and the strength of an American Brown. It pours out an appealing mahogany with a rocky tan head. The organic caramelized brown sugar used in the brewing give off the beer's dark toffee aroma. This follows through in the flavor, along with a mild roasted character and a hint of chocolate.
It's a mouthful. I'm not getting much of the Goldings or Liberty hops in the nose, but there's plenty in the finish, perhaps because the beer is dry-hopped like Dogfish's 60 Minute and 90 Minute IPAs.
The Indian Brown Ale seems to fly a bit under the radar of Dogfish Head's normally busy air traffic. It's probably the least talked about of any of the company's beers. But I have a sneaking suspicion it may be one of its best.
Name: Indian Brown Ale
Brewer: Dogfish Head, Milton, Delaware
Style: Brown ale, of sorts
ABV: 7.2%
Availability: Year-round, in about 25 states
For More Information: dogfish.com