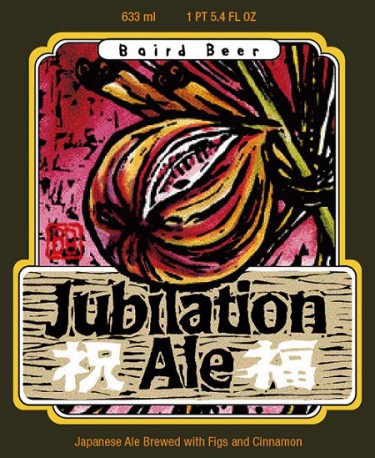 After two west coast beers we're heading further west, to the Far East. That's what native Ohioan Bryan Baird did in 1989. Baird was then a mass market beer-swilling rugby player, but he was also the son of a history professor who passed the fascination on to his son.
Young Baird was particularly intrigued by Japan, so he moved there in 1989 to teach English, though then unable to speak a single word of Japanese. He fell in love with the country, and began falling love with the notion of beer as an engine of social conviviality. He also began cultivating an appreciation of beers of greater nuance in the depths of their flavors and complexity.
In 1996 he embarked on what he calls "a torrid relationship" with his future wife and partner, Sayuri. Baird calls it this in a lengthy history on the brewery website, "The Story of a Craft Brewery Dream," an entertaining essay tinged with rue and wonder.
The couple became enthralled by the dream of producing craft beer in Japan, but Baird writes, "…if we had fully understood how much time, effort and anguish would be required, I don't think we would have gone forward." Luckily, as it turned out, "…we didn't know, and we plunged in."
They returned to the U.S. in 1997 and Baird went through an intensive three-month brewing science and engineering course at the American Brewers Guild, then in California (it's now in Middlebury, Vermont). It took three more years to hang out a shingle as the smallest licensed brewery in Japan. But in July, 2000, Baird Beer opened the Numazu Fishmarket Taproom, about 90 minutes southwest of Tokyo. It opened, Baird wrote, "to great quiet and much local indifference."
Seventeen years and four daughters later, the Bairds are doing just fine, anguish behind them. If the craft beer market is still an emerging trend in Japan, the Bairds are well-established, now with a string of taprooms and an expansive new brewery and farm built in 2014 in the Shuzenji area of Izu city. Beers are being imported world-wide, into the U.S. by the Shelton Brothers.
Baird still approaches his beers with a sense of celebration, though not without a touch of existential realism. His comment on the Jubilation Ale: ""Life is fleeting; our time on earth is short. And despite the sometimes awful travails and the always regular monotony of it, life remains mysteriously beautiful. We brew Jubilation Ale every year as an act of appreciation of the joyousness in life."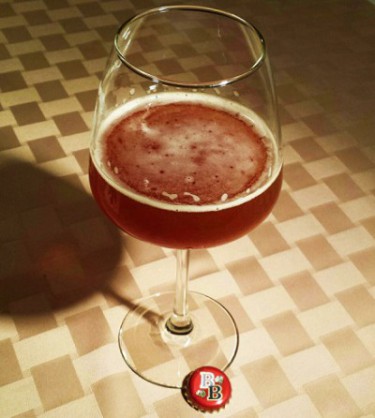 One thing is for sure, Baird Jubilation needs to warm up quite a bit to express its joy fully. I had a few gulps right after pulling the beer from the fridge and it seemed fairly flavorless, beyond a hint of oxidation. I had a bottle packaged on 10/07/15–not a Japanese date, as that would be year/month/day. So it's either American (Oct. 7, 2015), or European (July 10, 2015). Either way, I was slightly beyond the suggested "enjoying within 24 months of package date."
I enjoyed it anyway, because after an hour or so things started getting interesting. The alluring reddish beer is made with ichijiku (Japanese figs) and cinnamon twigs from a Japanese nikki tree, not to mention floor-malted grains and four different whole flower hops. Though I never could wholly detect any cinnamon, the beer certainly had a spicy quality, and waves of caramel toffee aromas, along with a hint of smoke.
Some kind of dark and pithy fruit swirled into my senses. I might have said dates or prunes, but I could be talked into figs, keeping in mind my appreciation of figs is pretty well limited to Newtons. The mouthfeel was velvety and coating, lightly boozy and there was a pleasant delayed dryness that, contrary to the label shown, made me rue that my 11.2-ounce bottle was pretty fleeting, too.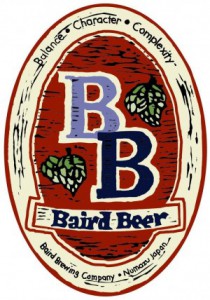 Name: Jubilation
Brewer: Baird Brewing Company, Shuzenji, Japan
Style: Spiced winter warmer
ABV: 8%
Availability: Seasonally. Imported by Shelton Brothers Inc., which distributes to 28 states and Washington D.C. Check their "Locate Our Products" list to see if the beer might be near you.
For More Information: www.bairdbeer.com/en/
[Dec. 15, 2017]
< 12 Beers of Christmas 2: Rogue Yellow Snow Pilsner
12 Beers of Christmas 4: Thiriez Bière de Noël >