One of Alan Shapiro's first jobs in the beer industry, other than working in a liquor store while attending Boston University, was as a sales manager–actually, the first sales manager–for a little brand known as Pete's Wicked Ale.
"I signed up the first two dozen states," said Shapiro, and Pete's Wicked was off on a heady ascent (if not one ultimately sustained).
Shapiro's colleague, Virginia MacLean, worked in marketing for Pete's, and the two remained fast friends, even though Shapiro went on to work for Merchant du Vin, and now heads his own company, SBS Imports in Seattle, distributing De Proef Brouwerij beers from Belgium, and Batemans Brewery ales and Aspall Suffolk Cyders from England. Pete Slosberg sold his brands to the Gambrinus Company in 1998.
Though under the cloud of Virginia's diagnosis with myeloma, a cancer of plasma cells that attacks and destroys bone, the three old colleagues reunited in 2007. While fighting her own ailment, Virginia wanted to help raise funds for the Institute for Myeloma & Bone Cancer Research, headed by Dr. James Berenson, the very doctor who treated her.
And so Reunion beer was born, named by Slosberg, and the first, 2007 installment was an organic Imperial version of the original Pete's Wicked recipe, a brown ale. "Virginia was with us at the first release party for the beer," said Shapiro. "But she passed away in June of 2007, four months after the beer came out."
Slosberg and Shapiro have continued the annual release since, giving over 100% of its gross margin to the Institute and raising over $130,000 to date.
The Bison Brewing Company in Berkeley has been aboard for all four batches. The 2008 beer was an organic version of Pete's Wicked Red, with the addition of rye and caraway. In 2009 a quartet of brewers turned out spiced double wheat ales–the Terrapin Beer Co. of Georgia, Pizza Port Brewing of San Diego and Elysian Brewing of Seattle joining Bison.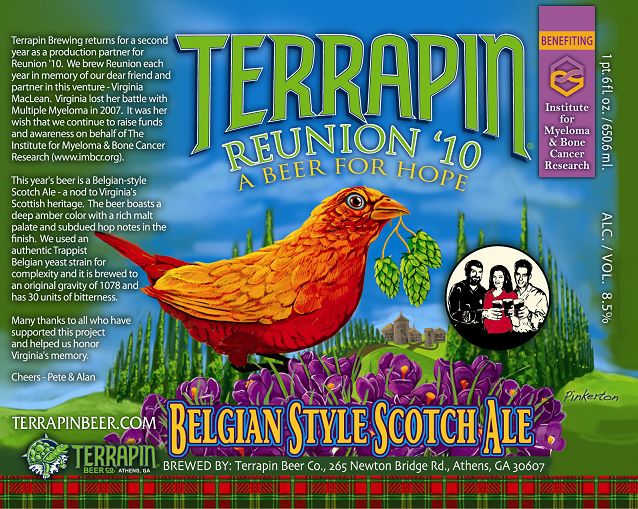 Terrapin and Bison are back for this year's effort, a Belgian-style Scotch Ale in honor of Virginia's heritage. Both brewers use the same basic recipe, said Shapiro, and "The bottles taste pretty similar. But there may be some difference in ABV because Spike [Buckowski of Terrapin] used a Rochefort yeast that ate a lot of sugar, while Dan [Del Grande of Bison] used more of a Westmalle yeast. But the beers are pretty close. Between the two of them they made about 180 barrels–a couple thousand cases."
I had the Terrapin version, which pours out a deep brown with a light tan head. The Belgian yeast is beguilingly evident in the nose, as is an ample raisin and malt note. The flavor is malty rich as a Scotch ale should be, with a faint peaty/soapy quality, some spiciness, a mild hop bite and marked alcoholic heat. No one element overpowers another; it's a smooth, velvety drinking experience.
One hopes Virginia MacLean would have liked it. It's really quite delicious and, all things considered, a lovely beer.
Name: Reunion '10–A Beer for Hope
Brewer: Terrapin Beer Co., Athens, Georgia; Bison Brewing Co., Berkeley, California
Style: Belgian-Style Scotch Ale
ABV: 8.5% or 7.0%
Availability: Terrapin in nine eastern states; Bison in five western states, for a few months until supplies run out.
For More Information: reunionbeer.com