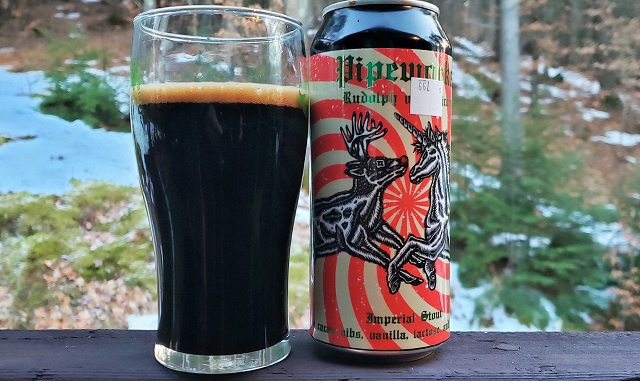 I'm falling into a deep, dark pit, blinded, maybe heading for hell, but, no—too pleasurable, and no sulfurous fumes—more like peppermint. So I'm in a barber chair, towel over my eyes, Taylor of Old Bond Street Peppermint Shave Cream being lathered onto my face.
Wrong again. I'm merely into my second deep, dark pint of Pipeworks Rudolph vs. Unicorn, a 10.5% ABV Imperial Stout infused with cacao nibs, vanilla, lactose and peppermint. Loaded, which may account for the $7.99 per can price tag.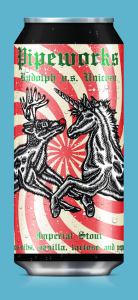 This is the second year that Pipeworks Brewing of Chicago has rolled out the beer, though on last year's can they managed to spell "Rudolph" as "Rudoplh."
I'm not saying holders of that collector's item have something in their possession as valuable as the inverted Jenny (one of those 100 stamps printed upside down in 1918 went for almost $1.6 million two years ago). But you never know.
Many of the Pipeworks beers might qualify as empheral art—works that exist for only a specified period, not to be repeated. At least, that was the thought when Gerrit Lewis and Beejay Oslon first started thinking about opening their own brewery, that they would never brew the same beer twice.
They decided to gain experience by volunteering to work for De Struise Brouwers in Oostvleteren, Belgium in 2009—brewers of one of last year's Christmas beers, the Tsjeeses Reserva. When they returned to the U.S. the pair raised funds via Kickstarter, and eventually began retails sales in 2012.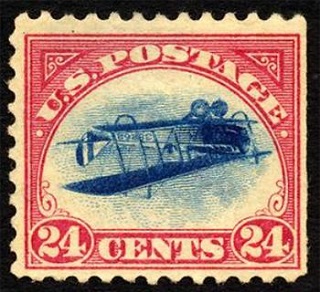 They have remained restless, or relentless experimenters in both brew recipes and label art, but some wildly early successes did evolve into some repeating core beers: Ninja vs. Unicorn DIPA, Blood of the Unicorn, Infinite Citra, Lizard King. The two clearly have a thing about unicorns.
This is the first Pipeworks beer I've had the pleasure to try, but I'll be looking for more. Rudolph vs. Unicorn pours out like dirty motor oil, an opaque beer with a brimming brown head and a thick, viscous stew of aroma and flavor. The nose is not that revealing of the peppermint to come, but there are chocolate, coffee, licorice and vanilla notes along with some alcoholic vapors.
The palate is sweet, almost too sweet, largely chocolate initially with a hint of roast, and the mouthfeel—no doubt due to the lactose—is downright creamy. But then the mint note starts lathering itself up, and if never overpowering it lingers in a tingling afterbite that carries the day.
Look at the label and between the two jousting creatures the swirling design resolves into a perfect round peppermint. I don't know who prevails in the battle, Rudolph or the Unicorn, but imbibers should make out just fine.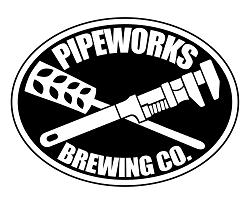 Name: Rudolph vs. Unicorn
Brewer: Pipeworks Brewing Company, Chicago, Illinois
Style: Spiced Imperial Stout
ABV: 10.5%
Availability: Seasonal, to IL, WI, MO, MN, NY, CT, MA, NJ, CO, GA.
For More Information: pbdubs.net
[December 27, 2020]
< 12 Beers of Christmas 9: Shipyard Prelude
12 Beers of Christmas 11: Harpoon The Long Thaw >