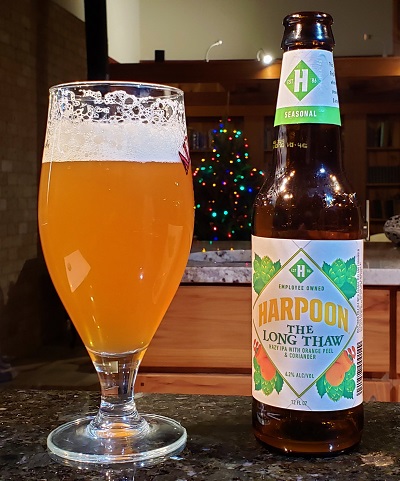 Okay, so I skipped yesterday. Mainly because I wanted to finish up during a Zoom cocktail party we're having tomorrow evening for the Brattleboro Literary Festival board and committee members.
Also, because when I was into my second pint of the Pipeworks Ruldoph vs. Unicorn two nights ago I didn't realize I'd left half of that pint still in the can. Found it the next day in the fridge, so I felt duty bound to finish that off last night. Still had a head on it.
I also have two reasons for picking Harpoon's The Long Thaw for tonight. One is that Christmas beers tend to be strong, dark and malt-accented. Our one exception this year being Night 7, the sour Prairie Seasick Crocodile. So I just needed something a little sharp with a hearty load of hops in it, and The Long Thaw fits the bill.
Secondly, after the huge dump of snow we had on December 17-18, much of it vanished in a 60-degree weather on Christmas Day. There's still some on the ground out front, and today is below freezing. But my weather app is showing above freezing temperature for the next nine days, four of those in the 40's. At this rate we'll be playing golf next month.
I was into my second bottle of The Long Thaw before I realized I've written the beer up once before, albeit not as a 12 Beers of Christmas brew. It was back in 2014, when the beer emerged from Harpoon's irregular 100 Barrel Series releases, which were always interesting. (The series is defunct, though Harpoon seems to be pumping out plenty of limited series beers, if overly dependent on pastry inspired IPAs.)
You can read the earlier post here, but the gist was that as a 2012 100 Barrel Beer it was introduced as a White IPA. In 2014 it was put into production as The Long Thaw, but only for one season. The beer is back now after a five-year hiatus. White IPAs were a thing back then, and there are certainly some still around, but many were washed away by the flood of hazy double IPAs, frequently tagged New England DIPAs.
The White IPA style is a hybrid of India Pale Ale and a White, or Wit beer (think Allagash White), the former characterized by its strong hopping, the latter by its use of wheat malt and additions of orange peel and coriander. And that's precisely what's going on here. To quote my earlier self:
"The result is a hazy, orangey brew that throws off a fair amount of Belgian lacing. The Long Thaw… leans more toward an IPA than a Wit, a good direction in my mind. There's ample citrus and floral aromas, a soft mouth feel, a malty spine to go along with the peppery spicing. A nice balance all in all, that goes a long way toward making the style convincing, even if it didn't melt any of the snow outside."
That guy was right on, though this isn't precisely the same beer as in 2014. The hop bill still includes Cascade, Apollo and Simcoe, but replaces Citra and Amarillo with Calypso and Falconer's Flight. What difference these changes make I haven't a clue.
But in the season of giving, it's nice to know that some proceeds of every purchase of Falconer's Flight hops go to the Glen Hay Falconer Foundation. Glen Hay Falconer was a northwest brewer who died in 2002 at 41 following an accident. He was so well thought of that the Foundation was created in his name, and annually awards three brewing scholarships, including a full tuition award to the American Brewers Guild here in Middlebury, Vermont, thaw or no thaw.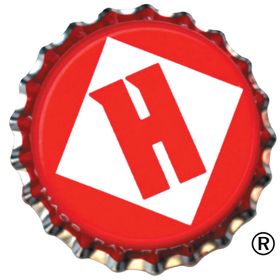 Name: The Long Thaw
Brewer: Harpoon Brewery, Boston, MA; Windsor, VT
Style: Hybrid White Beer and IPA
ABV: 6.2%
Availability: Seasonally, in about 30 states
For More Information: www.harpoonbrewery.com
[December 29, 2020]
< 12 Beers of Christmas 10: Pipeworks Rudolph vs Unicorn
12 Beers of Christmas 12: Troëg's Mad Elf Grand Cru >